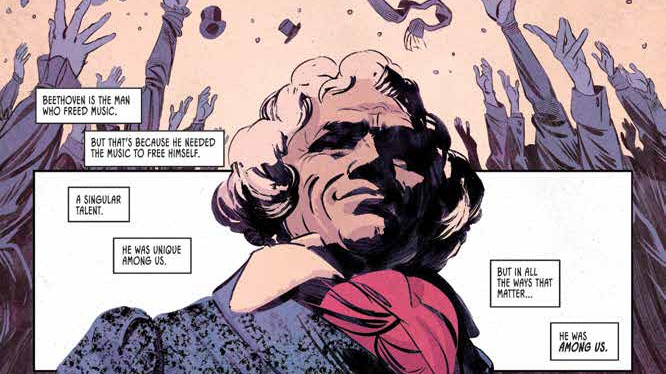 We have seen many different interpretations of the life of Ludwig van Beethoven. There have been portrayals of him on the big screen; think the melodramatic Immortal Beloved or even the comical Bill and Ted's Excellent Adventure, not to mention in a host of documentaries and a BBC series. But have we ever seen Beethoven as a comic book hero?
To celebrate Beethoven's 250th birthday in 2020, Z2 Comics, who specialize in stories about music and musicians, teamed up with the record label Deutsche Grammophon to create The Final Symphony: A Beethoven Anthology. The book is equal parts fantasy, history, fable, adventure, and romance. Important moments in Beethoven's life are interwoven with famous German folklore, tales inspired by Beethoven's music, and stories familiar to classical music audiences like Fidelio, Turandot, and Faust. The anthology can also come with a double LP featuring some of the great Beethoven recordings from Deutsche Grammophon which are paired with each story in the anthology.
Written by veteran comic book authors Brandon Montclare and Frank Marraffino, the anthology features a dozen different visual artists reflecting on Beethoven's legacy and myth with their own artistic style.
WFMT spoke with the two authors about why they choose Beethoven as a comic book subject and how they went about creating the anthology.
---
WFMT: What was your experience with classical music and Beethoven before beginning this project?
Brandon Montclare: I wouldn't say there was any real expertise with Beethoven before Z2's Final Symphony. More than knowing the stuff from Die Hard or Soylent Green… but not too much more!
As far as personal experiences go, a performance by the New York Philharmonic left an indelible impression. It was New Year's Eve, a few months after September 11, 2001. There was still a leeriness about public gatherings and along with the heightened — if subtle — caution there's the reminder of inescapable sadness. But, as it has become in Western culture and Eastern culture and every place in between, Beethoven's Ninth was as unifying as it was uplifting. I work in escapism, but like everyone else, there's an occasion where art is transcendent.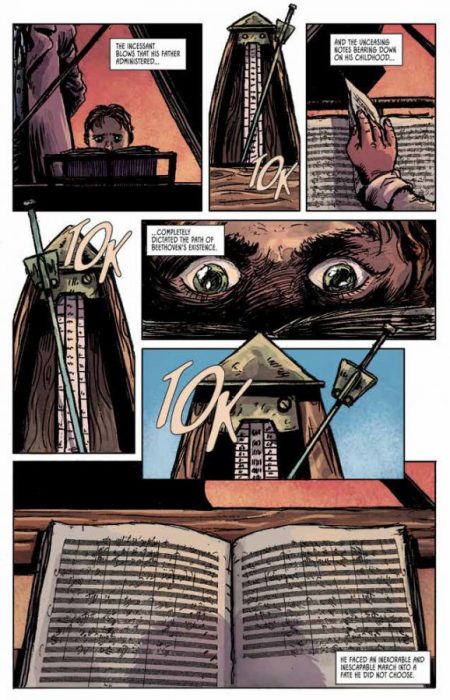 Frank Marraffino: Classical music was one of the many types of music played in my house while I was growing up, and I was very fortunate to live right outside of New York City, as my parents took me to Lincoln Center to experience opera and live orchestras.
But, I really fell hard for Beethoven when my daughter was born. Sampling various classical pieces to play for her while she slept, I came across the Second Movement of the "Emperor" Piano Concerto. The surprisingly subtle tones and range of sensitivities expressed in that music seemed to exemplify everything I was feeling for her and that moment in my life. I listened to that piece for hours and hours during her first week. I will forever be grateful to Beethoven for creating such perfectly expressive and blissful music to help me celebrate the inner emotions of that milestone.
WFMT: What makes Beethoven a good subject for comic art?
Montclare: Edgar Allan Poe, who I think would have written comics instead of short stories, if they had existed, thought that all art aspires toward the condition of music. And Poe was very jealous of all things in German Romanticism. So to translate, rework, or do whatever it is we do in Final Symphony is inherently interesting because inspiration is drawn from such a universal and iconic source. It's a fun challenge because comics work without sound; a whole sub-art of lettering and sound effects were created by comics to help bridge that sonic absence. But, Final Symphony — and really almost everything that Z2 Comics publishes— has the component of a musical accompaniment [a playlist or an album that is the comic's companion]. So maybe you're listening to a Beethoven piece while reading… or at the very least, the song upon which the comic is based kind of echoes in your mind.
WFMT: How were the German fairy tales/folk tales chosen? How do they link to Beethoven?
Marraffino: They were part of Beethoven's world: stories he grew up with and was familiar with. He was very aware of literature and always had several books available. It made sense that stories from his era would resonate and speak to incidents in Beethoven's own life and in our book.
Just as a deep dive into the music was required for this project, hurling headlong into the literature of the times provided a better sense of the larger themes and worldviews prevalent during Beethoven's life. We have taken the stories that very well may have inspired Beethoven, and used Beethoven as the inspiration to re-tell those tales.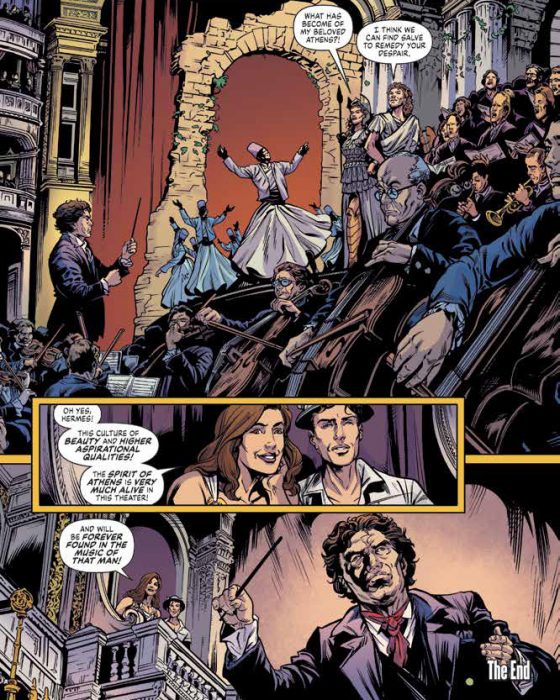 WFMT: How was the music chosen for the anthology?
Marraffino: It was really all about how the music inspired and spoke to the stories that we wanted to tell. There was some thought to including pieces from across his life and of different tempos and tones. But after days and days of binging on Beethoven, the selections seemed to organically fall into place and represented several variations of what Beethoven was able to accomplish with his music. It might be easy to see the soundtrack as something close to a "greatest hits" collection, but the selections were made solely for how they would play alongside the stories, as well as how satisfying they would be together as a single listening experience.
As an example, I was originally (and ridiculously) prejudiced against using the 5th Symphony, feeling it's been co-opted by mainstream entertainment too many times to the point of exhausting overexposure. But, it was impossible to see a better piece to accompany our Faustian story — the 5th had to be included.
WFMT: Do you have a favorite story from the anthology?
Montclare: A writer can't choose favorites… But I think readers should take a close look at "Inspiration." While Frank and I helped sort that story out, and artist Creees Lee brings it all together. That comic's voice is all Alice Sara Ott. She is a world-class pianist, but also a known doodler! So we had her in there as a character as well as a narrator. And with the short yarn, you get a lot of her ideas on what "classical" music should mean to a popular audience. I wouldn't spoil it, but Alice likes to talk about how engaged and enthused symphony audiences used to be, and moreover, how as a performer she wants to touch her audience. Creators will debate me on this: but I've always been of the mind that we're all — regardless of the medium — in the business of making people care about things that aren't real.
Marraffino: Although I'm quite fond of them all, especially after seeing what the artists brought to each, "Heiligenstadt" holds a special place for me. Beethoven convalesces in the countryside while he tries to recover from — and then come to terms with — his hearing loss. The story touches on Beethoven's strength of willpower and use of imagination to help him overcome extreme difficulties. It's a window into his continued ability to rise up again after suffering great setbacks, and the moody art and atmosphere that Patricio provide are pitch-perfect and fantastic.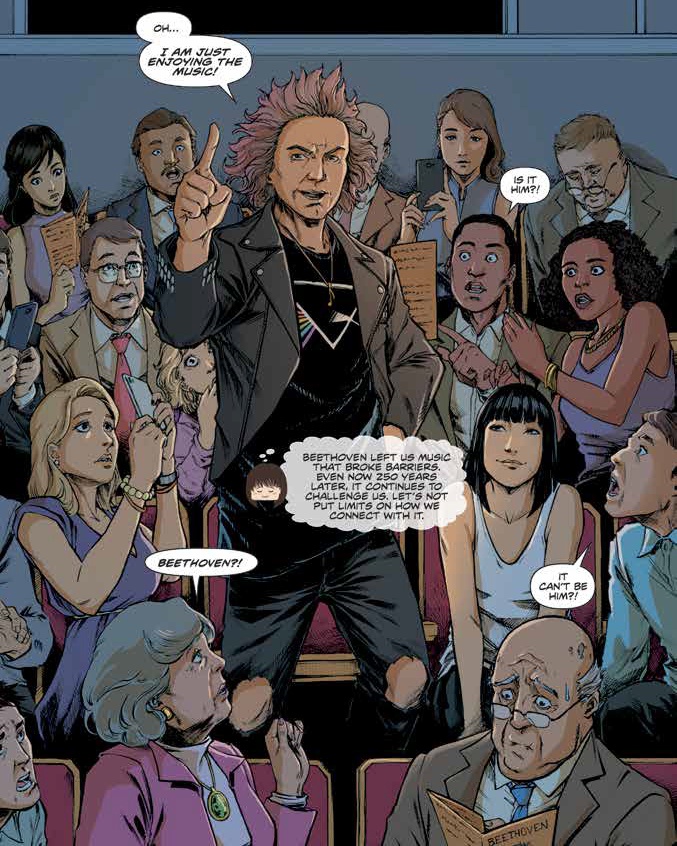 WFMT: What do you think Beethoven's legacy is beyond music?
Marraffino: During his own time, Beethoven seemed larger-than-life, and he has since been elevated into a kind of myth. Kids who can't hum a single Beethoven melody have a sense of who he is because of depictions from Charlie Brown TV specials and other mass entertainments. Beethoven has become an example and stand-in for any number of definitions or metaphors. He represents an idea: of the overbearing, wild-haired madman whipping up a musical storm. But he also represents an ideal of the artist as a professional master craftsman who conquered transcendence. I would suggest that Beethoven's true legacy flows in so many different directions that it is more than any of us individually are aware of!
WFMT: Is Beethoven a superhero?
Marraffino: I would say yes, in the same way that Batman is a superhero. Like Batman, Beethoven is an "ordinary human," but after years of training and dedicating his life to his chosen mission, he is so skilled at operating on a finely-tuned level of peak performance that he has elevated his abilities beyond what was previously thought possible. And as it's all for the greater good, he sounds like a superhero to me!
---
To see more of Z2 Comics and The Final Symphony: A Beethoven Anthology, visit z2comics.com. This interview has been lightly edited for clarity.