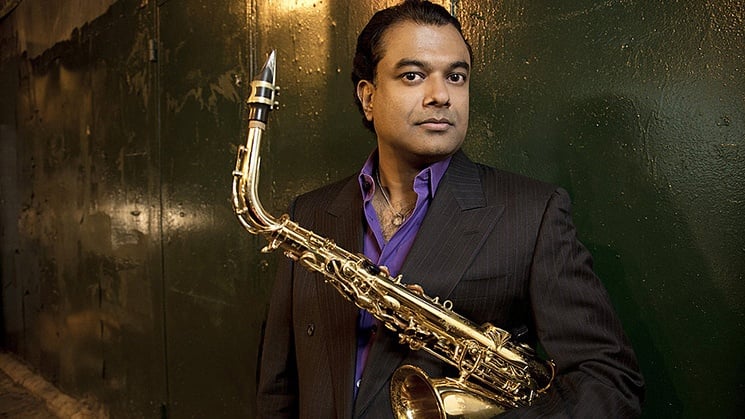 Musicians today work across genres to create sounds that defy categorization, yet listeners crave categories.
Saxophonist Rudresh Mahanthappa, whose many awards and honors include a Guggenheim Fellowship, has created sounds that defy categorization for his latest project, Song of the Jasmine, an interdisciplinary collaboration with Ragamala Dance that comes to the Museum of Contemporary Art Chicago this weekend.
Manhathappa was born in Italy to Indian parents, but grew up in the United States, earning degrees in music from Berklee College of Music and DePaul University. After living in Brooklyn for 15 years and many travels to India, he now lives in Montclair, New Jersey.
"Making music and expressing my identity and being true to my heritage has been a journey that has been concerned with trying to avoid exoticism and bring these forms down to their fundamental elements and bringing them back together in a way that defies genre."
In Song of the Jasmine, Manhathappa's ensemble includes himself on saxophone, Rez Abbasi on electric guitar, Raman Kalyan on the Carnatic flute, Rajna Swaminathan on Carnatic percussion, and Anjna Swaminathan on the Carnatic violin.
The music they created for this new work taps into, he says "some very deep concepts of South Indian music, and in other ways, it's not that much different than Duke Ellington." He cites John Coltrane and Charlie Parker as some of his influences and adds, "of course there's a whole slew of Carnatic musicians that have influenced me as well."
India boasts traditions of classical music and improvisation that are thousands of years old. In fact, much of the music theory and even some of the instruments, such as the violin and plucked strings, that form the basis of Western music is indebted heavily to the music of India. If it weren't for Indian music, "you wouldn't have a tonal system, actually," he quipped. "Everything comes from Egypt and India really."
Song of the Jasmine Promo – Ragamala Dance from Dancing Camera on Vimeo.
Mahanthappa traveled to India several times, including during his Guggenheim Fellowship, in order to find ways that Carnatic music could inspire his work as a jazz musician. "I wanted to learn Indian music like I learned jazz, which meant listening to a lot of records and learning people's solos. And with a lot of these instruments like the flute and violin and certainly with the voice you can slide around and do this beautiful ornamentation that seemed almost impossible on the saxophone."
He had an awakening when he "heard an album by Kadri Gopalnath, who was the guy who brought the saxophone to Indian classical music. So suddenly, I could address things technically too. There's nothing like hearing something played on your own instrument to clarify things. And then we went on to make an album together years later."
Though Indian music and Western jazz enjoyed a close relationship throughout the middle of the twentieth century, the sounds of India's vibrant jazz scene during the early- and mid-20th century have only recently been explored.
"I hadn't really heard some of that [early Indian jazz] until years ago when all of that was being unearthed, because my friend Naresh [Fernandez] wrote a book," Taj Mahal Foxtrot: The Story of Bombay's Jazz Age, "and there was a documentary made about a great jazz guitarist from Calcutta."
But, to label Manhathappa's music simply as a fusion between Carnatic music and jazz would be reductive. If, anything, Mahanthappa says, his score represents "the beautiful multicultural state of affairs of the United States right now."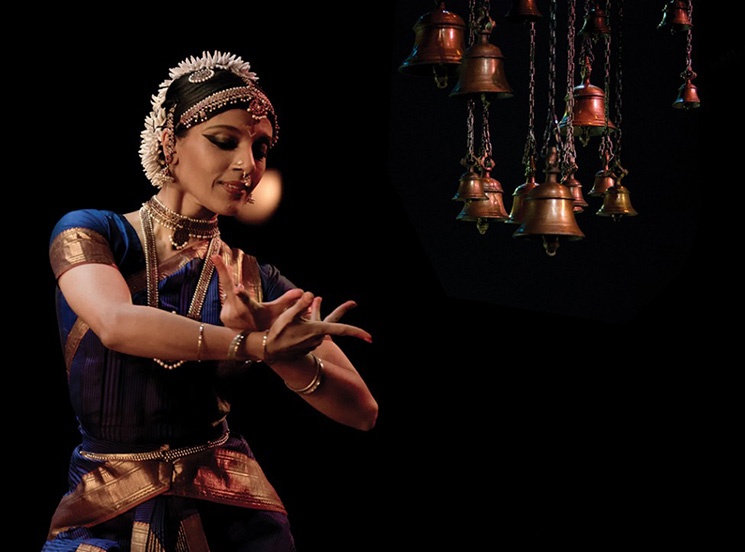 "Today music is so diverse and undefinable," he reiterated. "If you can leave your notions of what is 'Indian' and what is 'jazz' at the door you're going to have a richer experience, instead of being preoccupied with where the ancient traditions and modern traditions intersect. Because otherwise you're being distracted what's at the core of the piece."
Though Mahanthappa is a seasoned musician who has performed on some of the world's great stages, including at Carnegie Hall, and who has appeared at some of the world's most prestigious jazz festivals in Chicago and Montréal, Song of the Jasmine marks his first collaboration with dancers.
"It's been interesting to see how non-musicians hear music," he mused. Though, he continued to explain, "The Indian dance tradition [of Bharatanatyam] is very tied to the music, and we deal with a lot of the same elements rhythmically and melodically. The way they deal with rhythm is just as deep and complex as an Indian percussionist."
One challenge in creating music for this piece, he explains, was working with a group of instruments that is "very top-heavy, there's not a strong of bass frequency coming through. So, how do you create a fullness within the sound of that band?"
"Bass is very important to me in my own music, everything is coming from the bass. I really think bass actually triggers a very visceral response in us neurochemically. Bass is what makes us want to dance."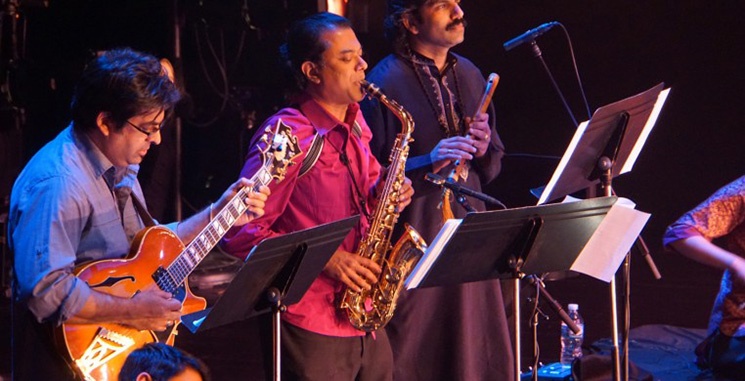 In creating music for Song of the Jasmine, Mahanthappa had "to work with the lower-pitched head of the drum and some sort of bass element of the guitar. Otherwise, it all resonates very high." The doubled headed drum called the mridangam is especially important in Indian dance since its sound, as pitched percussion, is so evocative of the feet.
Though the particular dance tradition in which Ragamala Dance specializes, Bharatanatyam, typically includes sung poetry, as does much Carnatic music, the artists have decided to let the music speak and dance speak for themselves in Song of the Jasmine.
"I'm a saxophonist. I'm a singer. Creating imagery without music is something I've been doing for 20 years."
The dancers of Ragamala are perhaps the perfect collaborators for a musician like Mahanthappa. The name of the company, directed by the mother-daughter team of Ranee and Aparna Ramaswamy, is derived from a special series of Ragamala paintings that are all about music.
Aparna explained that the paintings "bring together poetry, music, visual art, the idea of personification, all synthesized in one piece of art. It's impossible to separate the different forms. It all comes together in this really beautiful holistic way. And that's our intention with the work we create."
In working with Ragamala Dance, Mahanthappa says that he has become even more sensitive to how "∂Bharatanatyam dancers can break up rhythm in as much of a sophisticated and beautifully complex way as any instrumentalist."
Both Manhanthappa and the Ramaswamys are excited by how the work has grown in the last year, and by the unique ways that have expanded their own understanding of each others' art forms while remaining true to their own.
"Everyone has stretched their boundaries," Manhanthappa said. "Everyone is willing to go beyond what they usually do, and really stretch their minds."