Composer Jimmy López never could have imagined that uploading some of his music on YouTube would land him his first opera commission, and at Lyric Opera of Chicago, no less.
"I've been working towards this my whole career," he said excitedly as he observed summer technical rehearsals for Bel Canto, his newly composed opera, at the Civic Opera House.
Superstar soprano Renée Fleming was in search of a composer to create a new work for Lyric, where she serves as Creative Consultant. She, Lyric General Director Anthony Freud, and Music Director Sir Andrew Davis all agreed that Ann Patchett's 2001 novel Bel Canto was ripe for adaptation on the operatic stage.
But they needed a composer to give voice to Bel Canto.
After listening to audio samples from 100 different composers, they found López. But to say that they "discovered" him would be incorrect. When López was commissioned to compose Bel Canto he was 30, and held degrees from Helsinki's Sibelius Academy and the University of California, Berkeley.
His works have been performed by some of the leading orchestras in the world including the Chicago Symphony Orchestra, Philadelphia Orchestra, and Boston Symphony Orchestra in venues such as Carnegie Hall, the Darmstadt Music Festival, and the Donaueschingen Music Festival.
But he owes his first opera commission to YouTube and to a colleague, the conductor Miguel Harth-Bedoya. López recalled, "November 18th, 2010, I was having lunch and I got a call from Miguel. He said, 'You need to go home and upload your vocal music to YouTube.'"
Harth-Bedoya explained that Renée Fleming was looking for a young composer to write music for a new project—but that was all he knew. López obliged, and the following spring, he received an email. "It was from Renée herself, saying, 'Are you going to be in New York anytime soon?' and I said, 'No, but I can be!'"
So began the five-year-long journey that has been Bel Canto. When he was first tapped to compose the opera, López hadn't read Ann Patchett's novel inspired by the 1996 hostage crisis in Lima, Peru. Marxist rebels held 72 diplomats, officials, and business executives hostage in the Japanese ambassador's house for four months.
López, himself a native of Lima, said, "I read the first few pages, and I thought, 'Oh my God.' [ . . . ] I lived through all of these events, and Ann Patchett's novel really captures a lot of the human drama."
The book has long been a favorite of Fleming, who incidentally was slated to sing at the ambassador's mansion. Patchett listened to Fleming's recordings as she wrote the book, and the two women became friends after Bel Canto was published.
Bel Canto is going to be a production of firsts. It is López's first opera, Fleming's first commission as Lyric Opera's creative consultant, and rather surprisingly, the celebrated Sir Andrew Davis's first time conducting an operatic world-premiere.
It is also Pulitzer Prize-winning playwright Nilo Cruz's first libretto. In the opera's early stages, López was involved in the search for a librettist. He decided to meet with Cruz after he saw his play Two Sisters and a Piano, which is centered around two characters under house arrest.
López's said when they first began working together, "We were supposed to meet for an hour or so, [but] we just couldn't let go of each other. I think it was a five-hour conversation. He and I seemed to be in sync right from the start."
López and Cruz knew they would have to handle their subject carefully, since, like John Adams' The Death of Klinghoffer, it depicts acts of terror. But López isn't worried about controversy – at least, not yet. "I don't think a lot of people here know or remember [the Lima hostage crisis] so clearly, so I don't think it will stir the pot as much," he said.
"But I do think that if it were ever staged in Lima, it would definitely cause controversy," he continued. "On the other hand, I think that we have been very, very sensitive to that, and as a Peruvian, when I took the commission, I thought, 'This is great, but it's also a great responsibility.'"
But the opera also tells the stories behind the headlines. López said,  "Bel Canto is really a story about love under very unlikely circumstances. It is a story where music triumphs, and serves as the one common language when no other language can be found," he said. This theme is represented literally by the opera itself: its libretto is written in eight languages, all harmonized into a single text.
All of the opera's action happens inside the Japanese ambassador's residence in Lima, which was architecturally inspired by Tara from Gone with the Wind. The set's bright white plantation-style interior has a double staircase, chandelier, and piano, recalling the imagined opulence of the pastoral South.
One of the most striking features of the set, designed by David Korins, is how it transforms. "We had to think of it as a canvas, because we have projections coming from the front and the back," López said. "It's designed to transform itself without moving anything—it's all through lighting and projections."
Surely enough, when we first sat down with López, the set glowed, openly and invitingly. But, by the end of our conversation, a new lighting cue rendered it dark, dusky, and strangely unrecognizable.
Now that López has completed his score, he is entrusting his work to conductor Sir Andrew Davis and stage director Kevin Newbury. And López could not be more confident that Bel Canto is in good hands.
"It's new, it's beautiful, it's fresh, it's innovative," he says of Newbury's conception. "It's definitely going to be keeping you at the edge of your seat from beginning to end."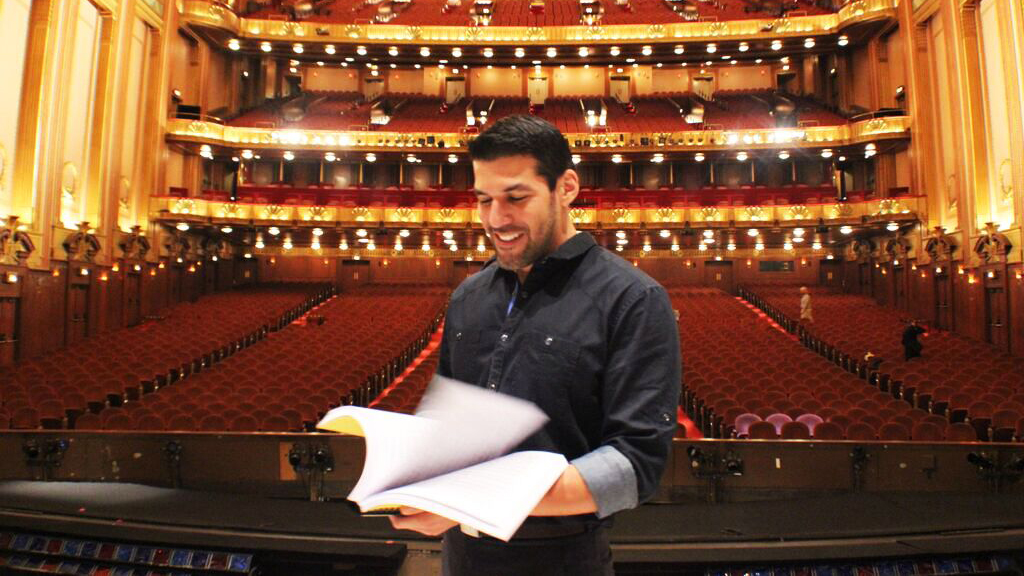 For more information about Bel Canto, visit Lyric Opera of Chicago's website.
---
The interview with Mr. López was conducted by Suzanne Nance. Photos and web content are by Hannah Edgar, with editions and contributions from Stephen Raskauskas.