What do you hear in your mind's ear when you hear the phrase "American Indian Music"? Your ideas about American Indian music might be rooted in general stereotypes many people have about American Indians. Jerod Impichchaachaaha' Tate, a Chickasaw composer, said, "American Indians have been involved in the fine arts for a long time, in every genre from literature to dance to film. But for some reason, people are surprised to learn that American Indians compose 'classical' music. There is a very large body of very educated American Indians, not just in the arts, but in all subjects."
Tate has been involved with a number of projects to combat stereotypes people might have about American Indian music, or even just to let them know that American Indians compose in the first place.
Recently, Tate collaborated with NBC for its reboot of Peter Pan. The original musical portrayed American Indians rather generically. Perhaps the most egregiously offensive portrayal of native peoples is the song "Ugg-a-Wugg." Tate worked with NBC to tone down aspects of the musical that could be considered offensive to modern audiences, though admitted in an interview for salon.com that "musical theater thrives on stereotypes. It just does. It always has. So, that being said, there are still ways you can improve it a little bit to where it has a little more integrity."
Another of Tate's other recent projects to share American Indian music is a new four-part radio series called Taloa, which means "song" in Chickasaw. WFMT originally aired Taloa throughout November 2015 to celebrate Native American Heritage Month.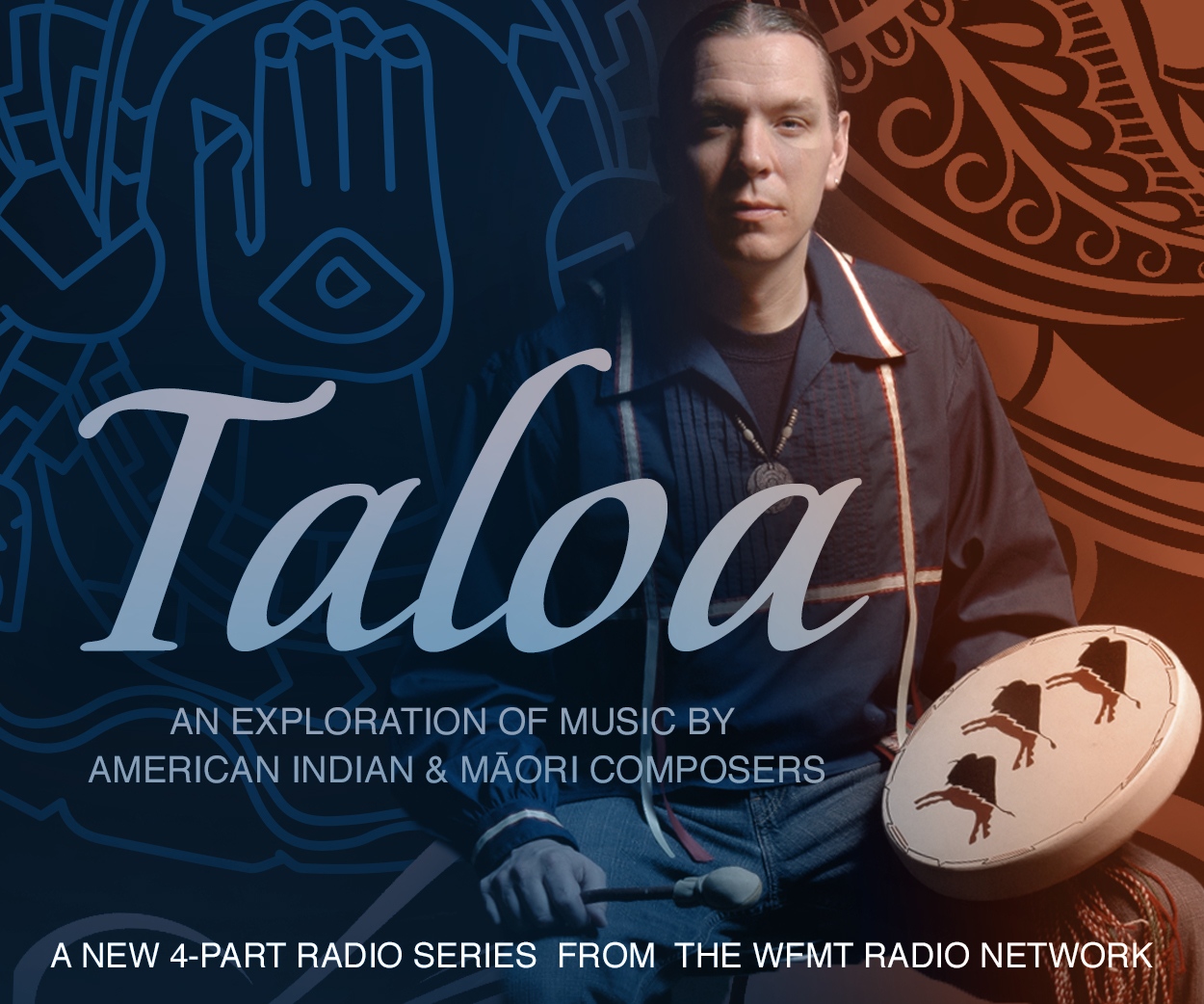 "We may not have been able to do this 10 years ago," Taste said. "But now is a great time to harvest the recordings that exist." One of the difficulties creating Taloa, in fact, is that there's perhaps too much to include in a single, four-part series. "There are 350 federally recognized tribes in the lower 48 states," Tate said. "But we share a common bond – our tribes all live within the United States."
The diversity of American Indian people means there is an incredible amount of diversity within the music of American Indian composers. However, Tate and his colleagues are not hoping to offer, he said, "a kind of college survey on this music. Hopefully it's a good introduction that will leave people curious to learn and hear more.
One thing that listeners will learn is that American Indian composers don't operate entirely differently than canonical composers they know and love. "Bartók was literally transcribing his own folk music and abstracting those elements for resources for his own music and to bring all music forward," Tate said. "American Indians use orchestras and classical instruments, and that doesn't sound very 'Indian' to most people. We use Western instruments to create abstracted version of our own experiences. But that's what any fine arts practitioner does. We just abstract cultural symbols."
Tate explained that classical music is similar to other practices that native peoples have adopted from other cultures to make their own. "Just like horse riding or bead making, those things didn't come from the Americas, but now American Indians are masters at riding horses and bead making."
In addition to exploring music by American Indians, Taloa also explores the music of the Māori people of New Zealand. "One main difference between Native Indians and Māori is that the Māori are more culturally homogenous by comparison," Tate said. "There's a small body of music and instruments. They speak the same language and know the same songs. There's a little more commonality between some of the composers, though everyone has their individual styles." By contrast, American Indian composers tend to use a diverse range of language and "sonic symbols," as he called them, which are specific to nations from which they come. (Unless, of course, a commission demands otherwise.)