CHICAGO – November 16, 2016 – WFMT, Chicago's classical and arts radio station, today announced that out of 65 groups and individuals who applied, two local ensembles, the KAIA String Quartet and the Kontras Quartet, have been selected for WFMT's new In Residence program, slated to take place sometime in 2017. Each group will have a three-month residency as part of this new initiative during which they'll perform, curate, and expose audiences to new ways of thinking about classical music on all of WFMT's platforms, including WFMT.com, 98.7FM, and social media.
During their WFMT residencies, the KAIA String Quartet, composed of violinists Victoria Moreira and Naomi Culp, violist Sixto Franco Chordá, and cellist Hope Shepherd DeCelle, will focus on music native to various Latino communities of Chicago; the Kontras Quartet – violinists Dmitri Pogorelov and Francois Henkins, violist Ben Weber, and cellist Jean Hatmaker — will explore the folk roots of classical music and hybrid folk and classical music.
"We were thrilled to receive such an impressive number of worthy entries for this competition for our WFMT residencies," said WFMT Program Director David Polk. "We know that the two ensembles we chose will greatly enrich our programming, and we are excited about the innovative digital content they will provide for WFMT.com."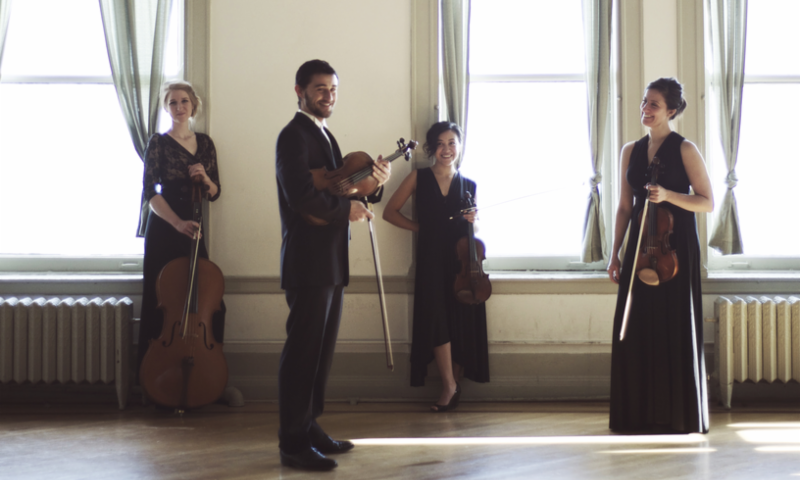 The KAIA String Quartet is an ensemble committed to promoting music from different cultures in addition to the traditional canon of string quartet repertoire. Most recently, KAIA has developed a focus in the music of Latin-America both in the popular and classical genres. Passionate music educators, KAIA also has experience presenting classical and world music in fun and educational ways to younger audiences. As WFMT residents, the group will familiarize audiences with the music of Latin America, perform in Latin American communities in Chicago, and focus on reaching audiences through digital media as well as broadcast.
[fusion_builder_container hundred_percent="yes" overflow="visible"][fusion_builder_row][fusion_builder_column type="1_1″ background_position="left top" background_color="" border_size="" border_color="" border_style="solid" spacing="yes" background_image="" background_repeat="no-repeat" padding="" margin_top="0px" margin_bottom="0px" class="" id="" animation_type="" animation_speed="0.3″ animation_direction="left" hide_on_mobile="no" center_content="no" min_height="none"]
Originally formed while the group's members were string principals in the Civic Orchestra of Chicago, the Kontras Quartet has since been praised for their "scrupulous shading and control" (Gramophone Magazine), "enjoyable musical personality" (Fanfare Magazine) and "technical excellence" (Shmuel Ashkenasi).  Their performances have been heard on Performance Today, NPR's Concierto, PBS and TED, and their 2016 season included full-capacity concerts in Telluride, Raleigh, Salt Lake City, Brevard, Tennessee, and Wilmington, NC.  Kontras currently teaches at Western Michigan University and Elmhurst College.  Their WFMT residency will include an exploration of the folk roots of classical music, and a collaboration with musicians of other genres on a classical roots project.
WFMT's 2017 In Residence program was made possible in part by The Elizabeth F. Cheney Foundation.
About WFMT
WFMT is one of the nation's most respected classical music radio stations, available on-air at WFMT, online at wfmt.com/listen, and via app on Apple and Android mobile devices. WFMT showcases superlative programs, concerts, and live events – broadcasts from the Chicago Symphony Orchestra, the Lyric Opera of Chicago, the Metropolitan Opera, the Santa Fe Chamber Music Festival, and many more. The WFMT Radio Network is a leading producer and syndicator of a diverse selection of outstanding musical series, including Exploring Music with Bill McGlaughlin, the Beethoven Network, and the Jazz Network. Connect with WFMT on Facebook and Twitter.