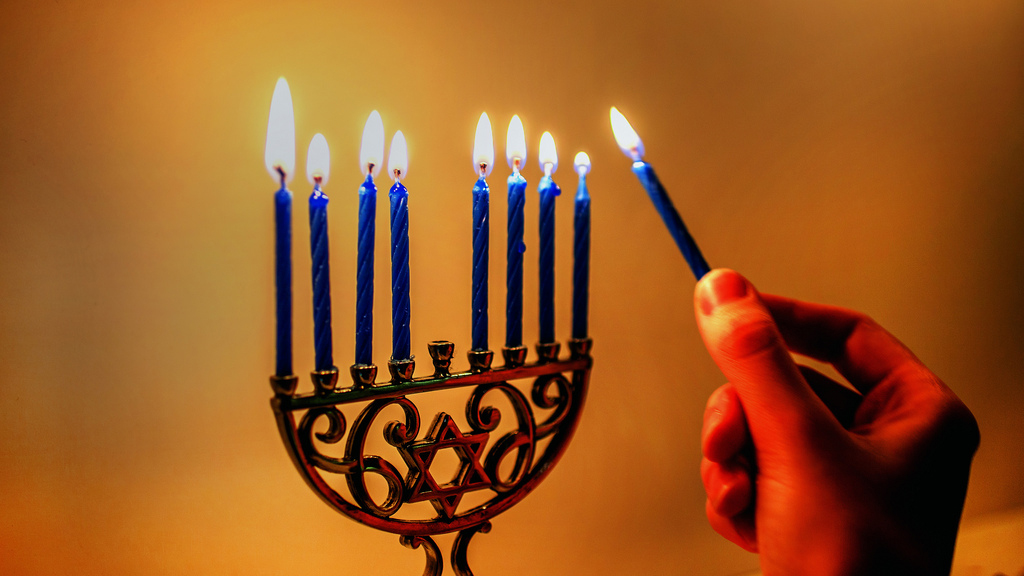 Composer Victoria Bond has been conducting a Christmas favorite, Menotti's Amahl and the Night Visitors, with Chicago Chamber Opera for just over a decade. But since Bond is Jewish, "I've thought for many years that it would be nice to have a theatrical production for Jewish kids during the holiday season," she said.
Her new opera, The Miracle of Hanukkah, has its fully-staged premiere Sunday, December 11, 2016 at Chicago's Royal George Theatre following several years of development with the Young People's Chorus of New York City, which commissioned the work.
"Music and worship started out together," Bond explained. "Music is right there in the Torah with David playing the harp. In Jewish worship, prayers are not spoken, they are sung." Given the important role of music in the Jewish faith, it's surprising, Bond said, that "there are no other operas about Hanukkah that I know of. I wanted to fill a niche." Bond has composed other pieces on Jewish themes, including a recent oratorio called The Reluctant Moses which recounts the Biblical story of Moses encountering God in a burning bush.
When first considering an opera about Hanukkah, Bond said, "the miracle of Hanukkah – oil burning for eight days – it's not as dramatic as what happens as the miracle in Amahl. In that story, the title character is a disabled boy who is healed and no longer needs to use a crutch. We Jews don't throw away crutches. The idea of an Amahl wouldn't work."
Instead, she decided to update the story of Hanukkah. "The opera takes place in a contemporary high school classroom. The teacher is telling her class about the story of Hanukkah and different traditions, and one student asks, 'Why do I have to learn about Hanukkah? I'm not Jewish.' The teacher explains that the story of Hanukkah has something to teach everyone."
One of the characters in Bond's opera has a different kind of miracle, inspired by an experience her husband had in elementary school. After an audition for the school choir, his teacher said he sang like a bird – a vulture. "That affected him forever. Those things go in deep. One boy in the story is embarrassed to sing, and he becomes frustrated because he feels alienated. But later he overcomes that fear, and when he sings, everyone is impressed by the beautiful sound and the menorah lights up by itself."
The characters in the opera perform Bond's original music as well as her arrangements of traditional songs, including "I Have a Little Dreidel," which you can hear below.
In order to ensure that audiences of all ages are engaged during the opera, Bond said, "we aren't using supertitles, because I think it's a lot for young audiences, especially children who might not be able to read, to try to understand what's happening and having to look up at them." Instead, Bond focused on crafting her work so that everything is easily intelligible, and has carefully set the words of her librettist, Susan L. Roth.
One number that Bond and Roth particularly enjoyed creating together explores one of the most important traditions of Hanukkah: food. "Susan was in a grocery store looking at foods, and we literally just started making a list of things we wanted to include in the song."
For the fully-staged premiere of the opera in Chicago, Bond made a number of cuts so that it could be paired with Amahl in a single performance for audience members who may be young in years and short in attention span. The full opera contains additional numbers, including dances, which bring the work to almost an hour in length.
To learn more about the double bill performances of The Miracle of Hanukkah and Amahl and the Night Visitors, visit Chicago Chamber Opera's website. Learn more about Victoria Bond on her website.