Catherine Gregory and David Kaplan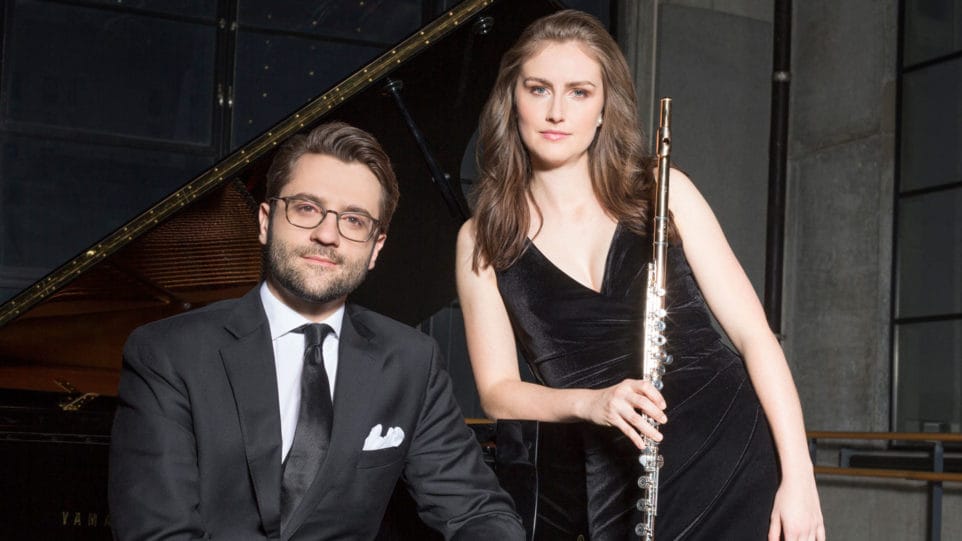 Catherine Gregory, flute, and David Kaplan, piano, performing Schumann, Dutilleux, and Prokofiev.
Playlist
Selections from Three Romances, Op. 94 (7')
I. Nicht schnell
II. Einfach, innig
Robert Schumann (1810 – 1856)
Sonatine for Flute and Piano (9')
Henri Dutilleux (1916 – 2013)
Sonata for Flute and Piano, Op. 94 (21')
I. Moderato
II. Scherzo: Presto
III. Andante
IV. Allegro con brio
Sergei Prokofiev (1891 – 1953)
FROM THE IMF WEBSITE
Praised for her "rich and fully present" sound (The New York Times), Australian flutist Catherine Gregory is in demand as a soloist, chamber, and orchestral musician and has performed at Carnegie Hall, the Kennedy Center, and the Lincoln Center festival. She has been a winner of the Pittsburgh Concert Society Competition, and has worked with such composers as Steve Reich, David Lang, and George Crumb.
Ms. Gregory has appeared at various festivals including the Mt. Desert Festival of Chamber Music, Scrag Mountain Music, and the Chestnut Hill Concert series. She is a frequent collaborator with Trinity Wall St's NOVUS NY, Ensemble LPR, the Locrian Chamber Players, NOW Ensemble, and has been a guest of the Springfield and Princeton Symphonies, Jupiter Chamber players, and Orpheus Chamber Orchestra. In Australia, she appeared with the Southern Cross Soloists, and has performed with the Paris Opera Ballet and the Australian Chamber Orchestra. She has played under the batons of such conductors as Harry Bicket, Robert Spano, David Robertson, Susanna Mälkki and Marin Alsop.
Passionate about creating meaningful musical experiences, Ms. Gregory is a Core-Member of Decoda—Affiliate Ensemble of Carnegie Hall, and Resident Ensemble for Creative Performance at the Guildhall School in London. She is an alumna of Ensemble Connect (formerly ACJW): A Program of Carnegie Hall, The Juilliard School and The Weill Music Institute in Partnership with The New York City Department of Education.
Ms. Gregory studied with Gerhard Mallon at the Queensland Conservatorium, as well as in the US under the auspices of a Fulbright Scholarship with Alberto Almarza and Jeanne Baxtresser. Catherine was appointed Artist-Lecturer of flute at Moravian College in 2015. www.catherinegregory.com
David Kaplan, pianist, has been called "excellent and adventurous" by The New York Times, and praised by the Boston Globe for "grace and fire" at the keyboard. He has appeared at London's Barbican Centre, at Miami's Arscht Center with Itzhak Perlman, and worked with the Orpheus Chamber Orchestra. Recent appearances include the Ravinia Festival, Sarasota Opera House, National Gallery, and the Mondavi Center in Davis, CA. His recital, "New Dances of the League of David," infusing Schumann's Davidsbündlertänze with 16 new works, was hailed one of the Best Classical Events of 2015 by the New York Times. He is a core member of Decoda, the affiliate ensemble of Carnegie Hall, and the Artistic Director of Lyrica Chamber Music, a community series in Morris County, NJ celebrating its 30th season.
Mr. Kaplan holds a DMA from Yale, where he studied with Claude Frank; he previously studied with Walter Ponce at UCLA, where he is now Lecturer in Piano for 2016-17.
He has recorded for Naxos and Nonesuch labels, and is proud to be a Yamaha Artist. Away from the keyboard, he loves cartooning and cooking, and is mildly obsessed with classic cars. http://www.davidkaplanpiano.com