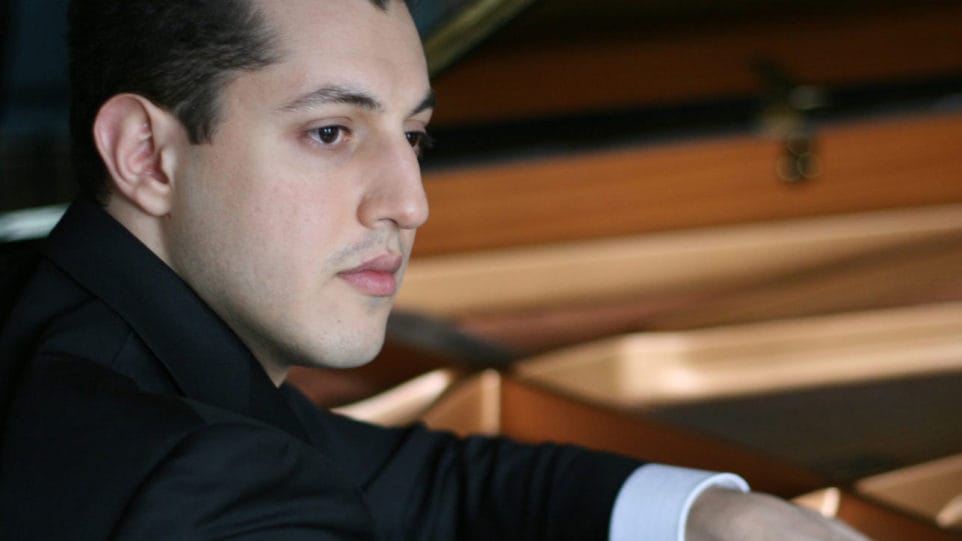 Pianist Karen Hakobyan performs works of Chopin, Debussy and Liszt live on the Dame Myra Hess Memorial Concert broadcast.
Playlist
FROM THE IMF WEBSITE
Karén Hakobyan, Piano
Nocturne in D-flat Major, Op. 27, No. 2 (5')
Frédéric Chopin (1810 – 1849)
Étude in A-flat Major, Op. 25, No. 1 (7')
Étude in E Major, Op. 10, No. 3
Étude in C-Sharp Minor, Op. 10, No. 4
Frédéric Chopin
Les soirs illuminés par l'ardeur du charbon (8')
L'Isle joyeuse
Claude Debussy (1862 – 1918)
Concert Étude Basso Ostinato Op. 14, No. 1 (4')
Karén Hakobyan (b. 1985)
Selections from 7 Virtuoso Études on Gershwin Songs (4')
Virtuoso Étude No. 4 Embraceable You
Virtuoso Étude No. 3 Fascinating Rhythm
Earl Wild (1915 – 2010)
Transcendental Étude No. 10 (5')
Franz Liszt (1811 – 1886)
Armenian-American pianist and composer Karén Hakobyan has emerged as a versatile force on the international music scene. Since his Carnegie Hall debut at the age of seventeen, he has performed in major concert halls in Armenia, Argentina, Mexico, Germany, France, Japan and the United States. US orchestral appearances include with the West Hartford Symphony Orchestra, University of Utah Philharmonia, and the Salt Lake Symphony, among others; and internationally,  with the Mahler Festival Orchestra (Japan), the Tucuman Philharmonic Orchestra (Argentina), the Monterrey Symphony Orchestra (Mexico), the Armenian Philharmonic Orchestra, and the National Chamber Orchestra of Armenia.
Mr. Hakobyan won Bronze Medal in the World Piano International Competition, 1st prize in the Pinault International Audiotape- Videotape Piano Competition, and 2nd prize in the Armenian Legacy Pianists International Piano Competition. He was a winner of the 2004 ASCAP Foundation Morton Gould Young Composer Competition. Of his March 2011 Carnegie Hall composition debut, David LaMarche (New York Concert Review) praised Mr. Hakobyan as "a musician of abundant gifts and bountiful ideas."
His festival performance highlights include the The Pianist as Composer Festival at Mannes College of Music in 2008 and the Gina Bachauer International Festival in 2014 in Utah. He was also featured at the Keys to the Future Contemporary Music Concert Series in 2009 and 2010 in New York City. His performance of Vuk Kulenovic's Virginal in Le Poisson Rouge on the closing night of the Keys to the Future festival was described as "sensitively rendered" by the New York Times. He was also featured in three special concerts during Carnegie Hall's 2010-2011 season.
Mr. Hakobyan's performances have been broadcast on WQXR New York's Classical Radio Station, WMFT in Chicago, Argentine National Radio, Monterrey's (Mexico) Op. 102 Radio Station, Utah Public Radio 89.5 FM and on Armenian National Radio.
His live performance of Khatchaturian's Piano Concerto in Muza Kawasaki Hall in Tokyo with the Mahler Festival Orchestra as well as selections from his solo recital in Ichigaya Hall will be released on the Altus CD label in Japan in 2017.
Highlights from Mr. Hakobyan's 2016- 2017 concert season include guest appearances with the Japan Sinfonia (Tokyo), the Lebanese Philharmonic Orchestra (Lebanon), the Armenian Philharmonic Orchestra (Armenia), the Imperial Orchestra (Montreal) and World Peace Sinfonietta (NY) as well as solo recitals in Japan, Argentina, France, the United Kingdom, Canada and the United States.
He is the Founder and Artistic Director of Pegasus: The Orchestra based in New York City. http://www.karenhakobyan.com