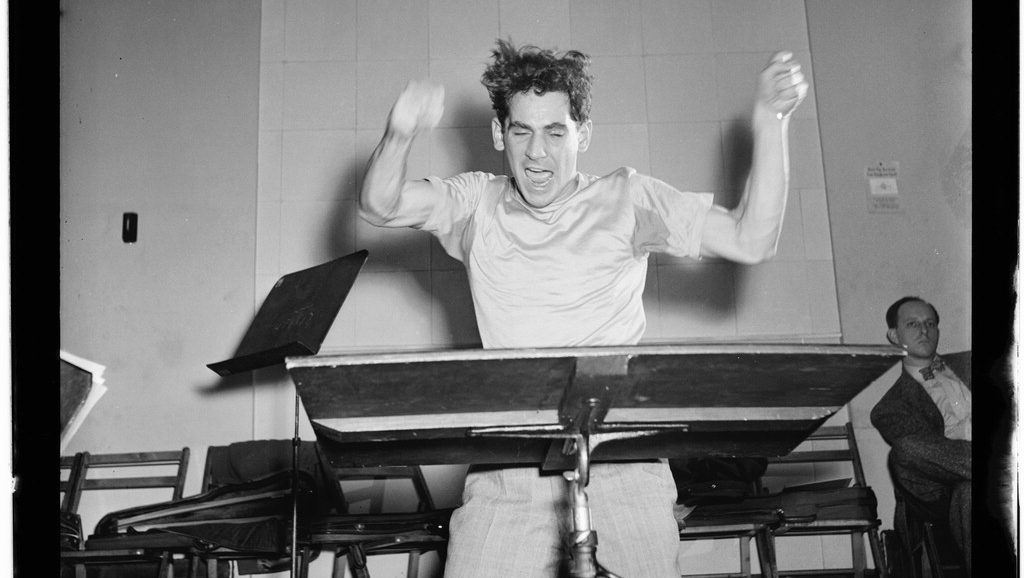 I grew up with Leonard Bernstein.
No, I didn't live anywhere near Lawrence, Massachusetts where he was born August 25, 1918. And he was more than thirty years older than I. But as a child growing up in the 1950s, I was the perfect age to enjoy The Mickey Mouse Club and Leonard Bernstein's Young People's Concerts. I was 8 years old when he hosted his first Young People's Concert with the New York Philharmonic on CBS. I still remember many of them: What is American Music?, Humor in Music, What is Impressionism?, Jazz in the Concert Hall, and several programs featuring young artists. They made a deep impression on me as they stretched all the way from my elementary school years until 1972 after I'd finished college.
Leonard Bernstein had a major influence on my musical life. When I took up an instrument in 5th grade, I watched the televised concerts closely to see the oboe player. When I was in high school, I bought a paperback biography of Bernstein. I still remember the title of one of the chapters, "Who Do They Think I Am—Everybody?" And I learned so much music from watching those New York Philharmonic concerts. By the time I entered college—as a music major—I was following Bernstein's career closely. I was still in school when he announced that he was retiring from the New York Phil at the age of 51 to devote more time to composing. But he continued as Conductor Laureate and still hosted more Young People's Concerts. I still remember his "Berlioz Takes a Trip," his explanation of the story of the Symphonie Fantastique as a hallucinogenic "trip."
I also had several opportunities to see Bernstein in person over the years. They all were memorable.
While I was a music student at the University of Michigan, he brought the New York Philharmonic for two performances in September 1967. The highlights included the world premiere of Aaron Copland's "Inscape," with Mr. Copland present. I waited backstage to meet Bernstein and get his autograph—now framed on my wall. I didn't attend the second night but I did lurk outside the stage door of Hill Auditorium in Ann Arbor where I could see him emerge from the dressing room and enter the stage. I noticed that he kissed his cufflinks just before making his entrance. I later read that he always wore a pair of cufflinks given to him by his mentor, Sergey Koussevitsky.
In 1982, I was in New York for a weekend of concerts and sightseeing including a New York Philharmonic concert led by Conductor Laureate, Mr. Bernstein. My vivid memory of that concert was the indulgent, hyper-Romantic performance of Elgar's "Enigma Variations." Another Lenny touch: pausing after the Nimrod Variation, stepping down from the podium, and hugging the concertmaster of the orchestra, seemingly weeping on his shoulder! Emotional Lenny.
In 1984, Maestro Bernstein brought the Vienna Philharmonic to Ann Arbor. I attended those concerts as well as a question-and-answer session for the press. In addition to Bernstein's virtuoso performance in the press conference, my lasting impression was the final movement of Mozart's "Jupiter" Symphony. Once the great fugue and counterpoint section of the finale got going, Mr. Bernstein stopped conducting completely, folded his arms, and just leaned back on the bar at the rear of the podium! An ostentatious gesture, yes. But typically "Lenny."
Two years later I had moved to Chicago to work for WFMT. Mr. Bernstein toured with his old orchestra that summer including a stop at Ravinia. The first half of the concert was Bernstein's own music; the second half, the Tchaikovsky Pathetique Symphony (No. 6). As often happens in concert, the audience responded to the rousing conclusion of the 3rd movement with sustained applause, thinking it was the finale. Lenny did little to discourage the ovation—rather, he wallowed in it! Finally, he turned and led the orchestra in the final movement. And this is absolutely true: while making my way out of the park after the concert, I heard one north shore patron ask her companion, "What was that encore they played after the Tchaikovsky?"
My final Lenny sighting was in Chicago in June of 1988. He concluded the CSO season leading Shostakovich's Symphonies #'s 1 and 7, The Leningrad. (Those fantastic performances have been issued by DG.) I also had the rare opportunity to attend one of the rehearsals. At one point, Mr. Bernstein had been working with a small group of instruments on a short passage. When he went on, it was unclear to SOME members of the orchestra whether he wanted the small group or the entire orchestra to play. Principal oboe Ray Still was one who did not play. So when Bernstein got to the oboe solo—a repeated 2-note figure—he sang the two missing notes…with the words "Ray Still, Ray Still." Everyone had a good laugh, including Ray Still.
Conductor, composer, pianist, author, lecturer, activist…and never dull! Happy 99th Birthday, Leonard Bernstein.