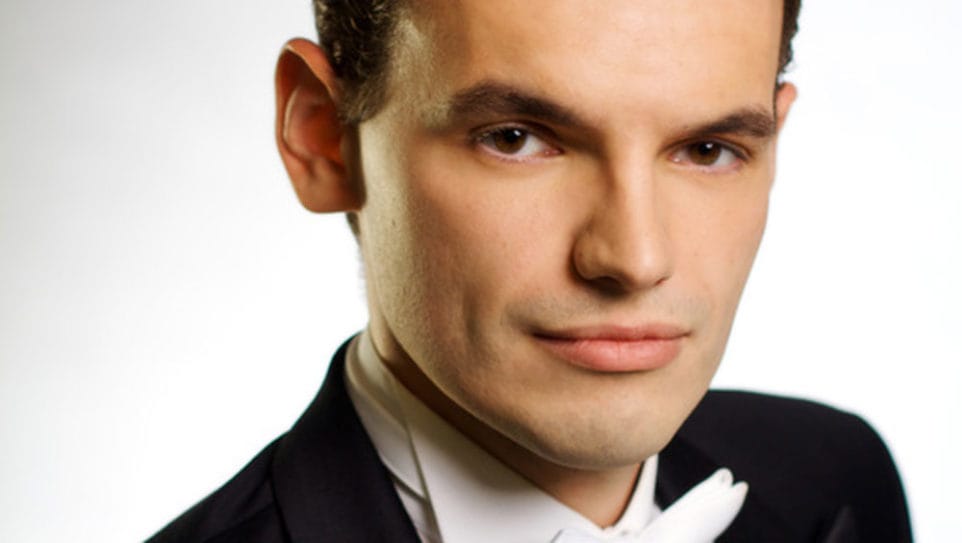 Pianist Adam Żukiewicz live in recital from Preston Bradley Hall of the Chicago Cultural Center for this Dame Myra Hess Memorial Concert.
Playlist
FROM THE IMF WEBSITE
Adam Piotr Żukiewicz, Piano
6 Variations on 'Nel cor piu non mi sento', WoO 70 (5')
Ludwig van Beethoven (1770 – 1827)
Scherzo in B-flat Minor, Op. 31 (9')
Frédéric Chopin (1810 – 1849)
Polonaise in A-flat Major, Op. 53 (8')
Frédéric Chopin
3 Preludes for Piano (5')
I. Allegro ben ritmato e deciso
II. Andante con moto e poco rubato
III. Allegro ben ritmato e deciso
George Gershwin (1898 – 1937)
Piano Sonata No. 4, Op. 30 (9')
I. Andante
II. Prestissimo volando
Alexander Scriabin (1872 – 1915)
A native of Poland, pianist Adam Piotr Żukiewicz has performed across Europe, the United States, Canada, Japan, Brazil, Hong Kong, and Macau. He has appeared on TV in Poland and Canada, and his performances have been broadcast in the US, Canada, Italy, Slovenia and Poland.
Maintaining an active international career, Mr. Żukiewicz performs solo recitals as well as chamber music concerts with renowned instrumentalists and vocalists. Highlights of recent performances include debut concerts with the Edmonton Symphony Orchestra, Toronto Sinfonietta, Toronto Concert Orchestra and Celebrity Symphony Orchestra.
Competition successes include several first prizes in competitions in Poland, First Prize at the 2012 Shean Piano Competition in Canada, First Prize at the 2011 TD Canada Trust Music Competition, and Second Prize at the 2011 Pacific Piano Competition in Richmond, BC. Most recently, he was a medalist of the 2014 Maria Canals International Piano Competition in Barcelona, Spain.
As an avid performer of new music, Mr. Żukiewicz regularly performs modern works, including several premieres; most recently Brooke Joyce's Lament for Orlando (2016), Stefano Sacher's La memoria di Medea (2016), Zdenek Trnka's Cervnova Nokturna (sonata pro klavir) (2015), and John Beckwith's Follow me (2013) with clarinetist Peter Stoll. Mr. Żukiewicz's interest in modern music manifests itself through his own compositions and the commissioning of new works from modern composers such as Bryan Christian and Wendy Lee. In 2018, his debut album The beginnings will be released, featuring 21st century piano works.
Adam Piotr Żukiewicz has studied with such renowned pianists and pedagogues as Pawel Zawadzki, Dario de Rosa, Alberto Miodini, Arnaldo Cohen, Vanessa Latarche, Marietta Orlov, James Parker and Jerome Lowenthal. He holds a Doctor of Musical Arts degree from the University of Toronto and Masters of Music degree from Indiana University. He has also studied at the Royal Academy of Music in London, UK, and was a music scholar at the United World College of the Adriatic in Duino, Italy.
He currently lives in Greeley, Colorado, where he was recently appointed an Assistant Professor of Piano at the University of Northern Colorado. He is also a Resident Faculty Pianist at the International Music Festival of the Adriatic in Duino, Italy.