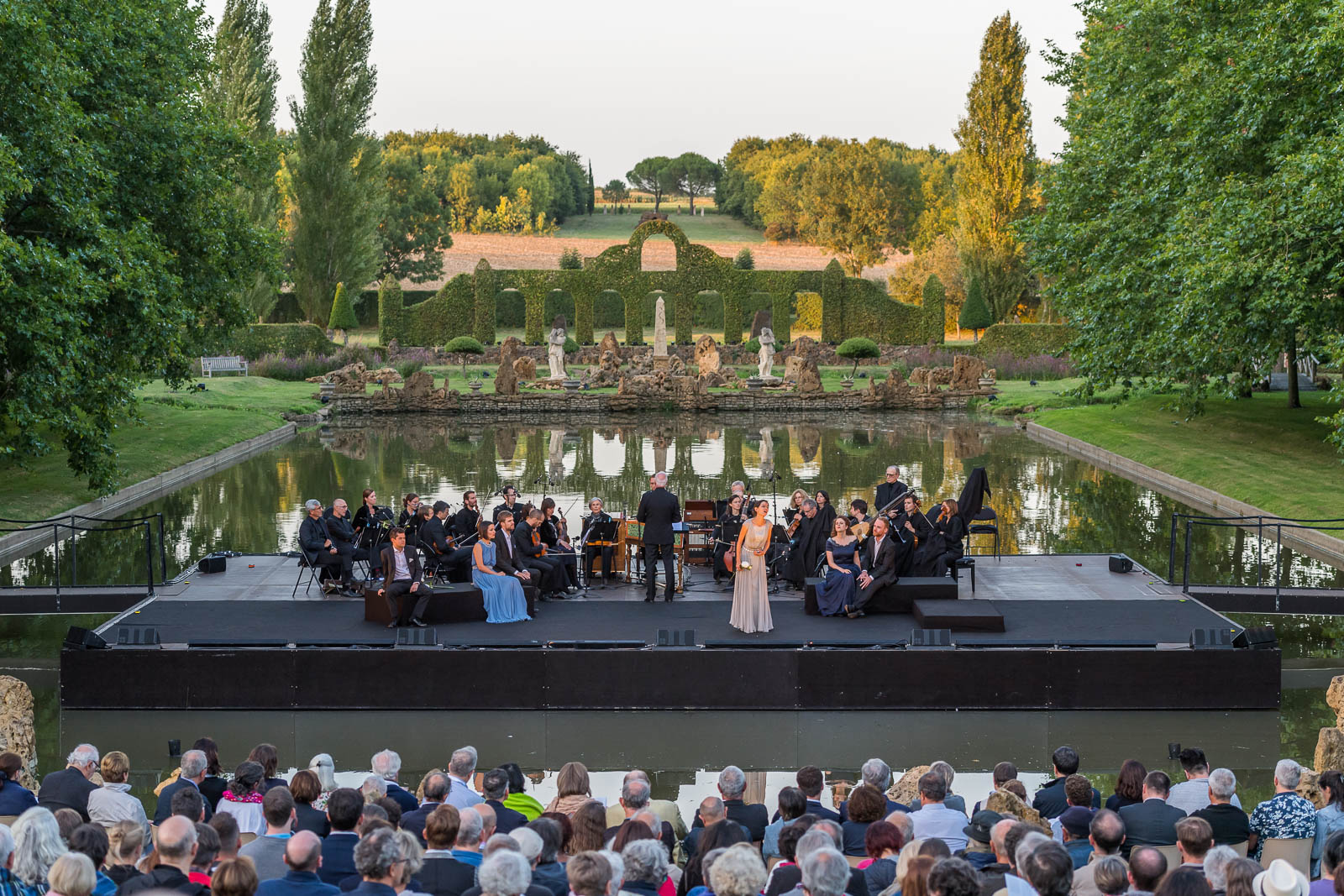 In 1985, William Christie, the founder and music director of the Baroque ensemble Les Arts Florissants, was driving in the French countryside when he saw Thiré for the first time. Located in the Vendée region of France, an hour south of Nantes, Thiré has about 500 residents and is filled with sprawling corn and sunflower fields.
"I was at the wheel of my car, and I crossed the little bridge that goes over the Smagne River in Thiré," Christie recalled. "And I found this house that was abandoned. I actually thought it was a monastery at first, with this enormous façade. It was in very bad shape, and it really hadn't changed from the 17th century. And I said to myself, 'Well, yes. You better stop looking for another dream house. This is the place to be.'"
Today, Christie's home and gardens in Thiré are the sites of Dans les Jardins de William Christie (In the Gardens of William Christie), a festival that celebrates Baroque and early music. The 2017 festival was its sixth installment. One might think that Christie inherited historic gardens to hold such an event.
"I didn't want a house that already had a garden. I wanted a no man's land, where I could start from scratch," Christie admitted. "The fact is there was this definite desire to create something that people could use."
For over three decades, Christie has curated approximately 10 gardens. There are parallels to the gardens of Versailles: a terrace faces a Miroir d'eau, or reflecting pool (with a barge for performances), with neatly trimmed and whimsically shaped hedges. While Christie's gardens pay homage to these French sensibilities, influences from Italian, English, and Chinese gardens are scattered throughout.
In the Théâtre de verdure, or the Green Garden, two entranceways are cut in the hedges for performers, a nod to garden performances in Versailles, yet the tops of the hedges are shaped like pagodas. The fusion of music and nature allows both musicians and audience members to "take a bath in Baroque," as John Hoyland, garden adviser at the Glyndebourne Festival in England, said during a tour of Christie's gardens.
According to Paul Agnew, renowned tenor and assistant musical director of Les Arts Florissants, the setting of the festival is ultimately "an educative process" for both the musicians and audience since it provides context for this music. "The social context of Baroque music says everything: for whom it was written, why it was written, and what it was written for. All of that finds itself here in Europe. You need some old stone work and countryside lanes for that experience."
While festival performances highlight the Baroque heavy hitters, including Bach, Handel, Purcell, and Vivaldi, Agnew noted how the repertoire selections can elicit some surprises. "It's a great moment if you're a musician, because libraries are scanning collections, and you can come across things that have just sat in vaults," he said. "I came across completely by chance some beautiful music by Daniel Speer, his manuscript called Philomela angelica cantionum sacrarum (1688). We can program these things because people trust us. We can say, 'You haven't heard this, and frankly, we haven't heard it either. But look at that – isn't it amazing?'"
In order to preserve this musical tradition, the festival places a high emphasis on education. A handful of students are selected from the Juilliard School's Historical Performance program to study and perform at the festival. Christie regularly guest conducts at Juilliard, and the musicians' time in Thiré with Les Arts Florissants is a culmination of immersive studies and performances in early music. The Jardin des voix, or the Voices of the Gardens, is also a selective program for young singers. The singers during the 2017 festival represented 5 countries.
For many of these young musicians, Baroque music was not always their focus. "I'll be honest, Baroque music was not love at first sight," Alana Youssefian, a Juilliard violinist and violist, confessed. "I thought I would get an orchestra job or become a soloist and play the Brahms Violin Concerto. I took a Baroque string class when I was a student at Oberlin Conservatory, and I remember thinking, 'If anything, it'd make my Bach a little better.' But eventually, everything just clicked. A lot of people think you have to give up certain repertoire or certain styles if you play early music. That is definitely not the case."
Some of the Les Arts Florissants and Juilliard musicians created a Baroque improvisation. "There's actually a big connection between early music and jazz," said Douglas Balliett, a bassist, composer, and Juilliard graduate. "A jazz pianist realizes chords, just like a harpsichord player would with figured bass. We started with this idea in mind, and thought, why shouldn't we go from a Baroque style to 'Octopus's Garden' or 'Stairway to Heaven?' The sum of two parts made something even greater."
The festival also supports a competition for young landscape designers to display their talents in a temporary space, the Jardin éphémère, or the Ephemeral Garden. The 2017 winners, Grégory Cazeaux and Marguerite Ribstein, said they were literally given a carte blanche, or a blank slate, in order to create their garden—no doubt a nod to William Christie's vision for his gardens.
Christie is also spearheading the establishment of a Quartier des Artistes, or an Artists District, in Thiré. The goal is to create year-round facilities that provide housing and rehearsal space for musicians, as well as research centers for gardeners, landscape designers, and Baroque art specialists. Some buildings in the heart of Thiré have already been renovated, incorporating 17th century materials from other defunct buildings in the village. "It's like this music," Christie explained during a tour of the Salle de Bal, or Dance Hall, which will be reconfigured into a reception and rehearsal space. "We're taking old materials and giving them life again."
The longevity of the festival and the artist center has been ensured by the label Centre culturel de recontre, or Cultural Meeting Center. This designation is given by the French Ministry of Culture to highlight projects that combine creativity, heritage, and transmission. Christie also credits the Vendée region and American donors for their support.
For both Christie and Agnew, one of the main surprises of the festival has been its reception. Agnew stated, "When we first proposed a festival in Thiré, people said, 'Thiré? It's in the south of the Vendée. No one will ever come.' We've sold over 9,000 tickets in 48 hours. That is a testament to the thirst of people for music, culture, beauty."
"People need music, perhaps more than one can imagine," added Christie. The French have a different way of looking at this music. People who haven't had exposure to it say, 'Well yes, that piece is sung in French, and I never knew about this, but it's a part of me, and I'm a part of it.' You can also sense that in the States. Great music can appeal to everybody."
Watch a highlight video of the 2016 festival below.
---
Travel to Thiré for WFMT was sponsored by Les Arts Florissants.