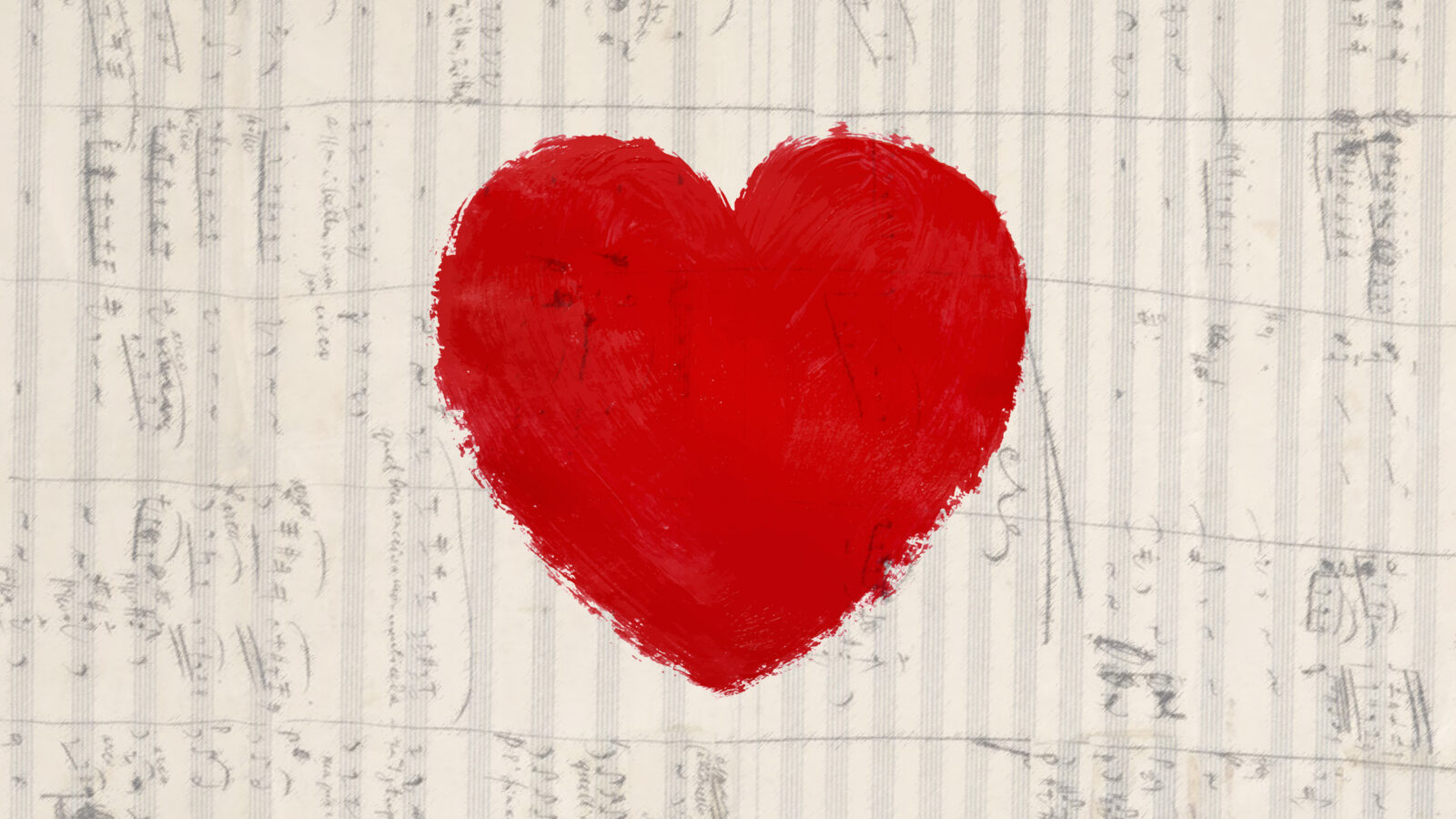 "If music be the food of love," keep WFMT on to hear the music you love the most. And if you're looking to set the mood this Valentine's Day, here are 10 of my favorite romantic works that are sure to tug at your heartstrings.
1. "O soave fanciulla" from Puccini's La bohème
La bohème tells of the passionate love between Rodolfo and Mimì, who first meet on a cold Christmas Eve in Paris. The opening act ends with their admission of love for each other in one of opera's most sublime duets.
---
2. Liszt's Liebestraum No. 3
Among Liszt's most popular works for piano, this Dream of Love was originally written as part of a song cycle. Each song portrays a different facet of love. The third sets a poem by Ferdinand Freiligrath which begins "O love, so long as you can!"
---
3. Adagio of Spartacus and Phrygia from Khachaturian's Spartacus
Spartacus is the story of the leader of a slave uprising against the Romans. In one of the ballet's most captivating moments, Spartacus frees his wife Phrygia and the lovers celebrate with this poignantly lyrical duet.
---
4. Barcarolle from Offenbach's The Tales of Hoffmann
A barcarolle is a folk song traditionally sung by Venetian gondoliers. Offenbach's setting from his last opera delicately intertwines two voices as they describe the beauty of Venice at night and the seductive power of love.
---
5. Balcony Scene from Prokofiev's Romeo and Juliet
No single work by Shakespeare has inspired as many adaptations as Romeo and Juliet. Prokofiev's ballet is considered among the most beautiful and powerful of the settings. In the famous Balcony Scene, Romeo and Juliet first discover their shared love.
---
6. Elgar's Salut d'Amour
In 1888, Edward Elgar and Alice Roberts were heading towards marriage. Before the composer went on holiday, Alice presented him with a poem she had written, Love's Grace. Edward reciprocated by writing a short piece of music for her, Love's Greeting.
---
7. Intermezzo from Mascagni's Cavalleria rusticana
Pietro Mascagni wrote 16 operas, but he's remembered today for only one, Cavalleria rusticana, which tells a story of love, betrayal, and revenge in Sicily. The famous Intermezzo connecting the opera's two scenes embodies the passion of this short but intense work.
---
8. Gershwin's "Embraceable You"
The songs of George Gershwin have become some of the most beloved standards of the Great American Songbook. Pianist Earl Wild transformed seven of Gershwin's popular melodies into technically challenging etudes that still hold the essence of the song.
---
9. Love Theme from Tchaikovsky's Romeo and Juliet
Shakespeare's tragedy resonated deeply with Tchaikovsky. The story of the doomed lovers inspired an orchestral work full of intense romanticism, including the famous love theme, one of Tchaikovsky's most inspired melodies.
---
10. Daybreak from Ravel's Daphnis et Chloé
The ballet Daphnis et Chloé is among Ravel's finest works. Its rich orchestration and sumptuous harmonies tell the story of the young shepherd Daphnis and his beloved Chloé, who has been abducted by pirates. In this magical depiction of daybreak, the lovers are reunited.
---
---
Enjoy the full playlist here!
---