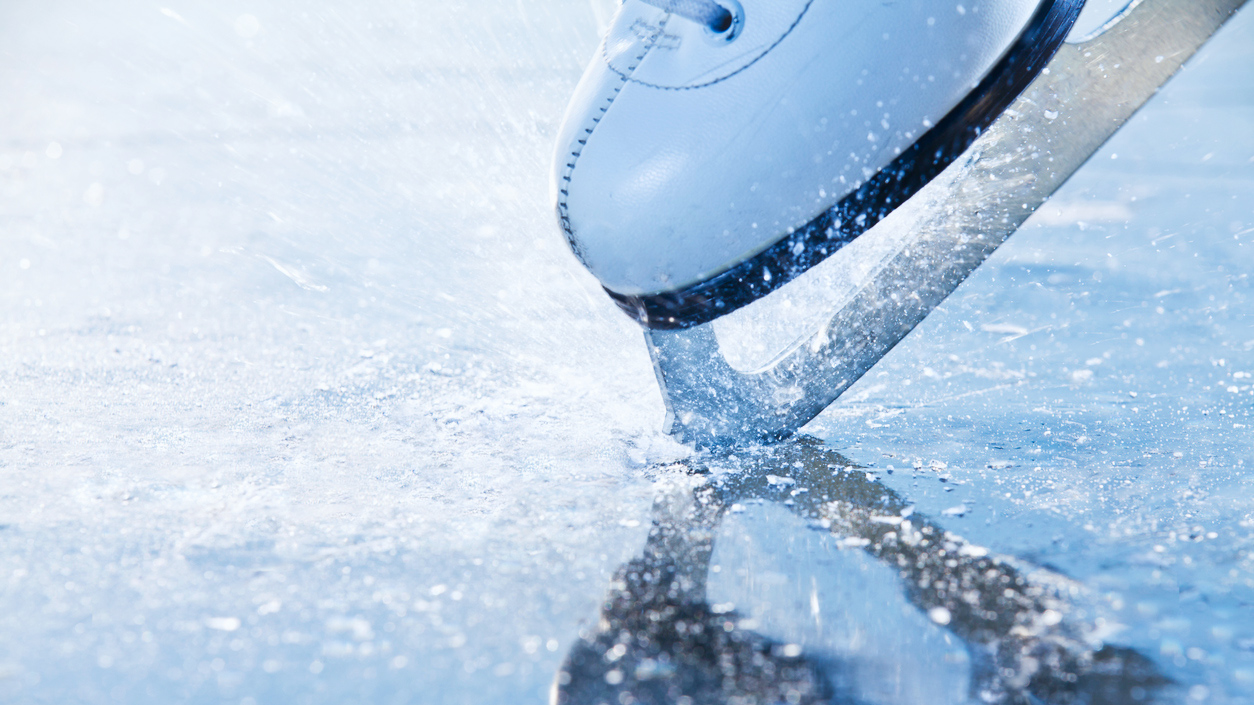 When ice skating was first included in the 1908 Olympic Winter Games in London, athletes competed exclusively to classical music. It wasn't just a matter of taste. Skaters, coaches, and choreographers selected their soundtracks according to a rule set by the International Skating Union prohibiting music with lyrics.
In 2012, the union voted to allow singles and pair skaters to compete to music with lyrics. But the change did not come into effect until the 2014-15 season; just after the Sochi games concluded. The 2018 Olympic games in PyeongChang, South Korea are the first in which skaters in all disciplines can compete to music with lyrics.  (Ice dancers have competed with lyrical music for decades.)
During the PyeongChang games, skaters have competed to music by Beyoncé, the Beatles, and everything in between. But according to Joe Inman, a professional musician and former Olympic skating judge, classical music still provides the best soundtrack for figure skating.
Inman, a Texas native, started skating himself at the age of 10. He "dropped the skating," he said in a recent interview, "because it was too much with my music. Plus the rink closed where I lived." As an undergraduate, Inman enrolled at the Juilliard School before transferring the University of Illinois Champaign-Urbana, where he earned a degree in piano and percussion performance. He received a Fulbright scholarship to continue his studies in Vienna, Austria, "But my draft board said, 'no,' and that was that. So I decided to come out to Washington and I got my master's at Catholic University." During the Vietnam War, Inman auditioned for several United States military bands. He was offered a position in the Army Band and played with the ensemble for 21 years.
Inman continued to stay active as a professional musician after retiring from the Army Band, and started judging skating when "a lady in my area talked me into it. So I worked my way up and judged at the national, world, and Olympic level." He served as a judge in the 2010 Salt Lake City Olympic games, and was a part of the Official Assessment Commission for the 2006 games in Turin, Italy.
---
"The reason people watch the sport is because they skate to music," he said. Yet in the world of figure skating, "there are some people that play instruments, but usually they don't have degrees in music. Judges usually don't understand the fundamentals of music. If you don't understand the basics, how do you understand phrasing? Phrasing is an essential part of choreography. We skate to music. If you want to be a evaluator, you need to find out what makes it tick."
Inman works with young skaters in northern Virginia, where he now lives, and around the world to better understand music so that they can be more competitive. He also leads seminars through the International Skating Union that teach coaches and judges about music.
"Skating is a balance between sport and art. Balancing that out when you're evaluating is very difficult. I have a tendency to want to push the art part. I get picky and I have a very high standard. In the music world, the standard of what you need to meet to win in a competition is extremely high. All my friends say, 'If you give an 8, that means Joe Inman is giving a 7 or a 6.75, so you know you're ok.'"
Inman tends to prefer classical music for skating because "great music stays around forever. Bach is still here. Vivaldi is still here." But it's not just the perceived timelessness of classical music that makes it sound good on ice.
To select good music for skating, Inman explained, "We need to have a lot of tension and release. And the judges need to be able to hear that, otherwise you can't understand the design of the program or the interpretation of what the skater is trying to do with their choreography."
"There should be some melodic range, more than just an octave, and some harmonic development. With a lot of pop music, there's not a lot of variety, either in the melody or the harmony. Pop songs often just use a few chords and the melodies tend not to have large leaps, which can help create drama."
Over the years, certain classical works have remained favorites of skaters and spectators alike. Countless athletes have competed to Ravel's Boléro, Chopin's waltzes and nocturnes, and music from Bizet's Carmen. Sometimes, you may even hear the same music used by two different skaters in the same competition, as Debi Thomas and  Katerina Witt both did in the 1988 games.
---
But no matter how many times Inman has heard these works, he never tires of them. "I have no trouble hearing Carmen again. What I do have trouble with is how it's cut. Sometimes people use the same phrase of music twice to make things work with the timing they need. But instead of finding a professional to help them, they cut it in a way that becomes totally asymmetrical both in terms of the melody and the overall form."
"Most people don't even hear it. But I hear certain cuts and think, 'Why are they doing that?' It can be jarring to me – especially when a program ends on a dominant chord for a half cadence, there's no sense of finality. If I hear that with someone from our United States teams, I try to encourage them to change that. Usually they really listen when I make that comment. One skater got away with it this year, but they didn't ask me in advance and I didn't see them until nationals, so by that point it was a little late."
How is music selected for a program? "Sometimes a coach lets a skater do what they like, and sometimes it doesn't work and they have to start over. Usually, decisions about music are made by a choreographer with the coach and the skater," Inman explained.
Once music is selected, the athletes match their movement to it. "In a recording, music has already been interpreted. When you're skating, you're interpreting the interpreter. How? By movement. What's up to the skater and the designer or choreographer is to make sure the movement reflects the music as much as possible," Inman said.
"You can tell many times that skaters don't intellectually understand what they're skating to, they're just robots," Inman lamented. "If a quarter note is being stretched, does the skater stretch and hold the movement for the full value of the note in that interpretation, or do they gloss over it? Do they miss a big part of the movement in music? If there's a crescendo and the lift doesn't happen at the peak of the crescendo, and it's done early, that's an issue. To me, those things are important. That's what I watch for and that's what I try to help other judges be more sensitive to."
Some of Inman's favorite musical selections for skating programs have been the "Dance of the Seven Veils" from Strauss's Salome and The Miraculous Mandarin by Béla Bartók. Michelle Kwan competed to both works, which were selected with the respective help of Lori Nichol, a choreographer and coach, and Peter Oppegard, a coach and retired skater himself. "I really wish more people had seen her perform to The Miraculous Mandarin, I think it would've really opened up a lot of ears."
---
"A lot of my friends don't like the new inclusion of vocal music," Inman said regarding the ISU's recent change to rules governing music selection. Personally, he said, "I have no problem with any vocal music if it's classical, because usually the music very closely follows the words. In the baroque period with the birth of opera, the music reflected the words. If you had a word like 'dark,' you might get a minor chord. That's sometimes called word painting."
"Modern music, pop, rap, it's for sure about the words," Inman continued. "But a lot of it is all very rhythmic. Skaters sometimes like music because it's rhythmic – that's what I find with my own teaching. If you skate just to the rhythm…ok… but it better be a damn good rhythm to be able to do that. I have not seen anyone, yet, skate to rap music very well."
"Music for skating doesn't have to be classical," he conceded, "but it has to be music that goes somewhere. There have to be high points and low points."
---