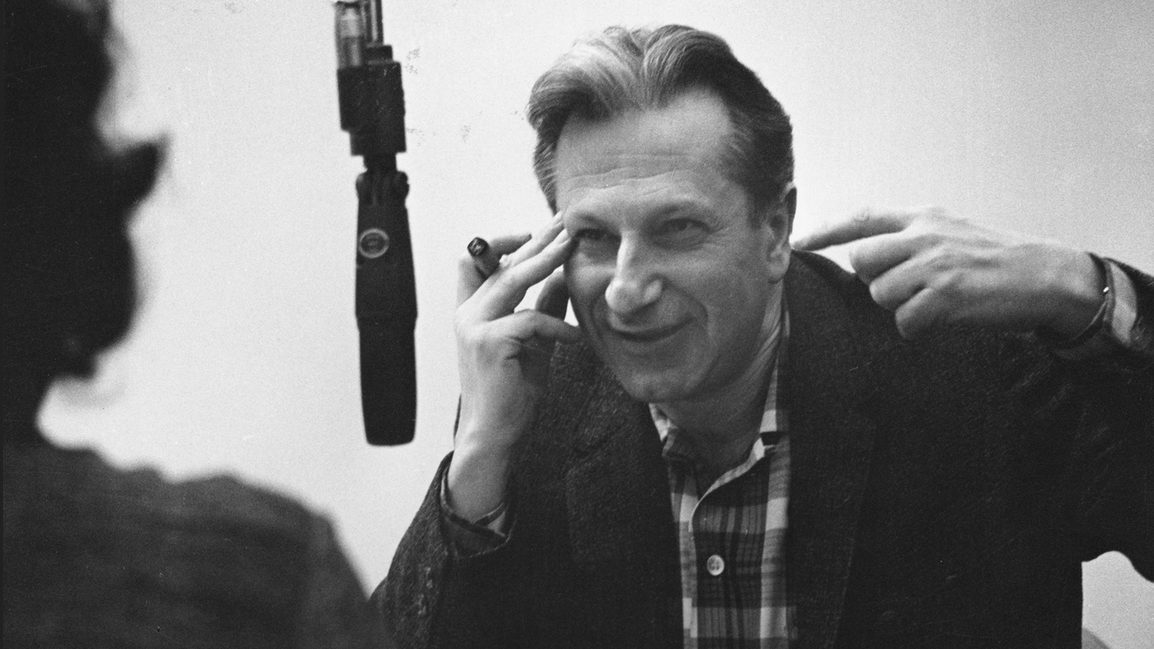 For 45 years, Pulitzer Prize-winning author, historian, and broadcaster Studs Terkel called WFMT his home base. The May 1963 issue of Perspective on Ideas and the Arts, WFMT's then monthly magazine, described Studs's WFMT program as one "which ranges wide to include records, interviews, and whatever else Studs thinks might be of interest his listeners."
The magazine mentions, "Last October Terkel flew to Europe and in seven weeks recorded 100 interviews with prominent authors, directors, actors, artists, and musicians," which WFMT listeners would sample throughout the month.
In the same issue of Perspectives, Studs published interviews he conducted in South Africa, then divided by apartheid, with Alan Paton, novelist, and political leader, Albert John Luthuli, Zulu chief and Nobel Peace Prize winner, Nadine Gordimer, short story writer and novelist, and C. Douglas Fuchs, an Afrikaner radio executive.
The diversity of perspectives Studs featured through his WMFT program, originally called The Wax Museum and later referred to as The Studs Terkel Wax Museum and later just Studs Terkel, is incredible. Between 1952 and 1997, Studs recorded more than 5,600 programs that included conversations with the likes of Martin Luther King Jr., Simone de Beauvoir, Bob Dylan, Cesar Chavez, and Toni Morrison.
Without a doubt, the diverse perspectives Studs featured make his catalog of tapes one of the world's great spoken-word collections. His programs are still heard around the world every Friday night on WFMT and WFMT.com on Best of Studs Terkel.
On May 16, 2018, what would have been Studs's 106th birthday, listeners will have more access to this incredible gold mine of materials than ever before. The Studs Terkel Radio Archive, managed by the Chicago History Museum and WFMT Radio Network, will be made available to the public. Major support for the project was also provided by the Library of Congress and the National Endowment for the Humanities.
One of the archive's central components is its digital platform – studsterkel.org – publicly accessible beginning at 6:00 am CT on May 16, 2018. Currently, the digital archive features more than 1,200 programs from which users hear, share, and re-use audio excerpts. The online archive, which is constantly being expanded, currently features conversations with Gwendolyn Brooks, Shel Silverstein, Muhammad Ali, Sidney Poitier, Pete Seeger, and Luciano Pavarotti.
In conjunction with the launch of studsterkel.org, you can attend a series of live, public events. On May 16, join us at the American Writers Museum in Chicago. Make your own American Lit mixtape from 10:00 am – 5:00 pm, and record or type your Studs stories from 12:00 pm – 2:00 pm. (Admission is $1.) Meet us for the afterparty at the Hideout, where you will enjoy live music combined with excerpts from the Radio Archive and brief stories from Studs's friends starting at 6:30 pm.
For more information on the Studs Terkel Radio Archives, and to access the archives on May 16, 2018, visit www.studsterkel.org.