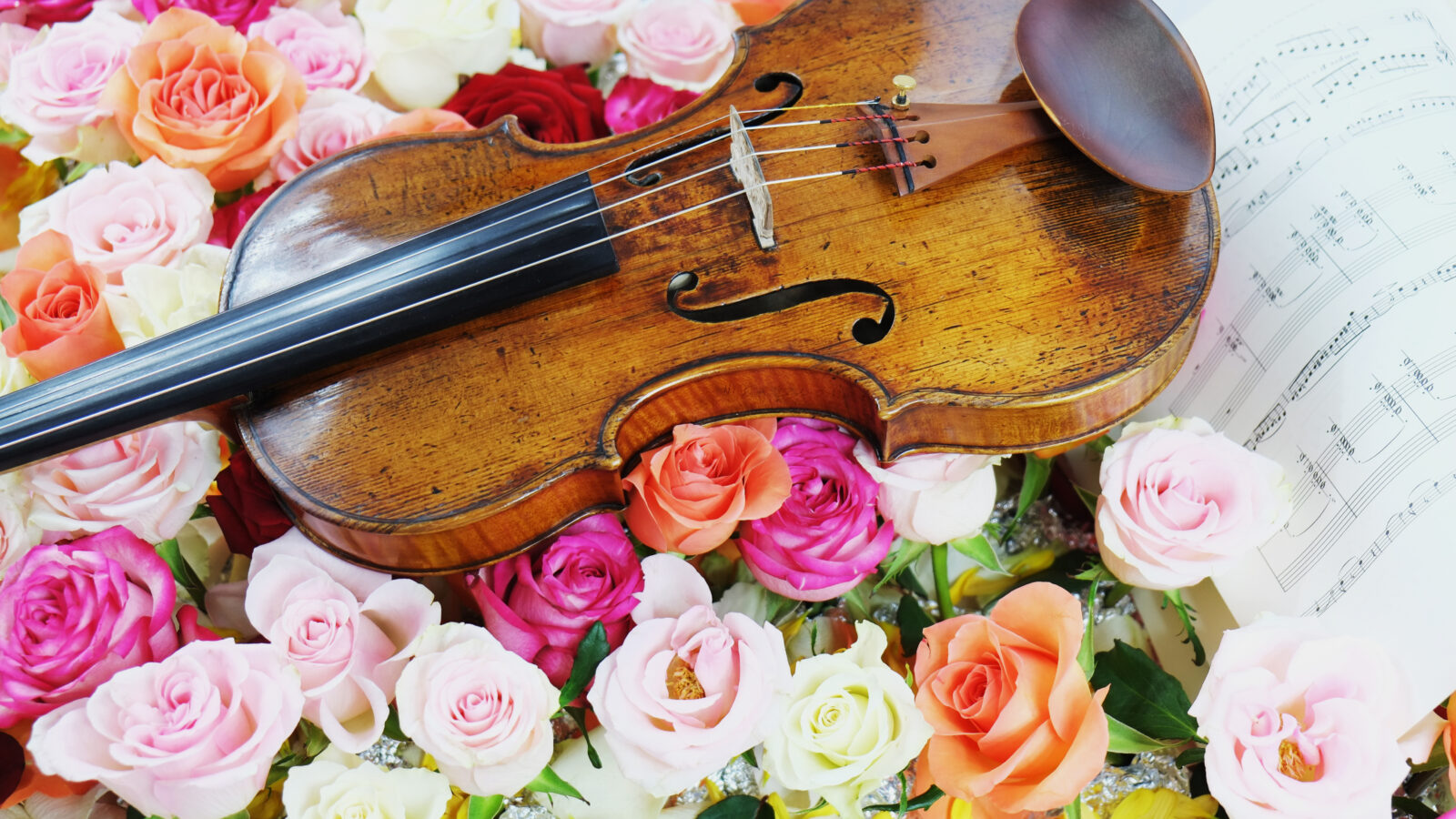 We love music, but do plants? The Tuscan winery Paradiso di Frassina claims that playing classical music in their vineyards helps produce better plants and better wine. Beginning in 2000, the vineyard began experimenting with playing sound for their plants. Later, Paradiso enlisted the help of professor Stefano Mancuso from the University of Florence to study changes in plants, and professor Andrea Lucchi from the University of Florence studied insect life in the vineyards. In 2006, Bose even supplied an all-weather speaker system to Paradiso. Two years later, the vineyard began giving their grapes a steady music diet of exclusively Mozart. Since, the winery has patented a system of diffusing sound to improve growth in vitis vinifera, the common grape vine.
Taking a cue from Paradiso, DeMorgenzon wine estate in South Africa plays exclusively classical music in its vineyards, cellars, and tasting room, drawing upon a repertoire of almost 2,500 pieces of music. DeMorgenzon's website says, "We, at DeMorgenzon Estate, believe that music can influence the growth of a vine and the fruit it bears. We have played Baroque, and early Classical, music to our growing vines in the vineyard, in the winery and in the cellar all day, and every day, for the past seven years."
DeMorgenzon's website mentions two seminal studies that have influenced their decision to play music for their plants. The first is The Sound of Music and Plants by Dorothy Retallack published in 1973, which became one of the first popular books to state that plants might respond to sound.
The winery also cites research from the influential book The Secret Life of Plants by Peter Tompkins and Christopher Bird. Published in 1973, it contains an entire section called "Tuned to the Music of the Spheres," with a chapter devoted to "The Harmonic life of Plants," summarizing studies that date back to the early 20th century. The book was later adapted into a documentary that was released in 1979, and even featured a soundtrack by Stevie Wonder.
But as soon as The Secret Life of Plants hit bookshelves, the scientific community began to question many of its central claims. A 1973 review of the book in the New York Times said the authors "have concocted a popular‐science pastiche of these New Occult hopes and brought them out into the marketplace, glibly tailored to bid for middle‐class respectability."
We asked Leora Siegel, senior director of the Lenhardt Library at the Chicago Botanic Garden, to weigh in. After researching the topic with her staff, she reported, "There's no scientific evidence that plants can hear or respond to sound. It can't hurt plants if you play music to them. Plants may be affected by vibrations or sound waves, there has been some research into that in recent years, but not enough to establish it as scientific fact."
"There are experiments that claim to show otherwise," she explained, "but there are so many factors to control, and most of the studies that are published in this area are not in peer-reviewed journals. That said, there is a Bioacoustics Journal," published by the International Journal of Animal Sound and Its Recording. So far, plants have not been the focus of any of its studies, "but who knows where the field will be in 50 years," Siegel said.
"People may claim to observe some changes in plant growth due to playing music, but I would say that their 'experiments' are not scientific," she continued. "In order for an experiment to prove something scientifically, other scientists must be able to reproduce the same study and yield the same results, and I don't think that's the case with any recent studies."
Music could still help your garden grow: even if plants might not respond to sound, you, the gardener certainly do! Ayse Pogue, a senior horticulturalist with the Chicago Botanic Garden, helped us pair the perfect music with different kinds of gardens and for different kinds of gardeners.
If you enjoy lots of color, and big, bold statements, you might want to consider planting an outdoor annual garden. Even in cooler months, an annual garden can burst with colorful mums. This kind of garden is a big attraction for butterflies and hummingbirds. But to get continuous blooming, both for you and your winged friends, "you need to dead head, otherwise, the plants are going to put their energy towards producing seeds," Pogue said.
Aside from dead heading, the majority of the work that goes into this kind of garden is planting early on in the season since annuals must be replaced, well, annually. Pogue suggests surrounding your annual garden with shrubs, conifers, and hedges to provide a formal backdrop that will help colors pop. Even in cooler months, an annual garden can provide continuous color with rust color mums, cool season annuals, and changing leaves.
The music of Beethoven might be the perfect soundtrack for you as you maintain your annual garden, since both can be full of big, bold statements. Because of the hours you'll need to spend planting annuals at the beginning of each season, we suggest listening some of his longer works, such as his Triple Concerto , "Emperor" Concerto, and of course, the "Pastoral" Symphony.
An English-inspired garden could be the perfect solution for the gardener who doesn't want to sacrifice form or function. English gardens can combine highly formal elements, such as hedges and topiaries, with cottage-style beds that overflow with a combination of ornamental and edible plants including herbs, vegetables, and fruits.
The English Walled Garden at the Chicago Botanic Garden features six different garden rooms designed by John Brookes to feature different styles of English gardens throughout the centuries. Brookes said that they "should be visual, of course, with color, but also scent and texture in the planting, and a feeling of it all not being too immaculate," Brookes said. "Plantings should be full and almost overflowing their borders. It should be a joyous and restful place above all else."
Both Handel's music and an English garden contain highly formal elements mixed with a bit of whimsy. Handel, who worked in London for a substantial part of his career, wrote many pastoral dramas. Give a listen to Il pastor fido or Clori, Tirsi, and Fileno to give yourself some calm in your own sylvan sanctuary. His Acis and Galatea, scholars believe, was likely first performed outdoors in the gardens a country estate, Cannons, owned by the Duke of Chandos.
Many Japanese gardens are designed according to centuries-old philosophies. Sakuteiki, one of the earliest Japanese texts to discuss the aesthetics of gardening and perhaps one of the oldest garden planning texts anywhere, dates to the 11th century. To create a new garden, the book suggests that you visit natural landscapes that most inspire you, and incorporate elements from them into your design. It also suggests that you design your garden to fit the site that it is on. The designer should never forget what the site looked like in its natural state.
Because of these aesthetic principles, many Japanese gardens appear very natural. But don't be fooled: they appear natural only because they are highly manicured. Everything must be cared for continuously so that the garden can be appreciated in all seasons, and offer a serene, calming space where you can go to contemplate.
The amount of work it takes to create a calm, natural-looking garden might not give you a sense of calm – at least not at first. Let the music of Philip Glass help. Though critics have often described his works as "minimalist," the composer himself prefers to say they have "repetitive structures," which makes sense since much of his music is hardly "minimal" when you look at the score. When creating a garden that is manicured yet natural looking, what better than music that simultaneously sounds simple, yet is incredibly complex? Try listening to Glass's piano etudes to help you pass the time to maintain your Japanese garden year-round.
If you're looking for a more laissez-faire garden, you might take some inspiration from the New American Garden designed by Wolfgang Oehme and James van Sweden. The designers revolutionized landscape design with their style, which van Sweden described as "vigorous and audacious, and it vividly blends the natural and the cultivated." In their garden, native plants and cultivated plants blend harmoniously. Rather than have a few of each kind of plant, they designed the garden to feature dozens or even hundreds of each variety in order to create larger landscapes.
If you're inspired by the New American Garden, we suggest the "vigorous and audacious" works of one of America's most beloved composers: Aaron Copland. His Appalachian Spring, originally created for the mother of modern dance, Martha Graham, is as American as apple pie. You might also enjoy listening to his Rodeo or the suite from the film Our Town as you get your thumbs green.
Pogue reminds us that even the most "laissez-faire" garden requires regular work. "No matter what type of garden you're curating, there's maintenance. Gardening on any scale involves weeding. Things grow; you need to prune them. Weeds come in from the birds or the air; you have to remove them."
Whether you have an all-weather speaker system in your garden, like the vineyards at Paradiso di Frassina, or simply want to listen to great music on your mobile device, WFMT has the great music for gardeners in all seasons.