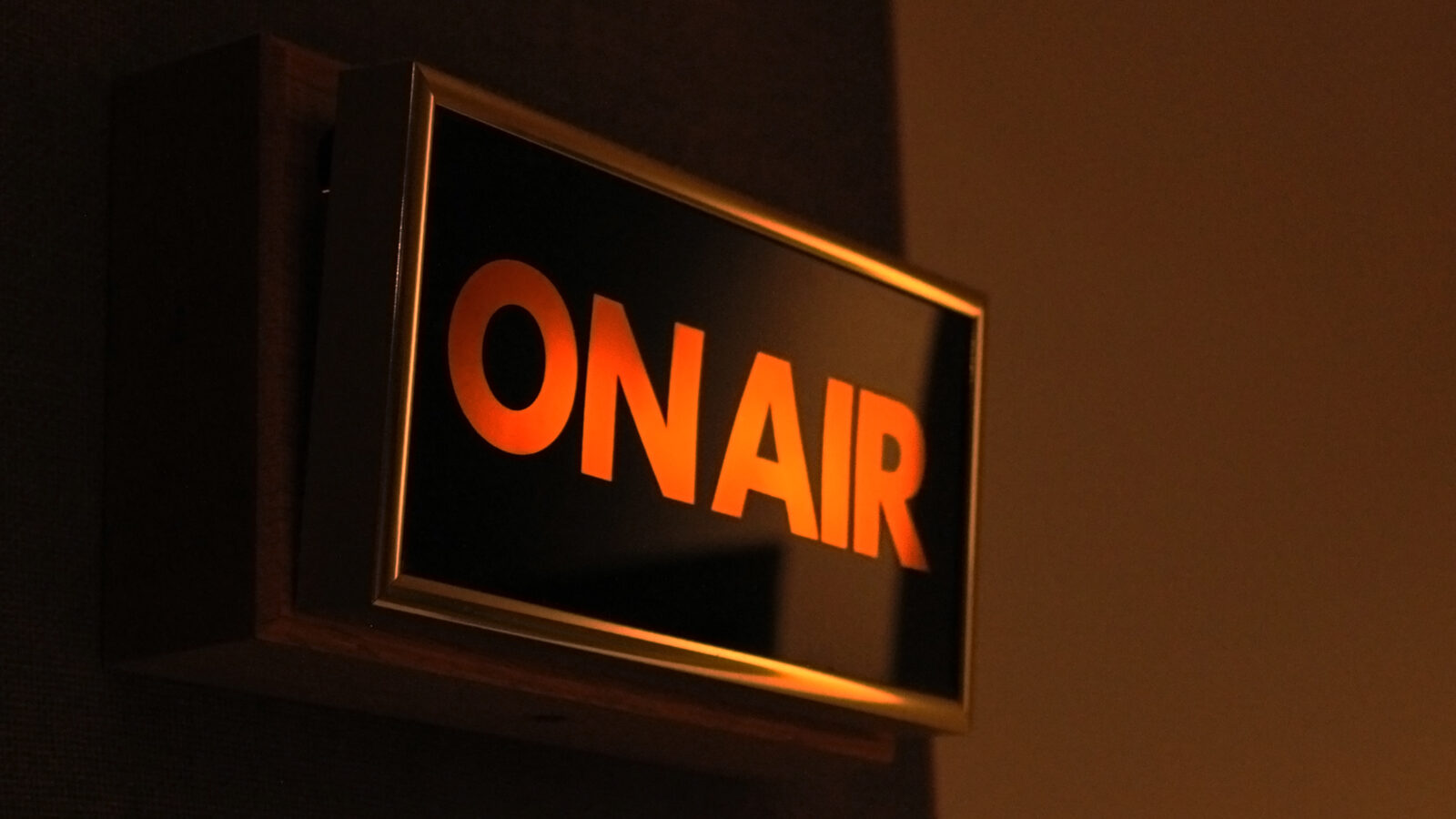 As the second hand ticks toward the top of the hour, the musicians on the other side of the glass finish tuning. The announcer puts on his headphones in anticipation of the cue: "And here's your host…" The on-air light button is depressed, and the fader is raised. A live radio broadcast has begun.
There is a certain excitement that comes from a live broadcast because almost anything can happen. Not to mention that it puts you in the best seat in the house, whether that be in your living room or your car, and newer technologies make it possible to broadcast from almost anywhere. But indeed, anything can happen, and it is up to the production team to keep everything on track.
At WFMT, we broadcast approximately 175 live events per year, averaging one every other day. They range in size from soloists, to small chamber ensembles, to full orchestras. The size and complexity of the ensemble determines several factors including the people involved, what equipment is used, and the budget.
First, let's look at who might be involved. Aside from the musicians on the stage, a program host is responsible for guiding the listener through the experience, while shaping the broadcast from behind the scenes is the producer. Mark Travis, the associate director of media who is in charge of production for the New York Philharmonic, says that there is a lot to think about during a live broadcast, and it is essential to consider the time allotted and with that information, he then plans the content. There are some givens. Travis knows that there will always be 5-6 minutes before the opening note, "…and I want those minutes something really special. I want to create something dynamic, so I will really try and stretch the boundaries and get as much material that serves to introduce the music as possible. I think that this is a really nice way to set the audience up for success."
Next, there is the engineer or engineers who are responsible not only for miking the ensemble but also making sure that all of the components work together. For this, there is much planning and equipment involved. Dr. Ing. Iker Olabe Goxencia, whose broadcasts and recordings have been heard throughout Europe, says that that the preparation for a large project could take 2-3 months, and the process involves scouting out the location, then determining the ensemble and repertoire. He says, "Repertoire and ensemble will define the type of sound produced on location and therefore [it] will inspire you to use of one type of main microphone technique or another depending on the feeling that you want to create for your audience."
Microphones are very important pieces of equipment for an audio engineer because they are technical as well as creative tools, to which Lawrence Rock, audio director of the New York Philharmonic agrees. To that, he says, "Microphones retain their value. Your choice of microphones evolves, but it builds on itself because the oldest microphone will still have a purpose." That purpose is to capture and broadcast the musical ensemble.
Bill Siegmund, the owner of New York's Digital Island Studios, describes capturing the performance in what he terms as a recreative act. Here's what he means: "I think that a synthesizer is creative because you are making it up completely. I tend to go for recreative where someone is playing the piano or playing the violin, and I just want to capture that as accurately as possible. It's very much like taking an undoctored photograph." The goal is to make the technology as transparent as possible, according to WYNC's senior broadcast engineer, George Wellington. He also adds that creating a sense of space and capturing audience reactions are also important aspects of the live radio experience.
Other staff might include a music engineer as well as a broadcast engineer, audio assistants, stage crew, etc. Personnel might also be dependent on time constraints, as Siegmund describes: "Depending on the complexity, I like to be set up 2-3 hours before the musicians arrive. Increased complexity doesn't necessarily make the time longer as it makes the compliment of staff larger. Sometimes there are union time constraints, so sometimes it's more cost effective to use more people for a shorter period of time than fewer people for a longer period of time."
In recounting a live New York Philharmonic broadcast from Carnegie Hall, he notes that the production included an executive producer, producer, host, commentator, concert engineer, broadcast engineer, scheduling reps, assistants, and stage crew. The day began at the hall at 6:30 am to hang microphones so that they would be ready for a 10:00 am rehearsal, which also served as their technical sound check. The live broadcast began at 8:00 pm. After the broadcast, the crew struck the equipment and took everything back to the station, which resulted in an 18-hour day.
There can be other challenges in addition to long days. We've definitely all had them. For instance, Christopher Willis of C.W. Media, who has engineered numerous broadcasts for WFMT including Lyric Opera's opening night broadcasts, often has to contend with venue and staging logistics. "I have to decide where to put the microphones to get the best pickup in spite of the limitations being posed by the stage direction as well as the whole staging. For the orchestra pit, which can contain upwards of 90 musicians, I have to design clever ways to hang or get the microphones where I think they need to exist in the context of not blocking anyone's view of the conductor, or causing any kind of discomfort to a large pit full of musicians."
Olabe describes a particular challenge as quite the curiosity to solve. It involved an orchestra in the Teatro Principal of Palma de Mallorca, Spain. The conductor didn't like the sound of the resident organ for the Saint-Saëns Organ Symphony, so he decided on using an organ from a church several miles away! The trick was to send the orchestra via a codec (an encode/decode unit used to send audio via phone lines or over IP) to the church in real time through a small speaker so that the organist could hear it. The two stereo signals, that of the organ and the orchestra, were blended and then broadcast.
The trick is in the planning. Wellington says, "We try to do a lot of advanced work so that there are no surprises." Siegmund adds, "There are problems and challenges that happen every time. It never goes exactly as planned, so I think the way to overcome it is to be as prepared as possible, be ready for curve balls, be early, have spares of critical components, be flexible, try not to curse, and do anything you have to do to make sure that you're live on the air when you're supposed to be."
What about remote broadcasts? How does the program – often referred to as continuity – get to the station? The primary concern for WFMT's chief engineer Joshua Sauvageau is the cost and efficiency of the delivery. Three methods are considered: ISDN, IP, and Codecs that can transmit over 4G/LTE networks. ISDN or Integrated Services Digital Network is a very stable but older technology. If this type of digital phone-line already resides in the broadcast venue, this is a good option. The second option is via IP, which can use existing internet lines. However, as Sauvageau indicates, "Many locations don't have the greatest upload speeds, which is what we're relying on." A dedicated line could be installed if there is time, but now there is even a newer option. "Devices are now being developed that can broadcast over 4G/LTE networks, which are the same kind that your smartphone works on. With this option, there is no install required, and we can broadcast from anyplace there is a stable network connection."
Costs for live broadcasts also vary considerably, so it is difficult to come up with an average dollar amount. There are also numerous factors to consider. Travis says, "That depends on what is being done and where it goes. A live New York Philharmonic radio broadcast might conservatively cost $50,000. A multi-camera Facebook Live Event might run from $75,000-100,000, and something for PBS or a movie theater, we're talking hundreds of thousands of dollars."
Facebook Live and other web-based options are also becoming popular means of broadcasting content, but one might ask why a radio station needs to broadcast audio/video content via the web. WFMT's digital content producer Stephen Raskauskas says, "Live video can never replace attending a performance, but it can help bring the live concert experience to a much wider audience than can fit in even the largest venue."  Travis adds, "Facebook Live has been a really good thing for the Philharmonic. It has given us the opportunity to have one on one contact via social media with our audiences, and get real-time feedback on what's happening during the course of the broadcast. It's wonderful for us to read these comments. It reminds us of the fact that the audience for the New York Philharmonic is global." Raskauskas agrees "Seeing a global, digital audience form during a live video broadcast is pretty rewarding. During our regular Dame Myra Hess Facebook Live broadcasts, I think we've seen music lovers tune in from every continent except for Antarctica." Maybe Antarctica will be tuning in next week.
---
It's much easier and less expensive to play a CD, so why do live broadcasts at all? Siegmund indicates, "I can't speak for everyone, but I like live events because they are very exciting, and you never know when something is going to happen. The audience is taking a journey with the performers, and it's a real high-wire act and to do it live is a remarkable thing. So, when you are doing a live broadcast, and it comes together, it's unreal!" Willis notes, "It's not an elitist thing for a certain group of people. It's a beautiful thing to be shared. The more you share a beautiful thing, the more beautiful it becomes, and I feel strongly about that." Having myself engineered over 2000 live broadcasts for WFMT, I can say that it is one of the major highlights of my job.
---
Mary Mazurek is the engineer for Live from WFMT, the Dame Myra Hess Memorial Concert broadcasts, and Impromptu. She teaches audio recording and production at Columbia College Chicago and serves as the chair for the Classical Task Force for the Chicago Chapter of the Recording Academy.