What a time to be a fan of one of the iconic sopranos of the 20th century! Maria Callas enthusiasts in Chicago can delight in having not one, but two outings to immerse themselves in the life and music of the acclaimed diva.
---
Terrence McNally's Master Class at TimeLine Theatre Company stars Janet Ulrich Brooks as Maria Callas and is directed by Nick Bowling. The play is inspired by and takes its structure from the master classes that Callas led at Juilliard in the 1970s.
True to the title, the play recreates the Juilliard master classes as Callas leads three pupils in challenging lessons. Save for a few phrases, Callas doesn't sing, yet she is the main attraction. She interacts with the audience as if they were her students, sharing a joke, doling out advice, or even asking the time. Despite her theatrics, she insists throughout the play that "this is not a performance — it's a class."
The play taps into Callas's narcissism, humanity, pettiness, and pathos, sometimes all at once as she maligns her rivals, (or as she would say, "colleagues,"), recalls the greatest triumphs of her career, or relives her own humiliation and hardships. She concludes the master class with a stirring and earnest reflection on the personal price of being an artist.
TimeLine Theatre Company's Master Class runs until December 9, 2018 at Stage 773, 1225 West Belmont Ave. For tickets and information, visit TimeLineTheatre.com.
---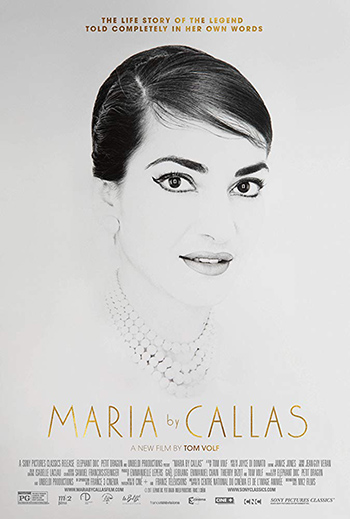 Maria by Callas: In Her Own Words is a documentary directed by Tom Volf. The film is captured exclusively through Callas's own words: her interviews, her performances, Super 8mm home video footage, even selections from her personal letters read by mezzo-soprano Joyce DiDonato.
The film is wide-ranging, spotlighting the high and low points of a legendary but relatively brief career. Uninterrupted footage of some of her most inspiring performances is usedthroughout the documentary. One of these extended sequences shows her performance of Casta diva from Bellini's Norma. For those of us who didn't have the opportunity to see her live, it's as close as we can get to witnessing a Maria Callas performance in person.
Maria by Callas also offers an intimate look into the iconic soprano's personal life. Lovers like Aristotle Onassis and Pier Paolo Pasolini, or her teacher Elvira de Hidalgo, who remained a lifelong confidant, make appearances. There are no modern-day experts weighing in, just the footage and Callas's own words. Consequently, the film is not blinded by her outsized legacy, but instead revels in Callas's humanity.
Maria by Callas is playing through December 13, 2018, at Music Box Theatre, 3733 North Southport Ave. For tickets and information, visit MusicBoxTheatre.com.