One of film's first superstars, Charlie Chaplin was an innovator in virtually every aspect of filmmaking. With his iconic character the Tramp, he created an 'everyman' who remains loved by audiences around the world to this day. Chaplin also wrote and directed most of his movies, and, even though he wasn't always credited, he composed nearly all of the music as well.
This largely overlooked aspect of Chaplin's career is the focus of the recording Chaplin's Smile, honoring the 130th anniversary of his birth in 2019. Violinist Philippe Quint and pianist Marta Aznavoorian explore the film pioneer's musical legacy in a project that was more than three years in the making. After going through dozens of songs and soundtracks, Quint settled on thirteen selections that he felt were best suited for violin and piano. As an added bonus, Quint is joined in two pieces by his longtime friend and fellow violinist Joshua Bell.
During Quint's childhood in the former Soviet Union in the 1980s, there was very little access to artists from the West. But Chaplin was an exception. His films, with their universal appeal, were regularly broadcast on Soviet television. However, it wasn't until years later that Quint discovered Chaplin the composer while looking for a new project. "I stumbled upon his song 'Smile,' and I became curious to see if there was more music written by him," Quint explains. "To my surprise, I uncovered an entire catalog of his works."
---
As Chaplin developed his famous persona for silent film, he took control of all aspects of his pictures, becoming one of the first artists to write, direct, and star in his own productions. He was initially wary about the introduction of recorded sound, but he soon realized it allowed him to create a complete artwork. Chaplin wrote in his autobiography, "One happy thing about sound was that I could control the music, so I composed my own."
Chaplin did not receive formal musical training, but he grew up immersed in the world of England's music halls and could play several instruments by ear.  As he began to find his musical voice, Quint says that Chaplin "used a team of composers and arrangers because he wasn't able to read music. He had an idea in his head and he knew how to preserve it through humming or indicating with his hands what he wanted."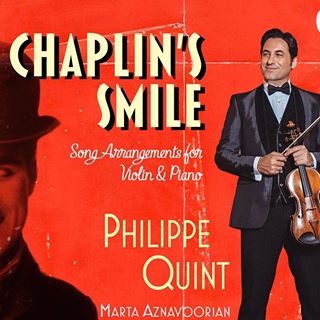 Music became an integral part of Chaplin's films, driven by the characters in the story. Aznavoorian explains that he "absolutely had to have the perfect music to draw out the emotion in his scenes and from his actors. He didn't stop until the music exactly matched the intent and the sentiment that he wanted out of that particular scene, or even throughout the whole movie."
The challenge for Quint and Aznavoorian was making a complete album out these often fleeting musical moments. Quint says, "Most of the songs were just themes, motives from characters, and they were short – maybe a minute to a minute and a half long." Like Chaplin, they collaborated with arrangers. Charles Coleman and Leon Gurvitch helped to develop longer versions of the songs for violin and piano. As the album progressed, Quint admits he channeled some of Chaplin's perfectionism. "I was changing everything constantly," Quint admits. "I could not stop. I was literally not sleeping for three years because the melodies were playing in my head."
Through the whole process, Quint and Aznavoorian remained committed to maintaining the spirit of Chaplin's music. Quint describes the sound world as "almost Mozartian in grace and charm. His music is deceptively simple yet speaks directly to your heart." While staying as close as possible to the original songs, they also wanted to add some virtuosity in the hope that the arrangements will be taken up by other violinists.
To that end, violinist Joshua Bell joined Quint and Aznavoorian for two tracks on the recording. Bell and Quint have been friends for many years, and Quint says it was a "no-brainer" when Warner Classics asked if they could bring a guest artist on board. With much experience in adapting songs outside of classical music, Bell immediately agreed. Quint says that he brought new ideas to the project: "Joshua gets right to the core of the music. For both of us, it was revealing and inspiring, and he drove those two arrangements to a new level."
---
Quint describes Chaplin's Smile as one of the most amazing and personal musical journeys in his career. He wanted to recapture the delight he felt as a child when first watching the timeless artistry of Chaplin. "In his films, there is always an element that everyone can relate to," says Quint. "It's humanity and it's empathy, driven by his incredible instinct. Instinct that was second to none but also very thoughtful and generous and caring."