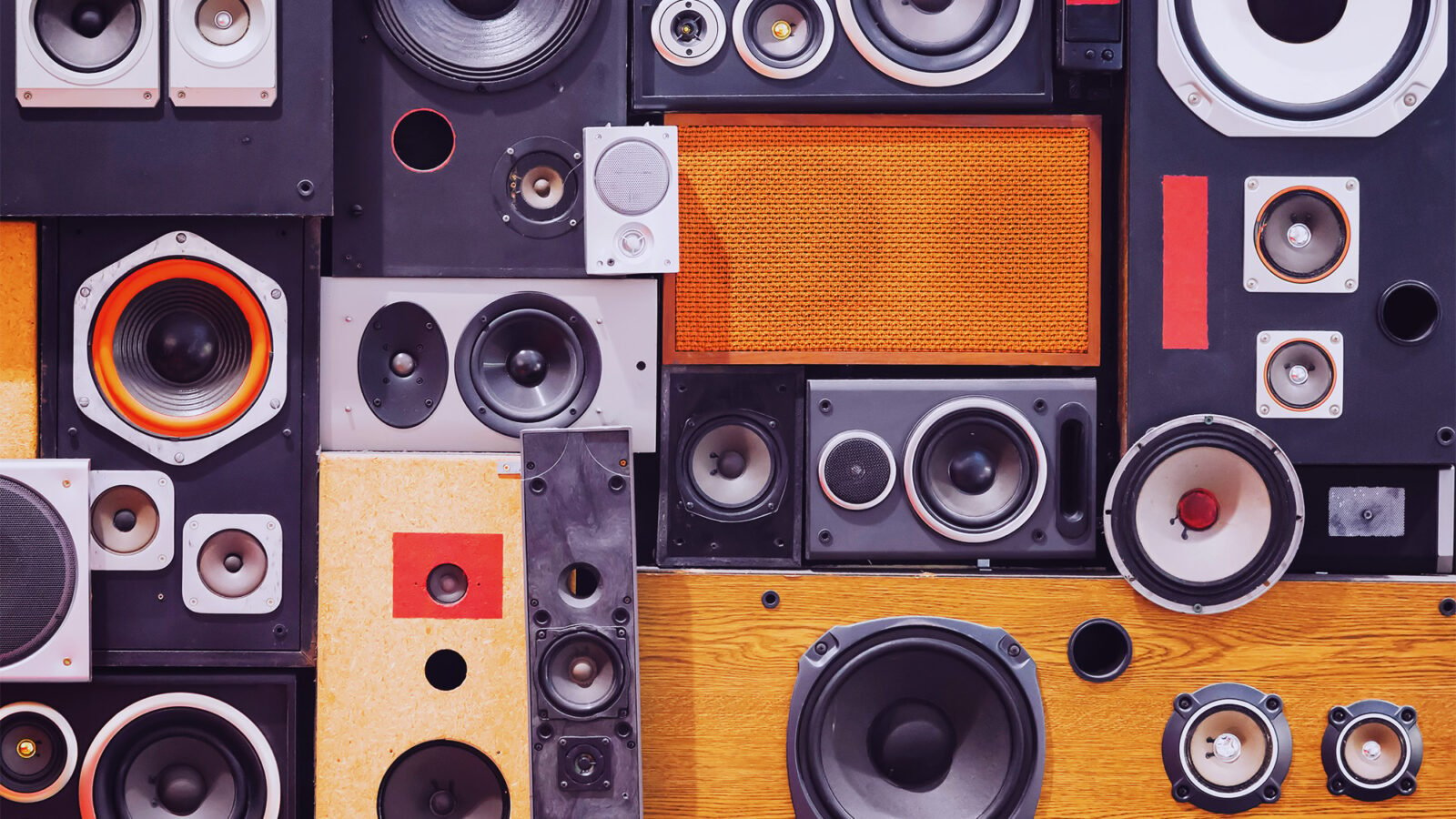 April 2022 brought the return of the Axpona Hi-Fi Show to Schaumburg after a two-year pandemic-enforced hiatus.
The event's return presented an opportunity to listen to a wide (almost dizzying) array of speakers and components. The speakers that I had the opportunity to listen to ranged in price from $250 to $153,000 a pair, with every price point in between.
Yes, the $153,000 Stenheim Reference Ultime Two reproduced a sound that would likely make any audiophile drool, but they are not appropriate for every situation, not least because they are cost prohibitive for many. What's more, these majestically towering 5'6″ giants require placement in a substantial space that might be beyond a typical dwelling. But even though I tend to be quite practical and pragmatic with my audio gear, I must confess that I did enjoy the listening experience.
This huge range of offerings raises the question; How does one choose the best speakers for their budget, environment, and listening habits? I spoke with a number of experts at the show to help you determine the best speakers for your listening needs.
Where to begin? What to consider?
When helping clients search for new speakers, Joe Corona of Saturday Audio Exchange, a Chicago Hi-Fi institution, begins with a list of questions. What is the listener's current component set, the size of their listening room, listening levels, among other aesthetic or logistical criteria.
One other relevant question is the listener's preferred seat at Orchestra Hall. These responses help to determine which speakers might best fit their situation.
But other considerations are important, too, if you're building a system from scratch. It might be tempting to start with the speakers because they are the most visible components, but Brian Farley, director of sales at Sound United (representing Bowers & Wilkins, Polk, Denon, and more), suggests beginning with the source — the receiver, turntable, etc. — and then finding complementary speakers.
Audio is always a trade-off. According to Bob Scranton, head of sales for the USA for Cambridge Audio, "Speakers only reproduce what they are given, [and compared with live performance] what Hi-Fi does is lose information. The goal is to lose as little information as possible." This is why it is important to consider the whole system and not just the speakers alone.
Jim Kozicki, a regional sales manager for Premium Audio/Klipsch, agrees that it is important to consider the whole system, arguing that it "is only as good as its weakest link…"
Space is also a factor, "because you don't want to get speakers that are too big or too small for the space" as indicated by Kevin Patafie and confirmed by Aleks Bars, and Leland Leard of Lone Mountain Audio, which specializes in ATC Loudspeakers. They note that speakers that are too large can produce a buildup of bass, which will make the sound more muddy and less clear. Conversely, speakers that are too small can be underwhelming, lacking fullness and resulting in a thin sound.
What should you expect to pay for speakers?
Joe Corona suggests that the speakers should make up about 40-50% of your total system budget. But how do you determine that budget?
Brian Farley proposes that the answer lies in educating the consumer. He states that customers often come in with a preconceived budget, so he asks if that is the real budget or is that what the customer thinks they should spend. According to Farley, basing the price point on the individual's listening needs and habits and is often greater than what they anticipated. Because a system can provide a lifetime of enjoyment, he suggests looking at the purchase of speakers and other components as an investment.
To get an idea of the price ranges, I inquired about the costs of both entry-level and top-of-the-line speakers from several of the most popular brands.
Cambridge speakers start at $350 for a speaker pair, $1500 for an entry-level system, and $15,000 on the high-end.
For ATC speakers, expect to pay $2000 for a pair of SCM7s and $120,000 for their Special Edition Series. The neodymium magnet, heavy drivers, low distortion, and transparency add to the cost, but Leland Leard reassures me that ATCs are a "forever" type of speaker. Also, ATC are generally purchased with complementary components, so Leard advises consulting with an expert to match components if you are only purchasing the speakers.
Klipsch's entry-level speakers start at $250 a pair and go all the way up to $36,000 for two Jubilee speakers.
$1599 will get you a pair of B&W 707 S2 two-way bookshelf speakers, meaning it has two drivers a woofer and a tweeter, and $35,000 will afford you a pair of the manufacturer's diamond tweeter 801 D4s. $60,000 is what a pair of B&W's sculptural Nautilus speaker costs.
So evidently, across brands and price points, there are a lot of options. How to proceed?
What other factors are key?
Our next considerations require a quick briefing of audio terms; critical are factors like phase, dynamic range, time alignment, and frequency response.
The phase determines how accurately the stereo image is depicted. So for an orchestra recording, can you hear the violins on the left, the cellos and basses on the right, and the winds a bit upstage and in the center? Phase issues can cause the stereo image to be smeary and less defined, or even make the speakers sound like two different sound sources instead of one cohesive image.
Good dynamic range reproduces the extremely soft and loud portions, typical in classical music, accurately and without audible distortion. This is especially critical for avid WFMT listeners; classical compositions can often have an extreme dynamic range compared to other musical forms. For example, pop music typically has less than 3 dB of dynamic range, but classical music could exceed 100 dB of dynamic range.
Time alignment adjusts the front-to-back spacing of multiple drivers in the speaker cabinet so that the frequency ranges arrive at the same time. Though the speed of sound (344 m/s) is constant across frequency ranges, the acoustical architecture of the speaker cabinet, the room, or electronic latency can have an effect. This can cause phase cancellations that may contribute to frequency loss.
Also, take note of the midrange fidelity. Aleks Bars and Kevin Patafie indicate that mid-range frequencies are important because that is where our hearing is strongest. In orchestral settings, instruments such as violas, oboes, and clarinets reside here.
And although frequency response is generally denoted in speaker specifications, Jim Kozicki cautions that there is no standard between manufacturers and recommends comparative listening in real-world environments.
But what is most important?
It's the music! Despite the vocab crash course we just gave you, it still comes down to you. And speaker tastes and preferences are subjective, so Bob Scranton suggests that you ask yourself, "How does the music sound and feel? [Because] how it makes you feel is important. [Then] buy what makes you feel closest to the artist."
---
Pro Tip
Come ready to listen with a playlist of your favorite music. When working in an unfamiliar studio space, I regularly listen to music that I have recorded or other commercial recordings that I like. Doing so helps me orient myself, as I have some expectation about the sound of those particular recordings.
When it comes down to it, Leland Leard reminds us, "It's all about the pleasure of listening." Jim Kozicki agrees that the goal of speakers is to deliver happiness. He reflects that "music is your time machine. [Listening] is a life-changing experience. It's visceral. It's emotional."
And finally, Joe Corona states, "We tend to believe [that] there is no one right speaker for everyone, and that a system should play all genres well. What works for classical should certainly work for Kanye."
Conclusion
So to recap, in addition to budget, consider other aspects such as your room size, the system as a whole, and your listening habits when purchasing speakers. Have your playlist ready, and use your ears to determine the best speakers for you. Ask yourself, "Do the speakers reproduce the music as I expect? Will this make me happy?"
Finally, be prepared for the speakers to cost more than you anticipated, but consider viewing it as an investment, and take comfort in the knowledge that speakers can provide you with many years of listening enjoyment.
---
Mary Mazurek began her career at WFMT in 1993 engineering the Dame Myra Hess Memorial Concerts, then took over the engineering duties for Live From WFMT, Impromptu, and other special programs. She earned an engineering Grammy-nomination along the way. Dr. Mazurek has accepted the position of Assistant Professor of Digital Audio Arts at the University of Lethbridge in Alberta, Canada. She departs WFMT mid-July 2022. Listen for her past work in rebroadcasts and new work as a freelance engineer in the future.