Today we hear from fellows of Chicago Musical Pathways Initiative. CMPI's mission is to support high school orchestral musicians from underrepresented backgrounds, and give them development and support for acceptance into top-tier conservatory, college or university classical music programs in preparation for careers as professional musicians. CMPI's eventual goal is to diversify the ranks of America's professional orchestras, and is part of a multi-city effort.
WFMT recorded four high school seniors for both this Introductions broadcast and an Introductions in the Community virtual event on February 25, 2021. Thank you to Merit School of Music for letting us record in their facilities, and to collaborative pianist Beilin Han.
Kailie Holliday, 17, cello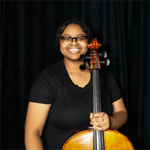 Kailie lives in Bellwood in the western suburbs, and started playing cello at Chicago West Community Music Center at the age of eight. She has grown tremendously in her skill set and her fluency in music, and currently studies with Alex Revoal at the Western Springs School of Talent Education, where she is in the ensemble Cellissimo. She is also in her third year as a member of the Merit School of Music Philharmonic in Chicago.
She has been afforded scholarships for playing abroad: in China in 2017 and in France November 2018. She continues to excel academically, holding a 5.1 GPA at Proviso Math and Science Academy. In the summer of 2020 she participated in several wonderful masterclasses, lessons, and concerts.
Kailie has aspirations of playing abroad with humanitarian organizations. She is very dedicated to her goals and is excited to see them come to fruition.
Eric Bahena Figueroa, 18, bassoon
Eric Bahena Figueroa is a senior at Dundee-Crown High School in Carpentersville in the northwest suburbs. He began his journey in music journey in the fifth grade on alto saxophone, switching to bassoon two years later. He is a member of both the Elgin Youth Symphony Orchestra, and the CYSO Symphony Orchestra and chamber music program.
Eric currently studies with Chicago Symphony Orchestra bassoonist William Buchman and formerly studied with Gwyn Downey. He has taken DePaul University's Summer Intensive Programs with William Buchman, Keith Buncke, and Miles Maner. He has participated in the Illinois Music Educators Conference and was a member of the Honors All-State Band in his sophomore and junior years.
Besides playing music, Eric enjoys listening to vinyl records, spending time with family and friends, as well as reading.
Rafael Noriega, 18, bass trombone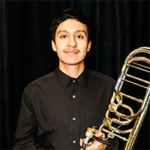 Rafael Noriega hails from Chicago's East Side and is a senior at Gwendolyn Brooks College Preparatory Academy. He currently studies with Timothy Riordan at Merit School of Music, and is the bass trombonist of the CYSO Symphony Orchestra. He started playing trombone in 3rd grade and then became a student at Merit School of Music's Tuition Free Conservatory in 6th grade. In 8th grade, he switched to bass trombone. During his time at Merit, he was a part of their competitive trombone quartet, The Bone Rangers, which won and placed in numerous competitions locally and nationwide. In 10th grade, he won Merit's concerto competition, subsequently making his orchestral soloist debut in John Williams' Tuba Concerto with the Merit Philharmonic.
In June 2018, The Bone Rangers traveled to Boston to appear on NPR's From The Top Show 358, and Rafael was chosen to receive a Jack Kent Cooke Young Artist Scholarship. Rafael was appointed bass trombone of the National Youth Orchestra of the USA (NYO-USA) for the summer of 2020 and 2021, and for NYO2 in 2019.
Rafael has appeared on WFMT with The Bone Rangers in 2018, 2019 and 2020, and this is his first appearance as a soloist.
Miguel Rodriguez, 17, flute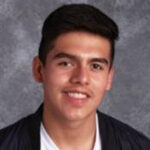 Miguel Rodriguez is currently a senior at Larkin High School in Elgin. In addition to being a fellow in Chicago Musical Pathways Initiative, Miguel is in the Elgin Youth Symphony Orchestra and EYSO's Earl Clemens Wind Quintet. He was a runner-up in the 2020 DePaul Concerto Competition and was invited to play as a guest soloist with the Elgin Symphony Orchestra for their Ainsworth Concert Series prior to the pandemic. He has also participated in regional and state ensembles via ILMEA.
Outside classical music, Miguel plays jazz alto saxophone and received the highest score in the District 9 ILMEA Jazz Sax category for the 2020 audition year. Miguel studies with Scott Metlicka, Principal Flute of the Rockford Symphony Orchestra, who also plays with the Elgin and South Bend Symphony Orchestras. Aside from music, Miguel enjoys running and reading.
Playlist
Manuel Ponce arr. Jascha Heifetz: Estrellita (excerpt)
Esme Arias-Kim, violin; Milana Pavchinskaya, piano
First broadcast on Introductions November 21, 2020
Camille Saint-Saëns: Cello Concerto No. 1 in A Minor, Op. 33:
I. Allegro non troppo
Kailie Holliday, cello; Beilin Han, piano
Johann Sebastian Bach: Cello Suite No. 2 in D minor, BWV 1008:
III. Courante
Kailie Holliday, cello
Ulysses Kay: Bassoon Sonata
Eric Bahena Figueroa, bassoon; Beilin Han, piano
Sergei Rachmaninoff arr. Leonard Sharrow: Vocalise, Op. 34, No. 14
Eric Bahena Figueroa, bassoon; Beilin Han, piano
Biagio Marini: Canzona (excerpt)
The Bone Rangers: Owen Riordan, Jonah Blake & Christopher Tam, trombones; Rafael Noriega, bass trombone
First broadcast on Introductions May 16, 2020
Eugène Bozza: New Orleans
Rafael Noriega, bass trombone; Beilin Han, piano
Jacques Ibert: Flute Concerto
III. Allegro scherzando
Miguel Rodriguez, flute; Beilin Han, piano
Some music is removed from the episode podcast for copyright reasons.
Livestream
Watch the CMPI livestream panel from February 25, 2021: