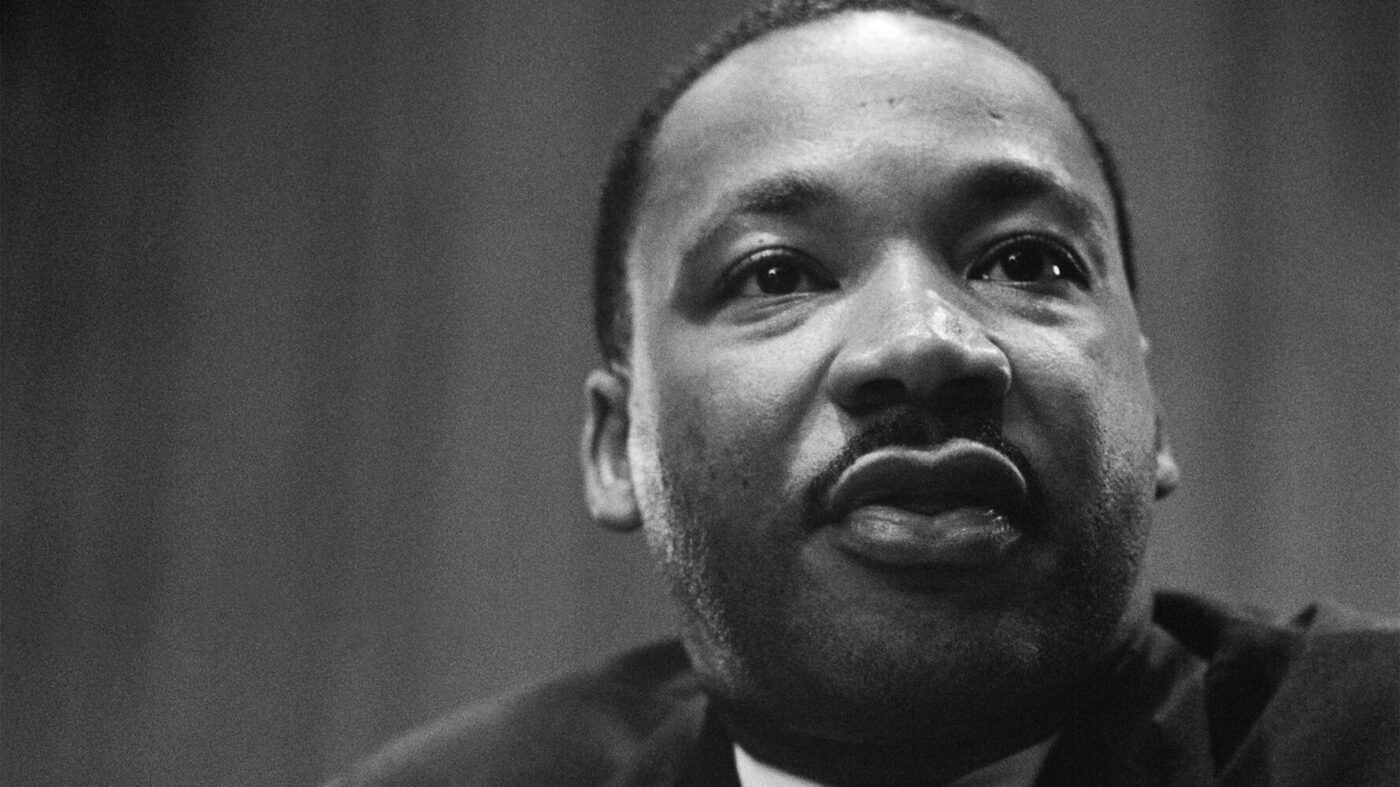 On this Martin Luther King, Jr. day, we've compiled an assortment of multimedia tributes — music, visual arts, poetry, and dance — to the monumental Civil Rights leader.
---
Music
Jessie Montgomery: Soul Force
Montgomery composed this work as a depiction of "the notion of a voice that struggles to be heard beyond the shackles of oppression," the composer shares. The work's title is taken from a phrase in the "I Have A Dream" speech, calling on his supporters to meet the oppressors' "physical force with soul force."
---
---
Mahalia Jackson: "Take My Hand, Precious Lord"
The words of this song were written and the melody was shaped by Thomas Dorsey, and the first known recording was in 1937. But this song does hold great significance in the life of Dr. King. It was his favorite song, one that he reportedly requested be played at a rally mere minutes before his assassination. As such, Dr. King's longtime friend Mahalia Jackson performed this hymn at his funeral.
---
---
You can hear Dr. King in a conversation with Studs Terkel recorded at Mahalia Jackson's house right here.
---
---
Nina Simone: "Why? (The King Of Love Is Dead)"

Nina Simone first performed this song just days after Dr. King's assassination. Written by Simone's bassist Gene Taylor, the plaintive melody captures raw grief, revealing equal measures of sorrow and anger.
---
---
Stevie Wonder: "Happy Birthday"
The jubilant melody and memorable chorus of Stevie Wonder's "Happy Birthday" belie a deep frustration at the core of this song. If you've listened to the lyrics, you know that this song was written about Dr. King, some may not know that the song was a powerful tool in the push to establish his birthday as a national holiday.
---
---
Adolphus Hailstork: Epitaph For a Man Who Dreamed
American composer Adolphus Hailstork wrote this orchestral tribute to King, invoking the Civil Rights hero's most-quoted refrain: "I have a dream." The 1978 work was envisioned as funeral music and captures the solemnity and gravity that such an occasion would bring about.
---
---
Grant Green: "The Selma March"
Jazz guitarist and composer Grant Green composed this euphoric instrumental, taking inspiration from the Selma Marches in 1965.
---
---
Preservation Hall Jazz Band: "Lift Every Voice and Sing" from MLK/FBI
"Lift Every Voice and Sing," the Black national anthem, was recorded specifically for the documentary MLK/FBI.
---
---
Margaret Bonds: Montgomery Variations
Margaret Bonds was inspired by the Dr. King-led Montgomery Bus Boycott to write this piece. Unfortunately, the work has not been recorded.
---
Poetry
June Jordan: "In Memoriam: Martin Luther King, Jr."
This poem is split into two parts — the first is jagged and chaotic, while the second is resolute in the face of difficulty.
Gwendolyn Brooks: "Riot"
This episodic work visits several key moments of racial oppression and opens with a quote from Dr. King.
Margaret Walker: "Amos, 1963" and "Amos (Postscript, 1968)"
Margaret Walker links Dr. King with the prophet Amos in these two poems, the first of which was written in 1963, the year when he organized protests in Birmingham and the March on Washington. The second poem was written in the year of Dr. King's assassination.
---
Visual Arts & Dance
Basil Watson: Hope Moving Forward
Basil Watson's evocative, 18-foot bronze statue of Dr. King was dedicated in 2021. The piece is sited on Martin Luther King Jr. Drive in Atlanta, Georgia.
Geraldine McCullough: Our King, Dr. Martin Luther King, Jr.
Geraldine McCullough's statue of Dr. Martin Luther King, Jr. is the first statue placed at the Illinois State Capital depicting a non-Illinois resident. But McCullough also sculpted a tribute to Dr. King that can be found much closer by: in Chicago's Austin neighborhood. This work taps into Beninese art while also referencing other global symbols of nonviolence such as a broken sword and a Tibetan prayer wheel.
For more artistic depictions, check out this Smithsonian Magazine story logging murals of Dr. King around the country.
Tommie-Waheed Evans: Bodies as Site of Faith and Protest
Tommie-Waheed Evans transcribes the words of Dr. King into movement in this passionate, rousing piece of choreography.
---