Today on Introductions, we feature four soloists from within Chicago Youth Symphony Orchestras. Principal Oboe Zachary Allen takes the podium to conduct his orchestra; Henry Lazzaro and Owen Riordan play solos with piano; and Henry Auxenfans triumphs in the Tchaikovsky Violin Concerto.
Zachary Allen is an oboist heading to the Oberlin Conservatory of Music in the fall. He was a longtime principal player in Chicago Youth Symphony Orchestras, and in 2023 Maestro Allen Tinkham named him the Music Director's Student Conducting Fellow. He gave a solo oboe recital on Introductions in June 2023, and previously appeared in ensembles in May 2022 and in January 2022.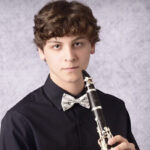 Henry Lazzaro, 17, is a clarinetist who studied with Laurie Beard. He was a member of CYSO's Symphony Orchestra, Classical Orchestral Repertory Ensemble, and Chamber Music Institute. Last summer, he toured Europe with the CYSO performing in Germany, Austria, and the Czech Republic. He was also a YOLA National Fellow, working under the baton of maestro Gustavo Dudamel. This summer, he is a member of the Tanglewood Institute's Young Artist Orchestra.
Henry previously appeared on Introductions with CYSO's Jubilee Woodwind Quintet in May 2022. Henry will be attending Northwestern University in the fall to Pursue a degree in Clarinet Performance with the guidance of professors Stephen Williamson and Todd Levy.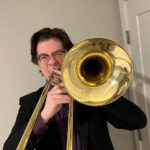 Owen Riordan is an 18-year-old trombonist who made his solo debut with the Northwest Indiana Symphony Orchestra at the age of 10. In October 2022 Owen was appointed a S.E. Shires Rising Artist, the only high school trombone artist that year.
Among many achievements, Owen was a member of the World Youth Symphony Orchestra and the Interlochen Orchestral Trombone Scholarship in both 2020 and 2021. He has also been the principal trombonist of both the CYSO Symphony Orchestra and the Merit School of Music Philharmonic Orchestra for the past three years.
As a member of Merit School's Bone Rangers Trombone Quartet, Owen competed at many local and national chamber music competitions, including three Fischoff National Chamber Music Competitions, where his group was awarded the American Brass Quintet Prize. He appeared on Introductions with this group in June 2020 and in July 2021; and on Show 417 of NPR's From The Top in May 2022.
In addition to playing the trombone, Owen also enjoys writing his own music, weightlifting, photography, reading, auto repair, and cooking. Owen aspires to become a successful musician, whether that be a trombonist in a symphony, a songwriter and composer, or anything between.
Violinist Henry Auxenfans is a rising junior at the University of Chicago Lab Schools, and is a Concertmaster with Chicago Youth Symphony Orchestras. He was a finalist in the 2023 CSO Crain-Maling Foundation Young Artist Competition. He has appeared on Introductions multiple times alongside his brother, clarinetist and pianist Louis Auxenfans, in June 2023, July 2022, and in February 2021.