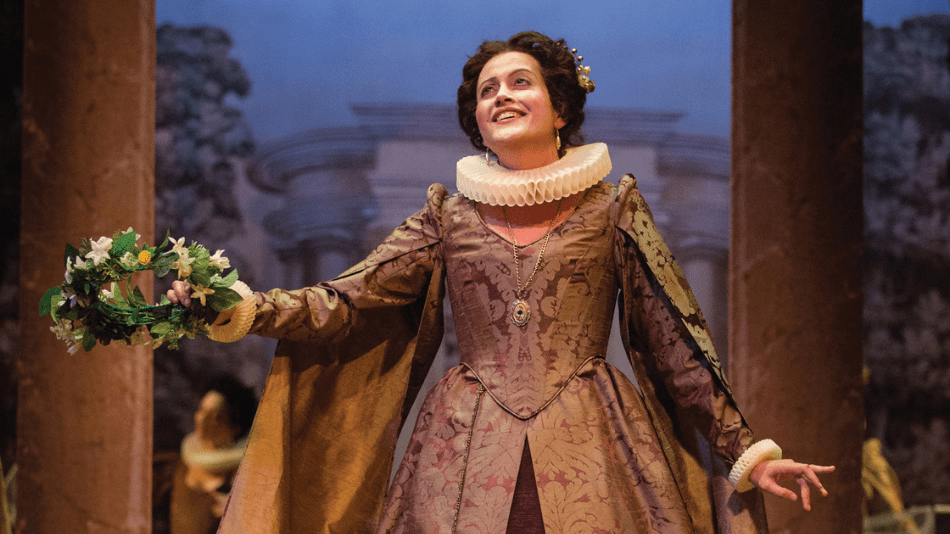 The American soprano, a Baroque specialist, stars in next week's broadcast of 'Almira' from Boston Early Music Festival.
---
Playlist
All selections feature soprano Amanda Forsythe.
George Frideric Handel: Almira, HWV 1
Act II, "Der Himmel wird strafen dein falsches Gemüt"
Act III, "Quillt, ihr überhäuften Zähren
Boston Early Music Festival Orchestra
Paul O'Dette & Stephen Stubbs, lutes and direction
Handel: Almira
CPO-555205-2
Agostino Steffani: Occhi belli, non più
Colin Balzer, tenor
Boston Early Music Festival Chamber Ensemble
Paul O'Dette & Stephen Stubbs, lutes and direction
Agostino Steffani: Duets of Love and Passion
CPO-555135-2
Johann Gottlieb Graun: Cantata, O Dio, Fileno
No. 4, "Va, ma conserva i miei"
Opera Prima
Cristiano Contadin, viola da gamba and direction
Graun: Cantatas & Viola da Gamba Concerto
CPO-555284-2
Handel: Giulio Cesare in Egitto, HWV 17
Act III, "Da tempeste il legno infranto"
Apollo's Fire
Jeannette Sorrell, harpsichord and direction
The Power of Love: Arias from Handel Operas
Avie AV-2350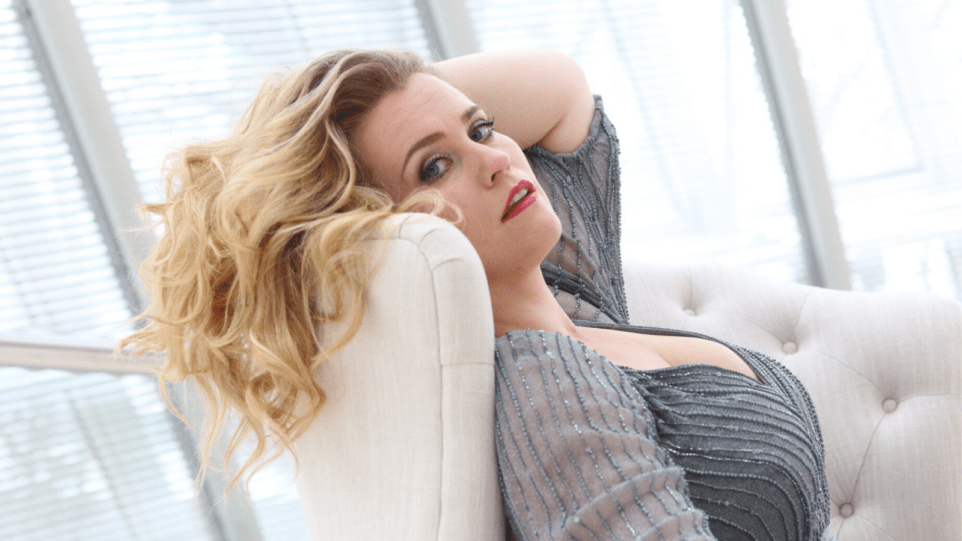 The American soprano joins Oliver to discuss her signature repertoire and her new album "Rachel."
---
Playlist
All selections feature soprano Rachel Willis-Sørensen with the Teatro Carlo Felice Orchestra of Genoa conducted by Frédéric Chaslin from the new album Rachel (Sony 19439968352) unless otherwise noted.
Giuseppe Verdi: "Sempre libera" from La Traviata
with Giovanni Sala, tenor
Antonín Dvořák: "Mesícku na nebi hlubokém" (Song to the Moon) from Rusalka
Wolfgang Amadeus Mozart: "Or sai chi l'onore" from Don Giovanni
Verdi: "Tacea la notte placida…Di tale amor" from Il trovatore
with Olivia Kahler, soprano
Giacomo Puccini: "O soave fanciulla" from La bohème
with Jonas Kaufmann, tenor
Johann Strauss, Jr.: "Dieser Anstand, so manierlich" (Watch Duet) from Die Fledermaus
with Jonas Kaufmann, tenor
Vienna Philharmonic
Adam Fischer, conductor
Jonas Kaufmann: Wien
Sony 19075950412
Verdi: "Mia madre aveva una povera ancella…Piangea cantando nell'erma landa" (Willow Song) and "Ave Maria" from Otello
with Olivia Kahler, soprano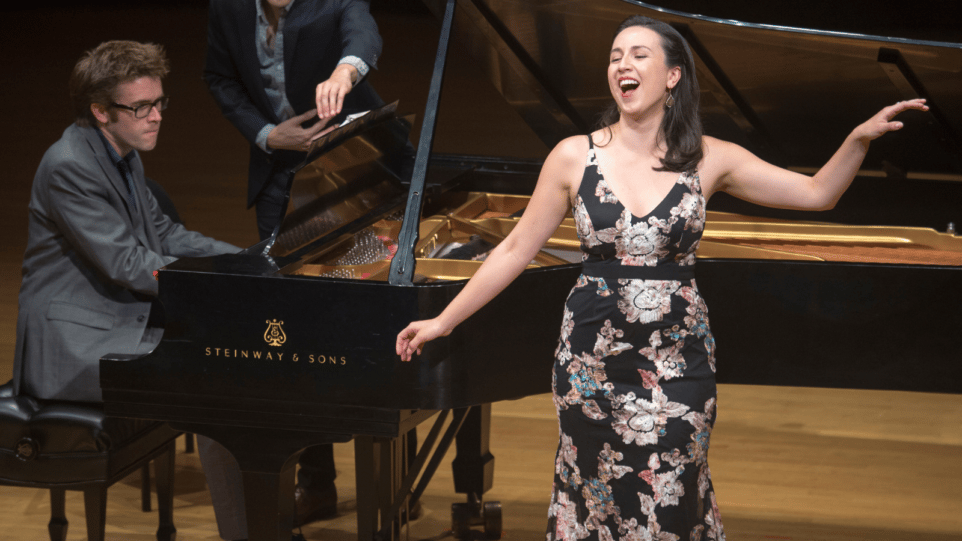 An oasis of immersive study and performance for emerging artists.
---
Playlist
Leonard Bernstein: "Take care of this house" from 1600 Pennsylvania Avenue
Nadine Sierra, soprano
Royal Philharmonic Orchestra
Robert Spano, conductor
There's A Place For US
Deutsche Grammophon B0028836-02
Robert Schumann: Du bist wie eine Blume, Op. 25 No. 24
Benjamin Appl, baritone
James Baillieu, piano
Stunde, Tage, Ewigkeiten
Champs Hill Records CHRCD-112
Franz Schubert: Erlkönig, D.328
Samuel Hasselhorn, baritone
Joseph Middleton, piano
Glaube, Hoffnung, Liebe
Harmonia Mundi HMM-902689
Erik Satie: "Sylvie" from Trois Mélodies
Barbara Hannigan, soprano
Reinbert de Leeuw, piano
Satie: Socrate
Winter & Winter 9102342
Henri Duparc: Chanson triste
Measha Brueggergosman, soprano
Justus Zeyen, piano
Night and Dreams
Deutsche Grammophon 4778101
Caroline Shaw: How Do I Find You?
Sasha Cooke, mezzo-soprano
Kirill Kuzmin, piano
how do I find you
Pentatone PTC-5186961
Clarice Assad: "Turn Back the Clock" from Confessions
Laura Strickling, soprano
Joy Schreier, piano
Confessions
Yarlung Records YAR-18798
Lior Rosner: "Harlem" from In Time of Silver Rain
Janai Brugger, soprano
Lior Rosner, piano
Awake and Dream: Works by Lior Rosner
Bridge 9424
Lori Laitman: "Small Night Song from Oneonta" from On the Green Trail
Dominic Armstrong, tenor
Warren Jones, piano
Living in the Body: Songs of Lori Laitman
Naxos 8.559872
John Kander: A Letter from Sullivan Ballou
John Matthew Myers, tenor
Myra Huang, piano
Desiderium
Avie AV-2512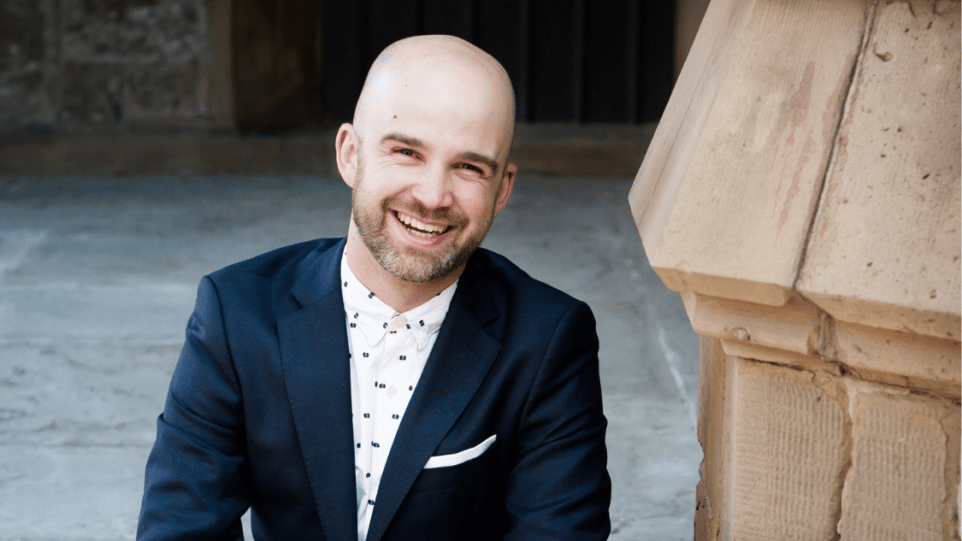 The American tenor discusses his approach to 17th and 18th century repertoire.
---
Playlist
All selections feature Zachary Wilder, tenor.
Claudio Monteverdi: "Vi ricorda, o broschi ombrosi" from L'Orfeo
Clematis
Monteverdi & Rossi: Balli & Sonate
Ricercar RIC-377
Monteverdi: Ecco di dolci raggi il sol armato, SV 249
Monteverdi: Eri già tutta mia, SV 248
Josep M. Martí Duran, archlute and baroque guitar
Eternità d'amore
La Musica LMU-013D
John Dowland: "Go Crystal Tears" from First Book of Songs or Aires
La Chimera
Eduardo Egüez, lute and direction
Dowland: Lachrimæ
La Musica 728815
Johann Sebastian Bach: St. Matthew Passion
34. Recitative, "Mein Jesus schweigt zu falschen Lügen stille"
35. Aria, "Geduld, Geduld! Wenn mich falsche Zungen stechen"
Bach Collegium Japan
Masaaki Suzuki, conductor
Bach: St Matthew Passion
BIS-2500
Jean-Philippe Rameau: L'Impatience
Recitative, "Les oiseaux d'alentour chantent dans ce bocage"
Air tendre, "Pourquoi leur envier leur juste récompense?"
Les Bostonades
Amours contrariées: Cantatas of Clérambault & Rameau
Centaur CRC-3629
George Frideric Handel: 'Would you gain the tender creature?" from Acis and Galatea
Boston Early Music Festival Chamber Ensemble
Paul O'Dette & Stephen Stubbs, lutes and co-direction
Handel: Acis and Galatea
CPO 7778772
Annibale Gregori: Mai non disciolgasi
Sigismondo d'India: Piagono al pianger mio
Vincenzo Calestani: Damigella tutta bella
Emiliano Gonzalez Toro, tenor
Ensemble I Gemelli
A Room of Mirrors
Gemelli Factory GFA-001/1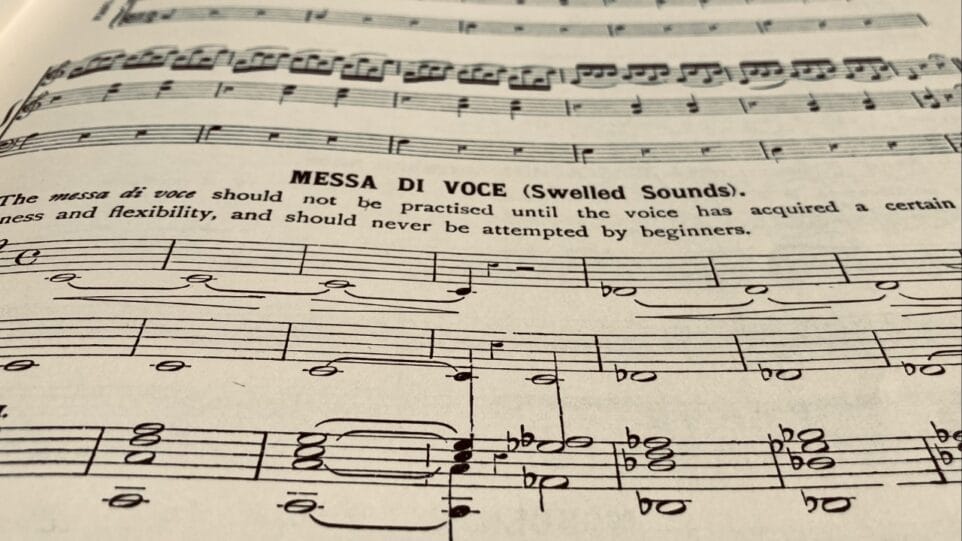 Review some of the most common terms used to describe the art of singing.
---
Playlist
Léo Delibes: The Bell Song from Lakmé
Edita Gruberova, soprano
Munich Radio Orchestra
Gustav Kuhn, conductor
French & Italian Operatic Arias
EMI 7243 5 65557 2
Gioacchino Rossini: "Bel raggio lusinghier" from Semiramide
June Anderson, soprano
Arturo Toscanini Symphonic Orchestra of Emilia Romagna
Miguel Angel Gomez Martinez, conductor
June Anderson Live in Concert
Bongiovanni GB 2504-2
Giacomo Puccini: "Si, mi chiamano Mimì" from La bohème
Renata Tebaldi, soprano
Orchestra e coro dell' Accademia di Santa Cecilia, Roma
Alberto Erede, conductor
Puccini: La bohème
Decca 440 233-2
Wolfgang Amadeus Mozart: "Deh vieni, non tardar" from Le nozze di Figaro
Anna Moffo, soprano
Philharmonia Orchestra
Alceo Galliera, conductor
Anna Moffo: Mozart Arias
Testament SBT-1193
Giuseppe Verdi: "O mio Fernando!" from La favorita
Shirley Verrett, mezzo-soprano
RCA Italian Opera Orchestra
Georges Prêtre, conductor
Shirley Verrett in Opera
RCA Victor Gold Seal 09026 61457 2
Gaetano Donizetti: "Torna, torna o caro oggetto" from Rosmonda d'Inghliterra
Lella Cuberli, soprano
RAI Chorus and Symphonic Orchestra, Milan
Bruno Bartoletti, conductor
Portraits: Rossini, Bellini, Donizetti
Warner Font 0927 43352-2
Donizetti: "Torna, torna o caro oggetto" from Rosmonda d'Inghliterra
Joan Sutherland, soprano
Orchestra dell'Accademia di Santa Cecilia
Sir John Pritchard, conductor
Joan Sutherland: The Voice of the Century
Decca 475 7983
Camille Saint-Saëns: "Mon cœur s'ouvre à ta voix" from Samson et Dalila
Marilyn Horne, mezzo-soprano
Orchestre Philharmonique de Monte Carlo
Lawrence Foster, conductor
Marilyn Horne Recital
Erato 4509-98501-2
Francesco Cilea: "Io son l'umile ancella" from Adriana Lecouvreur
Montserrat Caballé, soprano
Barcelona Symphony Orchestra
Gianfranco Masini, conductor
Montserrat Caballé: The Ultimate Collection
RCA Victor Red Seal 74321 37714 2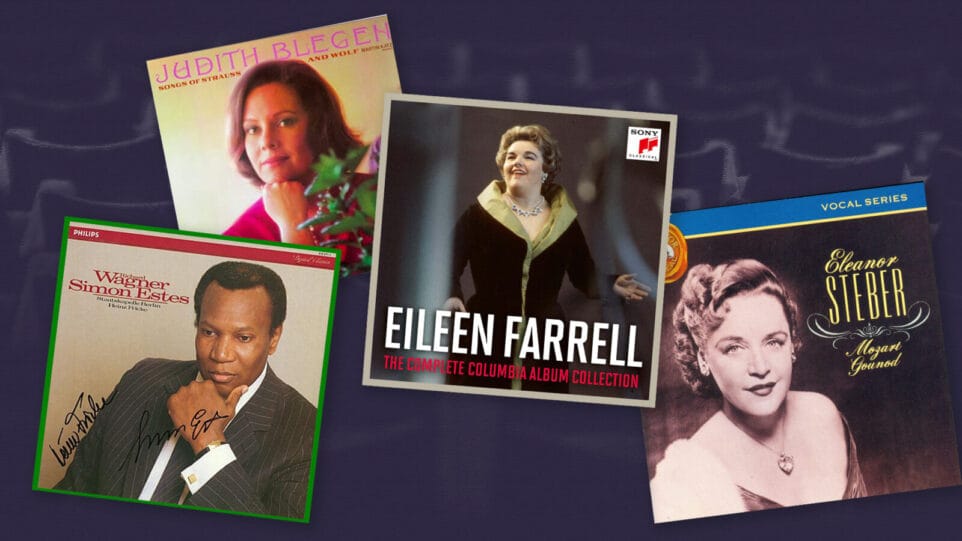 Celebrating some of the best American singers including Jan DeGaetani, Roberta Alexander, and Rockwell Blake.
---
Playlist
Alessandro Scarlatti: "Se geloso e il mio core" from Endimione e Cintia
Judith Blegen, soprano
The Chamber Music Society of Lincoln Center
Frederica von Stade and Judith Blegen sing Arias and Duets
Sony G010003507198R
Gioacchino Rossini: "Terra amica" from Zelmira
Rockwell Blake, tenor
The Ambrosian Singers
London Symphony Orchestra
Maximiano Valdes, conductor
Encore Rossini
Arabesque Recordings Z6612
Gustave Charpentier: "Depuis le jour" from Louise
Eleanor Steber, soprano
Philharmonia Orchestra
Walter Susskind, conductor
Eleanor Steber Sings Mozart and Gounod
RCA Victor Gold Seal 60521-2-RG
Ludwig van Beethoven: "Abscheulicher! Wo eilst du hin?" from Fidelio
Eileen Farrell, soprano
Columbia Symphony Orchestra
Max Rudolf, conductor
Eileen Farrell: Puccini Arias
Sony Classical 82876-7863-2
Samuel Barber: Sure on This Shining Night
Roberta Alexander, soprano
The Netherlands Radio Philharmonic
Edo de Waart, conductor
Barber: Scenes & Arias
Etcetera  KTC 1145
Charles Ives: The Circus Band
Roberta Alexander, soprano
Tan Crone, piano
Charles Ives Songs Vol. 2
Etcetera KTC 1068
Georges Bizet: "Votre toast, je peux vous le rendre" from Carmen
Simon Estes, bass-baritone
Jessye Norman & Ghyslaine Raphanel, sopranos
Jean Rigby, mezzo-soprano
Chœur de Radio France
Orchestre National De France
Seiji Ozawa, conductor
Bizet: Carmen
Philips 426 040-2
Hector Berlioz (orch. Philip West): "Le spectre de la rose" from Les nuits d'été, Op. 7
Jan DeGaetani, mezzo-soprano
The Eastman Chamber Ensemble
David Effron, conductor
Berlioz: Les Nuits d'été, Op. 7 & Mahler: Five Wunderhorn Songs; Five Rückert Songs
Bridge BCD 9017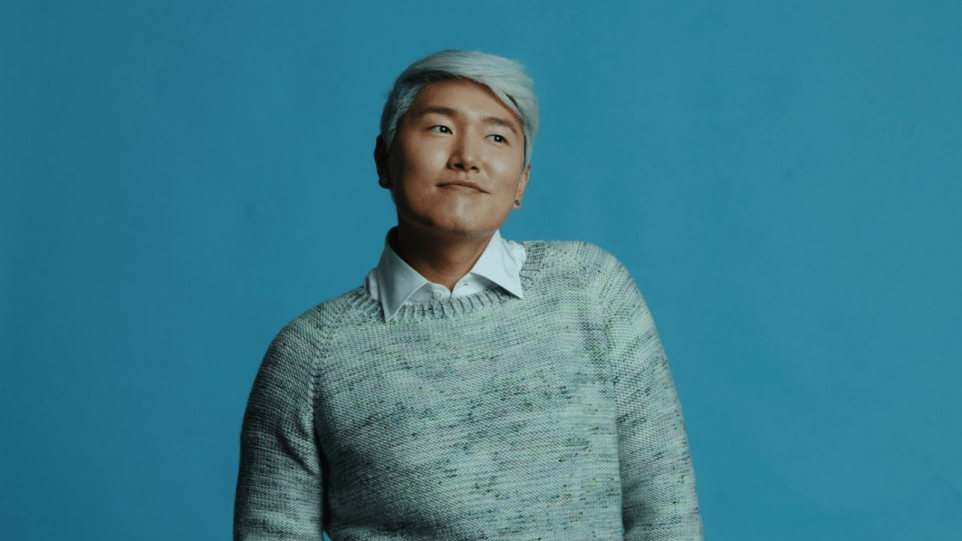 The South Korean countertenor on his core Baroque opera repertoire, Cecilia Bartoli impersonation, and upcoming world premiere.
---
Playlist
All selections feature countertenor Kangmin Justin Kim.
George Frideric Handel: Parnasso in festa, HWV 73
Part 2, No. 13, "Ho perso il caro ben'"
Part 3, No 5, "Da sorgente rilucente"
La Cetra Baorque Orchestra and Vocal Ensemble, Basel
Andrea Marcon, direction
Handel: Parnasso in festa
Pentatone PTC-5186643
Geminiano Giacomelli: La Merope
Act II, Scene 4, "Quell'usignolo"
Act III, Scene 7, "Sposa non mi conosci"
La Cetra Baorque Orchestra, Basel
Andrea Marcon, direction
Live performance from Concertgebouw, Amsterdam, February 5, 2022
Used with permission of artists
Georges Bizet: "Près des remparts de Séville" from Carmen
Tommaso Giordani: Caro mio ben
Fiachra Garvey, piano
Late Night Drag: The Royal Opera House is Burning
Live performance from Classical Vauxhall, Feburary 12, 2022
Used with permission of artists
Huang Ruo: "Awoke as a Butterfly" from M. Butterfly 蝴蝶君
Text by David Henry Hwang
Robert Tweten, piano
Songs from the Santa Fe Opera, Episode 5: "M. Butterfly 蝴蝶君"
Used with permission of Santa Fe Opera and Casa Ricordi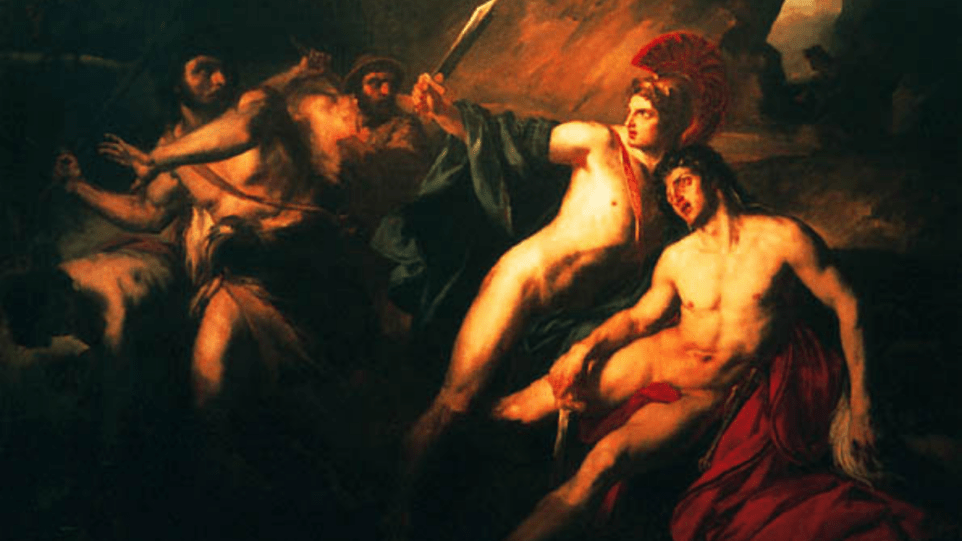 A Pride Month episode which sheds light on some of opera's hidden queer moments.
Playlist
Giuseppe Verdi: "O Carlo, ascolta" from Don Carlos
Dmitri Hvorostovsky, baritone
Philharmonia of Russia
Constantine Orbelian, conductor
Verdi Opera Scenes
Delos DE-3403
Francesco Cavalli: La Calisto
Act I, Scene 4 & 5
Maria Bayo, soprano
Simon Keenlyside, baritone
Marcello Lippi, baritone
Concerto Vocale
René Jacobs, conductor
Cavalli: La Calisto
Harmonia Mundi HMC 901515.17
George Frideric Handel: "Ricordati, mio ben" from Flavio, Re de'Longobardi, HWV 16
Renata Pokupić, mezzo-soprano
Hilary Summers, contralto
Early Opera Company
Christian Curnyn, conductor
Handel: Flavio
Chandos CHAN-0773
Handel: "O fatal day!" from Saul, HWV 53
Lawrence Zazzo, countertenor
RIAS-Kammerchor
Concerto Köln
René Jacobs, conductor
Handel: Saul
Harmonia Mundi HMC 901877.78
Wolfgang Amadeus Mozart: "Deh per questo istante solo" from La clemenza di Tito, K. 621
Tatiana Troyanos, mezzo-soprano
New York City Opera Orchestra
Julius Rudel, conductor
Handel and Mozart Arias & Duets
MusicMasters 01612-67080-2
Christoph Willibald Gluck: Iphigénie en Tauride
Act III, Scenes 3 & 4
Mireille Delunsch, soprano
Yann Beuron, tenor
Simon Keenlyside, baritone
Les Musiciens du Louvre
Marc Minkowski, conductor
Gluck: Iphigénie en Tauride
Archiv Produktion 471 133-2
Jacques Offenbach: "Voici sous l'archet frémissant" from Les Contes d'Hoffmann
Anne Sofie von Otter, mezzo-soprano
Staatskapelle Dresden
Jeffrey Tate, conductor
Offenbach: Les Contes d'Hoffmann
Philips 422 374-2
Georges Bizet: "Au fond du temple saint" from Les pêcheurs de perles
Jerry Hadley, tenor
Thomas Hampson, baritone
Orchestra of Welsh National Opera
Carlo Rizzi, conductor
Hadley & Hampson
Teldec 9031-73283-2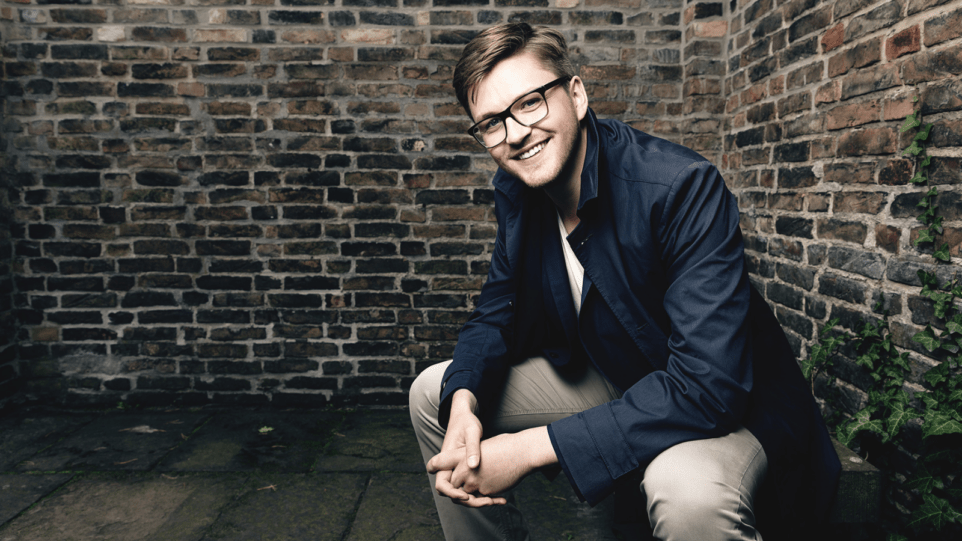 The German baritone discusses his two new lieder recordings with pianist Joseph Middleton.
---
Playlist
All selections performed by baritone Samuel Hasselhorn and pianist Joseph Middleton *unless otherwise indicated. Click on song title for link to text and translation.
Franz Schubert: Lied eines Schiffers an die Dioskuren, D. 360
from Glaube, Hoffnung, Liebe
Harmonia Mundi HMM-902689
Hugo Wolf: "Benedeit die sel'ge Mutter" from Italienisches Liederbuch
*Gustav Mahler: "Wer hat das Liedlein erdacht?" from Des Knaben Wunderhorn 
La Monnaie Symphony Orchestra
Alain Altinoglu, conductor
Samuel Hasselhorn Live at the Queen Elisabeth Competition 2018
Queen Elisabeth Competition BNPPF20182D
Robert Schumann: Die beiden Grenadiere, Op. 49/1
Schumann: Zwolf Gedichte von Justinus Kerner, Op. 35
I. Lust der Sturmnacht
II. Stirb, Lieb' und Freud'!
X. Stille Tränen
from Stille Liebe — Robert Schumann Lieder
Harmonia Mundi HMN916114
Schubert: Rastlose Liebe, D. 138
Schubert: Litanei auf das Fest Allerseelen, D.343
Schubert: Der Zwerg, D. 771
Schubert: Nacht und Träume, D. 827
from Glaube, Hoffnung, Liebe
Harmonia Mundi HMM-902689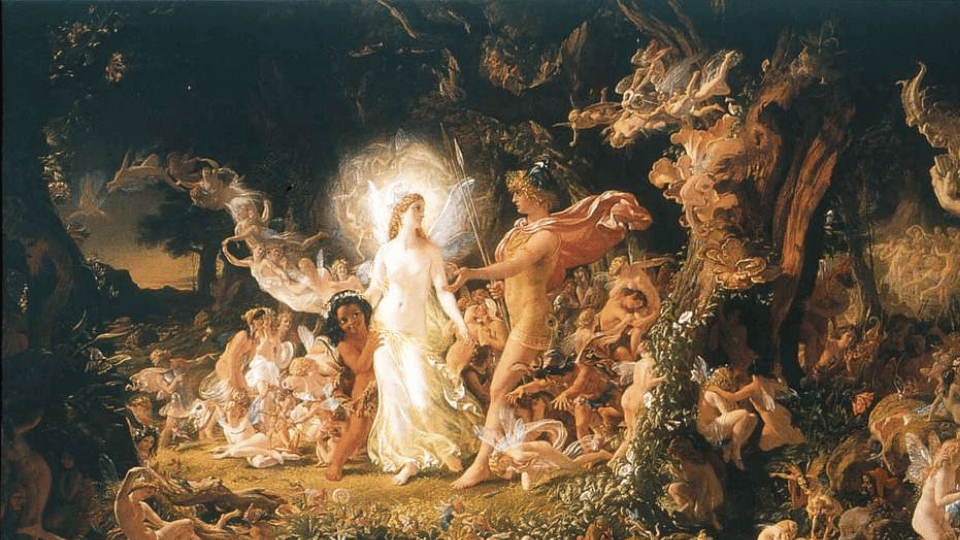 Highlights from the magical opera which adapts Shakespeare's A Midsummer Night's Dream.
---
Playlist
All selections from Henry Purcell's The Fairy Queen, Z. 629 (1692)
Act I
"Fill up the bowl, then…" (Blindfolded Poet, First Fairy, Chorus, Second Fairy)
Rowan Pierce & Mhairi Lawson, sopranos
Ashley Riches, bass-baritone
Gabrieli Consort & Players
Paul McCreesh, conductor
Signum Classics SIGCD-615
Act II
"Come all ye songsters of the sky" (High Tenor)
Symphony in imitation of birds
"May the God of Wit inspire" (High Tenor, Tenor, Bass)
"Now join your warbling voices all" (Chorus)
"Sing while we trip it upon the green" (Fairy, Chorus)
Samuel Boden, tenor
Christophe Baska, countertenor
Julien Picard, tenor
Roman Nédélec, bass-baritone
Virginie Pochon, soprano
Les Nouveaux Caractères
Sébastien d'Hérin, harpsichord & direction
Glossa GCD-922702
"See, even Night herself is here" (Night)
"I am come to lock all fast" (Mystery)
"One charming night" (Secrecy)
"Hush, no more, be silent all" (Sleep, Chorus)
Carolyn Sampson, soprano
Rebecca Outram, soprano
Andrew Carwood, tenor
Michael Bundy, bass
Accademia Bizantina
New English Voices
Ottavio Dantone, conductor
Live from Ravenna Festival, July 10, 2001
Arts 47679-2
Act III
"If love's a sweet passion" (Nymph, Chorus)
Barbara Bonney, soprano
Arnold Schoenberg Chor
Concentus Musicus Wien
Nikolaus Harnoncourt, conductor
Teldec 4509 97684-2
"Now the maids and the men are making of hay" (Coridon, Mopsa)
Charles Daniels, tenor
Ashley Riches, bass-baritone
Gabrieli Consort/McCreesh
Act IV
"Now the night is chased away" (First Attendant, Chorus)
"Let the fifes and the clarions and shrill trumpets sound" (Second Attendant, Third Attendant)
Carolyn Sampson, soprano
Jeremy Budd, tenor
James Way, tenor
Gabrieli Consort/McCreesh
Act V
"Thus the gloomy world" (Chinese Man)
Samuel Boden, tenor
Les Nouveaux Caractères/d'Hérin
"Hark! The echoing air a triumph sings" (First Woman, Chorus)
"Sure the dull God of Marriage does not hear" (Two Chinese Women, Chorus)
"They shall be as happy as they're fair" (Two Chinese Women, Hymen)
Carolyn Sampson, soprano
Gillian Keith & Rebecca Outram, sopranos
Michael Bundy, bass
Accademia Bizantina/Dantone