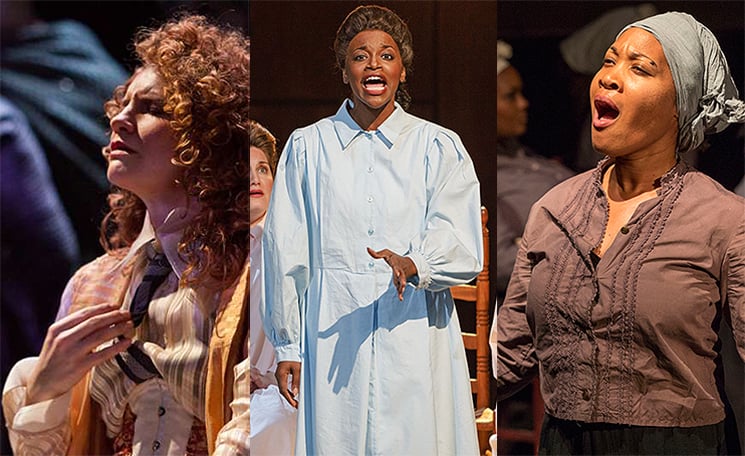 National Opera Week 2016 is from October 28 to November 6. Why not celebrate by experiencing the Chicago premiere of a contemporary opera? You can see not one, not two, but three new-to-Chicago operas.
---
Nkeiru Okoye's Harriet Tubman
Company: South Shore Opera
Performances: Oct 28 & Oct 30
Venues: Logan Center, 915 E. 60th St  (Oct 28)
South Shore Cultural Center, 7059 S South Shore Drive (Oct 30)
Tickets: $20 general admission (Oct 28), $75 gala tickets (Oct 30)
"Isn't it interesting that the top piece that you think of as a 'black' opera is by Gershwin?" composer Nkeiru Okoye asked in a recent interview. "He's white, he's Jewish." Gershwin's Porgy and Bess contains an entirely black cast, save a few non-singing roles for white performers. Okoye reminds us, though, "The whole plot and the dialogue are very patronizing. The opera's about a drug dealer and a prostitute."
Similarly, she said, "The first thing that comes to people's minds when they think 'composer' is a white man. It's hard for me as a woman of color to say, 'Hey, I want to write an opera.'" Her first opera, Harriet Tubman: When I Crossed That Line to Freedom, tells the story of one of history's most fascinating figures. Tubman not only escaped slavery, but led dozens of others to freedom, earning her the nickname "Moses."
The opera premiered in 2014 in a production by American Opera Projects, and comes to Chicago in a new production by South Shore Opera that Okoye will attend. Leslie B. Dunner, who conducted the world-premiere performances, serves as the music director for South Shore's performances.
Originally, Harriet Tubman started off as an idea for an oratorio, "including arrangements of spirituals interspersed with quotes of Harriet Tubman," the composer said. After learning that the late composer Undine Smith Moore had completed a similar project, Okoye decided to explore Tubman's life through the medium of opera.
Her work began with several years of research. "At the time, there wasn't substantive biography. Soon, Kate Clifford Larson's book had just come out, which was very helpful. I still had to do a lot of research about slavery and what day-to-day life was like for an enslaved person," she said. "I wanted to showcase all kinds of African American music and incorporate the sounds of slavery into the score," she said.
"The casting is race-specific," she explained. "The opera is written specifically for black voices, and specifically for voices that grew up in the black church. When I wrote the arias, people looked at the ranges and thought, 'Who in the world is singing this?' And I say, 'All the black sopranos I know can sing this.'"
Though writing roles specifically for people of color may seem like a natural choice when telling the story of Harriet Tubman and her contemporaries, Okoye has received some criticism. "People are telling me I'm racist and that this is what's wrong with opera today," she said.
Okoye said she has also received curious reactions about the libretto's "lack of 'slave' dialogue. People hear the opera and they think Harriet Tubman sounds like me. Really, though, I just went through historical documents and highlighted all the quotes ascribed to her, and whatever I could find that seemed singable, I made into songs."
In many ways, Okoye said, this kind of "shock" regarding Tubman's speech is similar to reactions she herself has received. "I was born in the United States, but I spent time when I was younger living in Nigeria," she said. "When we finally settled back in the U.S., I had a bit of a British accent. People were surprised that I spoke so 'proper,' and my first thought was always – 'First of all, it's properly.' Harriet Tubman was very eloquent, and the libretto reflects that."
---
Missy Mazzoli's Song from the Uproar
Company: Chicago Fringe Opera
Performances run: Oct 28, 30, Nov 1, 3
Venue: Mason Hall At Preston Bradley Center 941 W Lawrence Ave
Tickets: start at $20
"I'm a woman, and I'm writing opera, and the history of women writing opera basically started last year,"
composer Missy Mazzoli said in a recent interview. "Yes, there are exceptions. There's Ethel Smyth, there's Hildegard – but I can count them on one hand. A woman writing about a woman will provide a different perspective.
"I won't say my perspective is more nuanced because I feel like my male colleagues create incredibly nuanced, complex, interesting female characters. I do feel like I can bring some of my own experience to telling the stories of great women, which is something we haven't really had until like yesterday."
Mazzoli's opera Song from the Uproar: the Lives and Deaths of Isabelle Eberhardt explores the story of a Swiss-born writer and explorer who died at the age of 27 in 1904. "One of the most interesting things about her life," she said, "is that she dressed as a man and converted to Islam at the end of the 19th century."
One of the subjects that attracts Mazzoli the most as an opera composer is "women in impossible situations," she said. "My operas until now have dealt with women who find themselves in extremely difficult situations. On the flip side, I'm interested in men of extreme positions of power who think they can create their own reality: stories about dictators, cult leaders, Donald Trump (not that I would write an opera about Donald Trump)."
Mazzoli was first attracted to Eberhardt's story because, "there's so much we don't know about her everyday life. The details of her existence were literally washed away in a flood at the end of her life, a flood that killed her. The text for the libretto all comes from her journals. Everything comes from her point of view. I didn't want to impose any extraneous narrative onto her story. I love that there are gaps in her story," she said.
The opera, seventy-five minutes in length, features one main solo singer who plays Isabelle and five chorus members who sing from her perspective. The opera had its full-length premiere in 2012 at the Kitchen in New York City. In 2015, LA Opera revived the same production, and Da Camera in Houston performed a semi-staged version. Chicago Fringe Opera opens its 2015-16 season with an original production that also marks its Chicago premiere, which Mazzoli will attend.
---
Nico Muhly's Dark Sisters
Company: Third Eye Theatre Ensemble
Performances:  Oct 28-30, Nov 4-6
Venue: Prop Theater, 3502 N Elston
Tickets: $20 general admission, $15 students
After seeing Gian Carlo Menotti's The Medium on YouTube, Rena Ahmed decided she wanted to bring this rarely-performed English-language opera to life. She founded her own company, Third Eye Theatre Ensemble, in 2014. Since, Third Eye has produced Mohommaed Fairouz's  Sumeida's Song in 2015, and The Filthy Habit in 2016, the first opera presented at the Chicago Fringe Festival.
Now, Third Eye presents the Midwestern premiere of Dark Sisters, by Nico Muhly. The story is "inspired by the raids on compounds of the Fundamentalist Church of Jesus Christ of Latter-Day Saints, which most people are familiar with because of Warren Jeff," Ahmed said.
"The story focuses on the five sister-wives who are all married to the same man, who they call the Prophet," she said. "The opera takes place after a raid has occurred and the children have been taken away."
The New York Times called Dark Sisters "a sensitive and unusual work" in its premiere, co-produced by  Gotham Chamber Opera, Music-Theatre Group, and Opera Philadelphia in 2011. Since, the work has been produced by Opera Pittsburgh and Opera Vancouver. After trying to bring Dark Sisters to Chicago during the 2015-16 season, Ahmed is glad to finally produce its Windy City premiere.
What attracts her to this piece so much? "Third Eye's mission is to do works that inspire conversation. That's truly our focus," she said. "I'm not going to say we would never do something that's not contemporary. It just so happens that the works we want to do have been contemporary or modern. We're also committed to doing works in English."