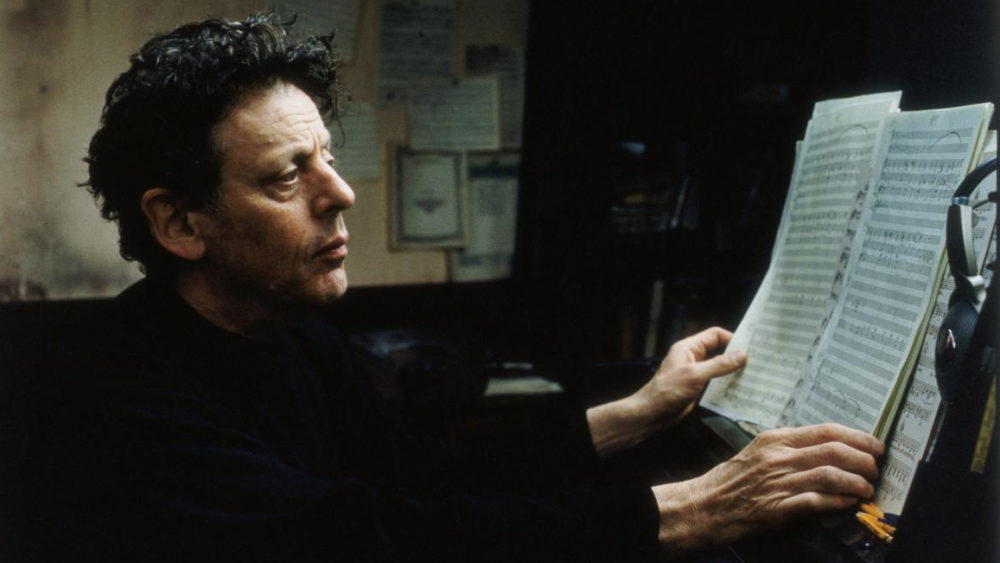 Anyone who's ever tried to sing or play an instrument knows that hard work and practice are essential to make a performance successful. But performing music from memory presents another challenge. Composer Philip Glass, called a "minimalist" by many, describes his work as "music with repetitive structures." The repetitions Glass uses make memorizing his music particularly difficult.
How do singers learn to memorize Glass's opera scores, some of which are several hours long? Three artists from Chicago Opera Theater's production of Glass's The Perfect American shared their secrets to memorizing opera scores by Glass below.
The opera is an imaginative biopic about Walt Disney. Baritone Justin Ryan stars as Walt Disney himself. Jamie Chamberlin sings the role of Hazel George. COT Young Artist Kira Dills-DeSurra sings two roles; nurse and secretary. All three singers agreed that the score to The Perfect American seems less repetitive than some of Glass's earlier works – at least in the vocal material.
Ryan said that, "My vocal part rides above the orchestral parts that are repetitive. So score doesn't sound that different to me than a later Romantic or 20th century one." Chamberlin, who has performed in two other Glass operas prior – Hydrogen Jukebox at Long Beach Opera and Akhenaten at LA Opera – said she calls The Perfect American "nouveau-Glass" because of some of these perceived differences in compositional style.
Even if The Perfect American has fewer repetitive structures for the singers than some of Glass's other operas, the score still keeps the singers on their toes. "It's difficult, but worth it," Ryan said. Below learn more about their experiences memorizing The Perfect American, you might find their strategies useful for memorizing other scores, too!
1. Use.👏 A.👏 Met👏 ro👏nome👏.
"There's only one recording of this, so I mainly just learned it on my own. It's a lot of metronome work to start – a lot of rhythm and counting. This is how I learn a lot of music, but even more so with Glass. I found it helpful to start a little more slowly and then work up to tempo so that I could get the words correctly. It helps to start playing it at the piano, maybe just the bass line while you sing, and making sure you're fully solid."
— Kira Dills-DeSurra
2. "Get into your math brain"
"I find the patterns and then I find the variations. I create a scheme in my head. There might be four bars of this, and then a variation, then going back to the same four bars. You have to get into your math brain. I was never great at math in school, but I feel like I've conquered my fear of math."
— Jamie Chamberlin
---
3. Listen to the orchestra
"It was a great relief to have the orchestra. The piano is a very percussive instrument, and so those meters come out very clearly depending on which hand might be playing it. But when the orchestra has different sonic qualities, you can focus on different things. You also have a conductor, which always helps."
— Justin Ryan
"Glass gives wonderful moments where you can figure out exactly where you are. He puts in cues sometimes – say the flute has a flourish, or the bassoon comes in – to let a singer know when they come in. This helps singers individually as well as a group." 
— Jamie Chamberlin
"Even going from the piano dress rehearsal to an orchestra dress rehearsal it feels like a different piece. The piano reduction doesn't do justice to Glass's full score. A piano reduction is the bare bones. Glass composes in a more minimal style anyways. In the orchestra, there are five percussions that add stuff that no pianist could every really bring out." 
— Kira Dills-DeSurra
4. Let the staging help you
"Once you have a staging that's imaginative, those elements become related to a narrative and help you time things. The memorization becomes much easier. When it's just the score, it's difficult." 
— Justin Ryan
"When one thing gets off musically, it's hard to get back on. It's very easy to get lost. If you think about your props or other staging elements too long you can be totally lost. We have so many 'tabs' open in our brains at any one time. But the staging can also help you memorize things, too." 
— Kira Dills-DeSurra
---
5. Pace yourself
"What can be challenging as a singer is that sometimes Glass's repetitions fall in a certain part of your voice. You have to pace yourself a little more than you might in other music. In other operas, you might move up and down the scale more regularly, whereas Glass focuses more on 'cells' of narrow notes. You have to find ways to do this without overworking those muscles." 
— Jamie Chamberlin
6. When in doubt, write it out
"The hardest part is knowing how many beats come before your next vocal entrance. To help with this, I've developed my own system that's very basic – I write index cards with my words with repeat signs and rests leading up to my next entrance. I color code my role with pen and highlighter. Other roles are in a different color and I short hand with only cue lines. If I need a reminder I write out the rests in the measure of my entrance to help myself come in on time.  If there are repeats of text or music I use a repeat sign. It's basically musical shorthand. It's much easier to refer to a color coded card than to flip through the score in the middle of a staging rehearsal."
— Jamie Chamberlin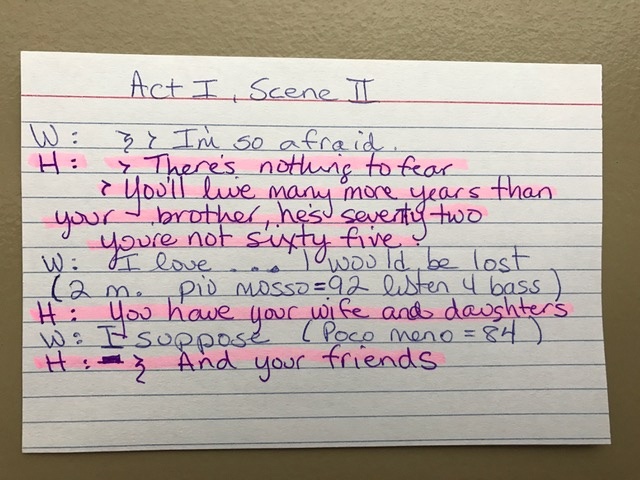 ---