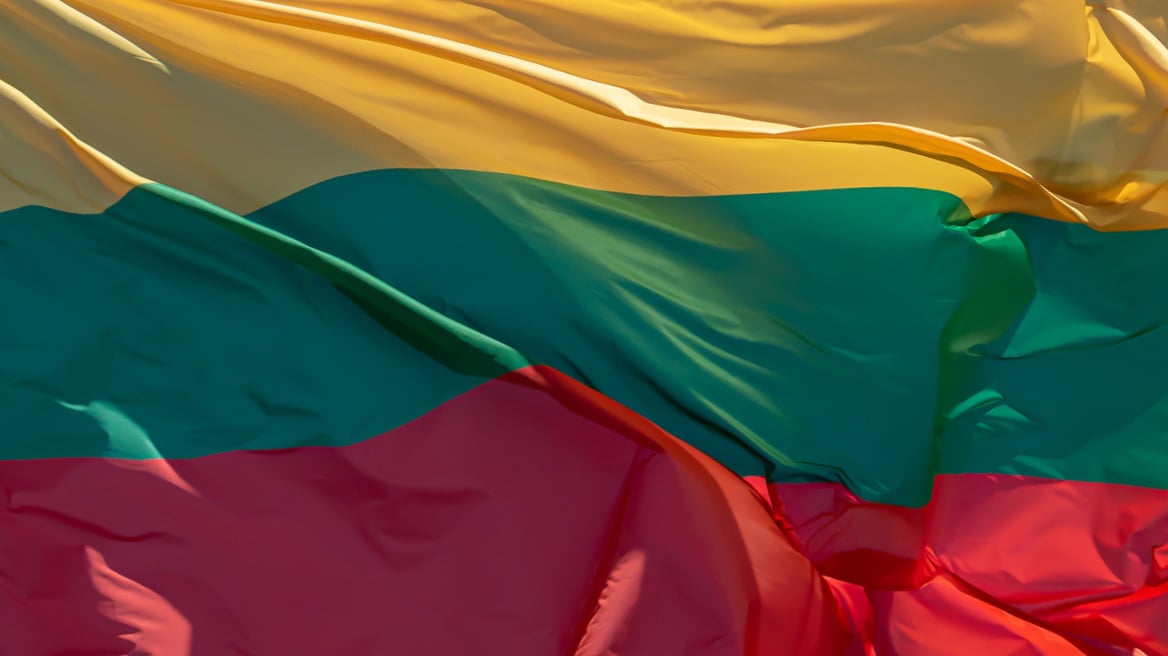 Lithuanian music represents a story that is still being written. Following its annexation by the Russian Empire in 1795, Lithuanian culture was at times diminished, at times outright suppressed. Subsequent incursions by Germany and the USSR colored the 20th century history of the country.
Many artists past and present have made it their duty to preserve and strengthen a national identity, including through music. This mission extends far past the nation's borders, including in the Chicago area, which has the largest Lithuanian population of any community outside of Lithuania itself.
Get to know the unique history and rich contemporary scene of Lithuanian music through the stories of these 11 composers that we think you should know. [Jump to playlist]
---
1. Mikalojus Konstantinas Čiurlionis
(1875-1911)
A singular artist, Mikalojus Konstantinas Čiurlionis was both a composer and painter. He created over 400 pieces of music and 300 paintings in his lifetime. He captured his own individual perception of nature and the mythical world, but also touched on symbolism and modernism with both his music and visual art. While his paintings did not strive to directly depict with his compositions, Čiurlionis created paintings in the same way he composed music, with a polyphony of spaces, repeating and layering ideas throughout. Many of his paintings have music-related titles, like the one below, Sonata VI (Stellar Sonata), ALLEGRO.
---
---
---
---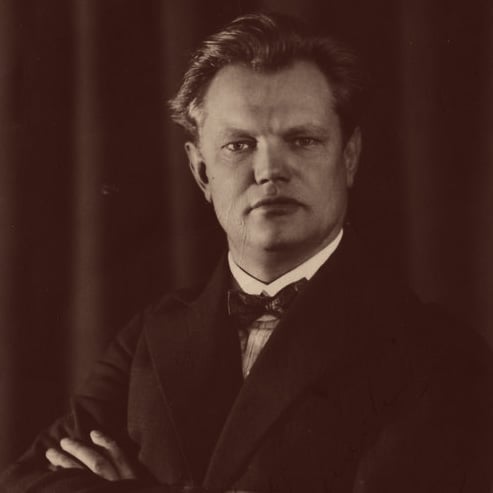 2. Juozas Gruodis
(1884-1948)
Juozas Gruodis was one of the first professors of music composition in Lithuania and a founder of the composer's union. He contributed to increasing the classical musical culture in the country once Lithuania gained a brief independence from the Russian Empire. The composer was heavily interested in Lithuanian folk music, developing his own style that combined Romantic and traditional folk influences. He was also one of the first Lithuanian composers to regularly write symphonic music.
---
---
---
---
3. Balys Dvarionas
(1904-1972)
Born into a musical family, Balys Dvarionas was a pianist, conductor, and composer. As the founder the Lithuanian Philharmonic Orchestra, his time as a pianist and conductor helped to inform his compositional output. He composed music that was intimate, emotional, and full of dramatic tension. He wrote one of Lithuania's first ballets, the anthem for the Lithuanian Soviet Republic, and Lithuania's first Violin Concerto. Also inspired by Lithuanian folk music, Dvarionas is quoted as saying that "Music should have a smell…, the smell of its native land."
---
---
---
---
4. Vladas Jakubėnas
(1904-1976)
A composer and journalist, Vladas Jakubėnas' distinctive compositional style combined late Romanticism, Impressionism, and Neoclassicism. His piece, Serenade, "represents more than traditional style of late Romanticism with recognizable elements of Lithuanian folk song heritage." Following Soviet and Nazi occupations, in 1944, he emigrated to Chicago. In his adopted city, he worked as a music journalist and wrote more than 1500 articles including for the Chicago Lithuanian Opera and Draugas, a Lithuanian newspaper based in Chicago. Jakubėnas' passion for making music accessible to all led him to champion Lithuanian music. As author Rita Nomicaitė stated, "He placed Lithuanian music in a European context and urged it to become an integral part of European music."
---
---
---
---
5. Feliksas Bajoras
(1934- )
Feliksas Bajoras keeps listeners engaged by creating unique interpretations of established genres and forms. Embracing spontaneity, many of his compositions feature asymmetrical rhythms, polyphony, and independent dramatic themes, with the view that his music should be looked at as a fluid conversation rather than a rigid structure. His works are performed throughout Lithuania and abroad such as at the Baltisk Festival in Stockholm. He has received many commissions for incidental music for theater and cinema leading him to many awards. One particular quote by Bajoras is instructive to his approach to music: "With no strings attached, it's more important to be oneself, than to be understood."
---
---
---
---
6. Osvaldas Balakauskas
(1937- )
Osvaldas Balakauskas shaped his idiosyncratic voice by establishing his own musical system. Picking out a fixed group of notes from either a chord or non-traditional scale, these specific notes allow Balakauskas to explore writing music from a new perspective. This technique, also known as serialism, generates interesting harmonies and melodies. Rhythm is also an important element in his compositions. Balakauskas uses rhythms in ways that are abstract but always connected with the pitch progressions as a result from the series. Included in his many compositions are five symphonies, a chamber opera, and a ballet.
---
---
---
---
7. Dalia Kairaitytė
(1953- )
Fascinated by the power of words, Dalia Kairaitytė's music heavily revolves around the connection between music and text. She bases her rhythms on poetic verses from Lithuanian authors like Janina Degutytė and Sigitas Geda. She follows their poetic phrasing as often as she can in her music. This may unlock meter changes in meter and form in her works. She is a professor of music theory at the Jauzos Grudis Institute in Lithuania.
"The composer's work requires distancing himself from that external noise, and if the thoughts are already lingering, external distractions can be distracting. Then you look for a quiet zone where you can hear what your heart is playing." — Dalia Kairaitytė
Note: Dalia Kairaitytė's music is not currently on Spotify or Apple Music
---
---
---
8. Onutė Narbutaitė
(1956- )
Onutė Narbutaitė is one of Lithuania's best known female composers. She has a distinctive and recognizable musical vocabulary with her compositions. Narbutaitė's works notably contain expressive instrumentation and haunting melodies. With an intense aural imagery, her abstract compositions also display rich, colorful and detailed sounds. Her music has been performed by many orchestras such as the Lithuanian National Symphony Orchestra, the BBC Symphony Orchestra and the Munich Chamber Orchestra.
---
---
---
---
9. Zita Bružaitė
(1966- )
Chair of the Lithuanian Composer's Union from 2009-2017, Zita Bružaitė writes music that is in demand all over Lithuania and abroad. Composing for audiences of children and adults, for concert halls, schools, and more, she is known as the "Lithuanian Haydn" for the depth and breadth of her musical output. Bružaitė's style draws from jazz, medieval music, and theatrical imagery.
---
---
---
---
10. Dalia Raudonikytė With
(1970-2018)
Exploring a wide variety of media and styles, Dalia Raudonikytė With composed electronic, instrumental, vocal, and orchestral compositions. Interested in ways to shape and transform musical space, Raudonikytė With frequently wrote in extended techniques like singing into a saxophone. These idiosyncratic sounds can be heard in her album Solitarius. During her life, she also collaborated with artists across mediums to create installations in the US and Lithuania.
---
---
---
---
11. Žibuoklė Martinaitytė
(1973- )
Dubbed a "textural magician" by WQXR, Žibuoklė Martinaitytė is active in the chamber and orchestral genres. As stated in her biography, her music "revolves around the subject of beauty, which she calls both a guiding principle and an aesthetic measure for sonic quality." Rather than exploring sound through a linear process, she focuses on timbre and texture though moment-by-moment shifts in the foreground and background. Her most recent album Saudade, (titled for a Portuguese word meaning "intense longing"), centers around her immigration to the US and the death of her father.
---
---