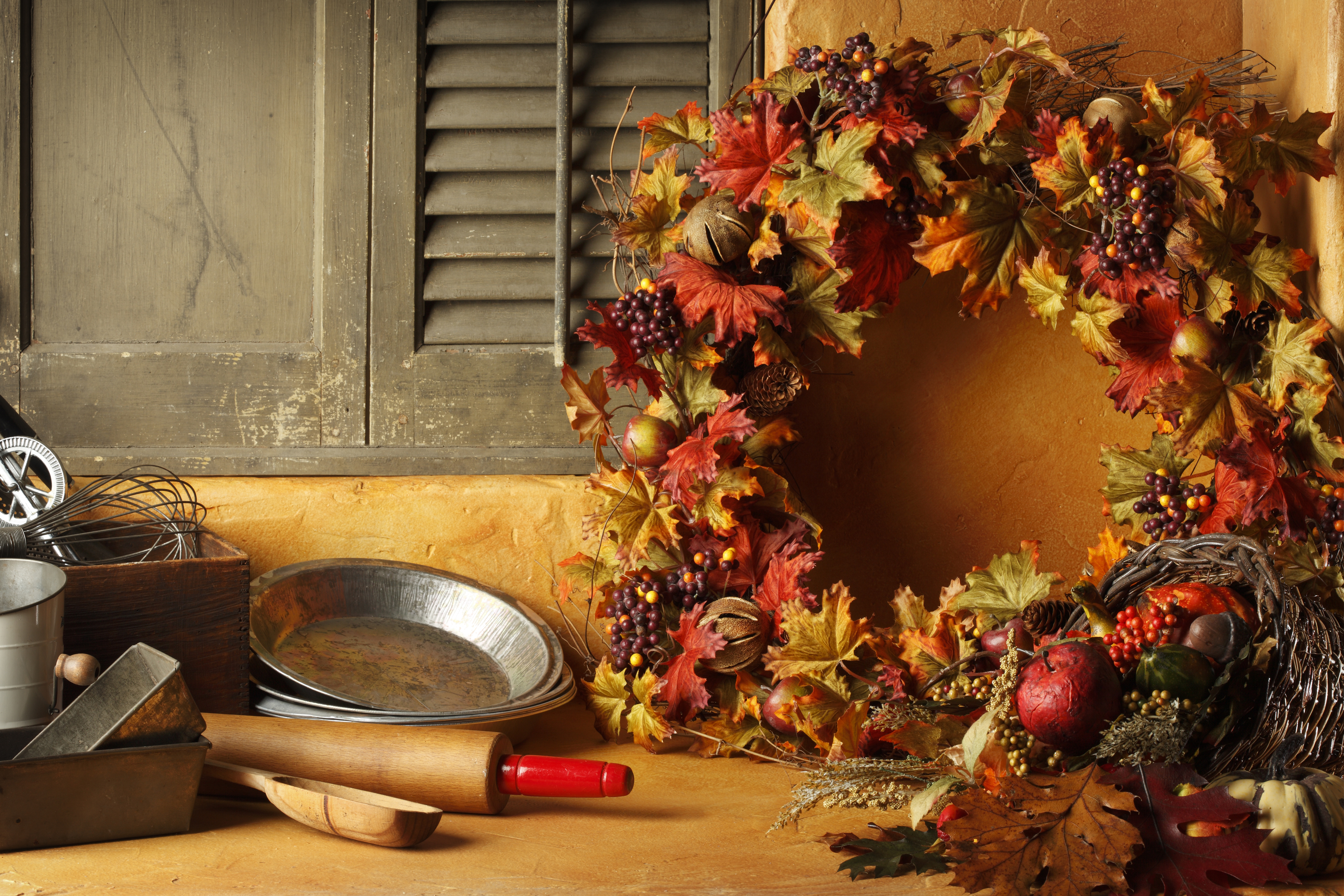 Chef Bruce Sherman of Michelin-starred North Pond Restaurant shared his favorite holiday dishes and what music pairs perfectly with them. Below find a few of Chef Sherman's favorite Thanksgiving recipes – including a delicious way to put your leftovers to good use – and his suggestions for the best music to serve on the side.
---
Bourbon-Sage Gobbler
Bruce Sherman shared his favorite seasonal drink for you to enjoy the day of the big feast: a bourbon-sage cocktail. He has paired his bourbon-sage cocktail with Wynton Marsalis's rendition of Kosma's "Autumn Leaves." He thinks both the cocktail and this classic American standard are the perfect way for you to get Thanksgiving dinner started. (Listen to "Autumn Leaves" by Marsalis here on YouTube.)
Ingredients
2 oz bourbon, Smooth Ambler or Makers Mark
¼ oz Grand Marnier
¼ oz lemon juice
1 oz sage syrup
Sage Syrup
¼ cup sugar
¼ cup boiling water
4 sprigs fresh sage, leaves and stems
Instructions
1. Bring sugar and water to boil making sure sugar dissolves.
2. Add in torn sage stems and leaves.
3. Cover and allow to steep off heat for 45-60 minutes.
4. Strain out leaves and stems, pressing hard to extract flavor into syrup.
5. Chill.
6. Combine bourbon, Grand Marnier, sage syrup and lemon juice in glass.
7. Add ice and stir.
8. Strain over large single ice cube; garnish with cinnamon stick and sage.
Maple Kabocha-Potato Gratin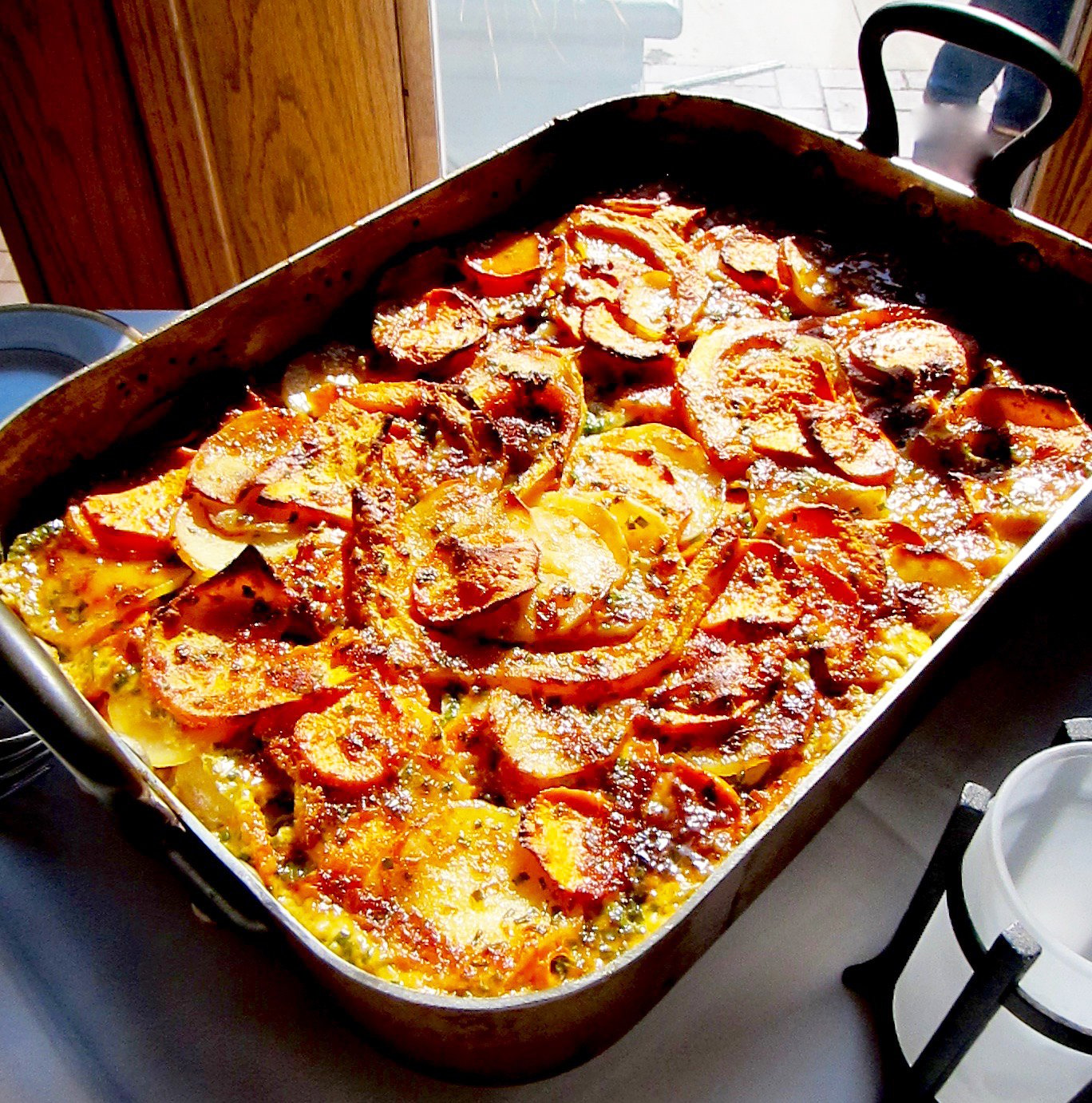 This recipe is one Bruce Sherman's favorite Thanksgiving side dishes to make for his own family: a maple kabocha-potato gratin. He paired this gratin recipe with Dvořák's Symphony No. 9, "From the New World." Why? Both feature ingredients "from the new world." It also just so happens that the time it takes this dish to roast in the oven is almost the same length as Dvořák's piece. (Click here to listen to the symphony on YouTube.)
Yield: 10" x 14" gratin
Prep time: 15 mins, plus 60 mins baking and up to 30 mins cooling
Ingredients
3 cloves fresh garlic, crushed
2 tablespoons softened butter
2 cups heavy cream
½ cup Maple syrup
2 tablespoons salt
½ cup fresh chives, minced
1 green Kabocha Squash (6lbs), peeled and seeded
2.5 lbs garnet yams, peeled
2.5  lbs russet potato, peeled
6 oz. Uplands or Gruyere-style cheese, grated
Instructions
1. Preheat oven to 350 degrees. Rub garlic all over gratin dish interior, releasing oils on surface. Discard. Rub butter over dish.
2. Mix cream, syrup, salt and chives in large bowl and set aside.
3. Slice squash and potatoes 1/8" and place in cream mix; stir in cheese.
4. Evenly place squash-potato mix into gratin dish, assuring the pieces lay flat. Pour excess liquid over and press down to compress and coat. Place in preheated oven for 30 minutes. Rotate and cook another 30 minutes, or until lightly browned and an inserted skewer finds no resistance. Let cool for 15 – 30 minutes before serving.
Bacon-Hazelnut Brussels Sprouts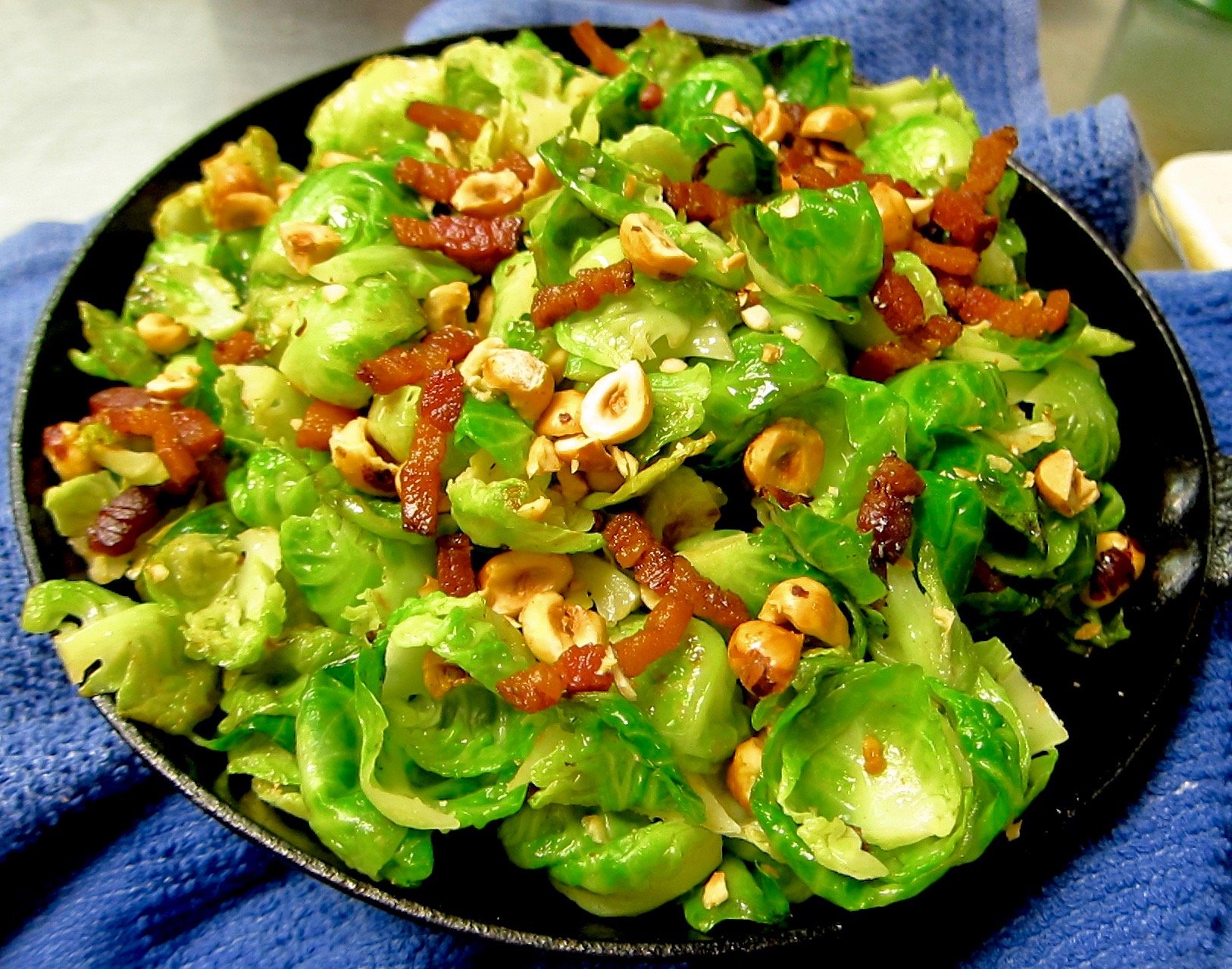 Bruce Sherman has a Thanksgiving side dish that everyone at your table will enjoy: bacon-hazelnut Brussels sprouts. In this recipe, the leaves of the Brussels sprouts are separated, one by one, and cook quickly right before they hit the table. Because the dish takes a "fast ride in a hot pan," Sherman paired it with John Adams's "Short Ride in a Fast Machine." (Click here to listen to this piece on YouTube.)
Yield: 6 – 10 servings
Prep time: 20 – 25 mins
Ingredients
2 lbs large Brussels Sprouts, green leaves only*
8 oz smoked bacon, in ¼" slices
2 tsp vegetable oil
6 oz toasted hazelnuts, halved
1 table spoon lemon juice
salt and pepper, to taste
Instructions
1. Separate sprouts into individual leaves by progressively cutting off stem and peeling off leaves. Reserve small blanched cores for another use.
2. Boil large pot of generously salted water.
3. Blanch leaves two minutes in boiling water. Shock in ice water. Drain. Dry.
4. Cut bacon into ¼" juliennes/strips.
5. Heat heavy-bottomed skillet on medium, add oil, then bacon.
6. Sauté 3-5 minutes until browned.
7 Remove bacon with slotted spoon and reserve.
8. Pour out half of rendered fat. Turn heat up to high.
9. Add in Brussels sprouts and toss to coat in hot fat. Continue for 2-3 minutes until hot.
10. Add lemon juice, season to taste, and finish by adding back bacon and nuts
Frozen Cranberry Parfait, Rosemary Crust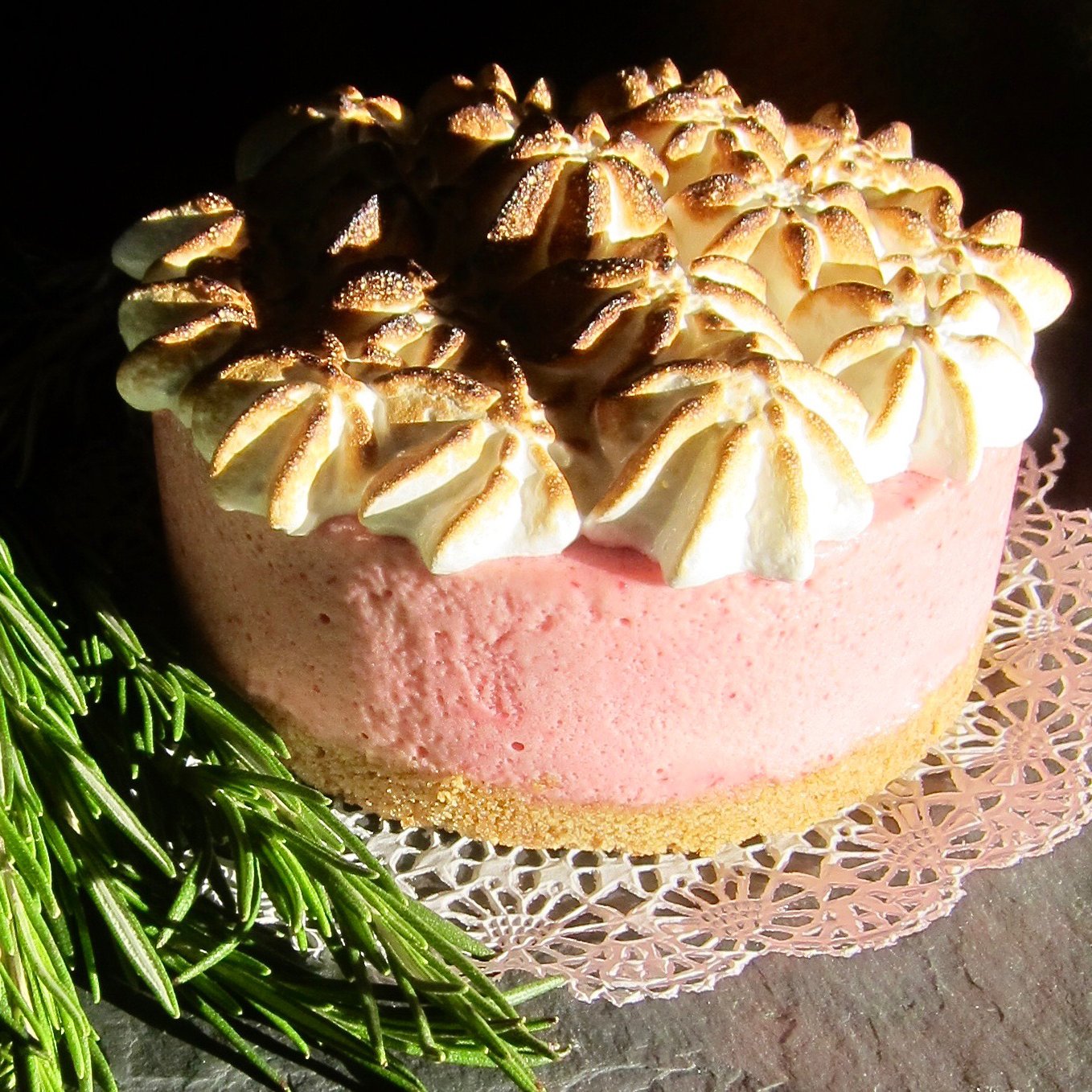 Bruce Sherman has a created a unique Thanksgiving dessert just for WFMT listeners: a frozen cranberry parfait with rosemary crust, topped with an Italian meringue. The perfect musical accompaniment to this piece, Sherman says, are the "Autumn" and "Winter" concertos from Vivaldi's famous "Four Seasons." He said that the dessert, like the two concertos, are perfect this time of year as we transition from fall to winter. (Listen to "Autumn" and "Winter" on YouTube.)
Yield: one 9-inch springform tart
Prep time: 45 mins – an hour
Ingredients
1 pkg graham crackers, (9pcs/5 oz.), crumbled
2 tbs sugar
1 tsp cinnamon
2 tsps ginger powder
1 pinch salt
3 sprigs fresh rosemary, needles separated
7 tbs butter
½ cup milk
1/3 cup sugar
1 orange, zest only, microplaned
3 egg yolks
2/3 cup cranberry purée
2/3 cup whipping cream
3 egg whites
1/2 cup sugar
3 tbs water
1 tsp orange extract
Instructions
For the crust
1. Brown butter in small pan, toss in rosemary needles & stems. Reserve off heat.
2. Place graham crackers, sugar, cinnamon, ginger and salt in food processor. Pulse until fine crumbs.
3. Remove stems, then add needles and butter to crumbs. Pulse until it coheres.
4. Pour crumbs into springform pan and gently tamp down to one even layer. Reserve in freezer.
For the parfait
1. Heat milk and orange zest to boil in a small pot.
2. Combine yolks and sugar in a bowl and whip until pale, yellow ribbons form.
3. Temper yolks by adding a bit of the heated milk and mixing in. Add more until all milk is used, then reverse and pour mixture back into milk pot.
4. Place pot over low/medium heat and stir constantly, until mixture thickens and coats spoon (or until reaches 181 degrees F on thermometer).
5. Immediately strain into mixer bowl and whip til cool and doubled in volume.
6. Add cranberry purée into cooled custard until uniformly mixed in.
7. Whip cream separately to soft peaks stage then fold into cranberry custard.
8. Pour this mix over crust in reserved springform pan in freezer. Freeze again.
For the meringue
1. Combine sugar and water in small, heavy-bottomed pot on heat. Do not stir, but swirl pan to dissolve sugar. Increase heat and cook syrup while…
2. Beat egg whites in mixer until medium peaks form.
3. When syrup reaches 148F on candy thermometer, pour over egg whites while beaters running. Whites will become thick and shiny. Add extract and beat until meringue cools.
To finish
1. Transfer cooled meringue to pastry bag with star tip and pipe atop frozen parfait –or alternatively, spread meringue on top of parfait with spoon.
2. If desired, caramelize meringue with torch before serving. Unmold parfait and allow to temper 10-15 minutes before serving.
Pumpkin-Parmesan Gnocchi, Turkey, Sage, Pears and Pecans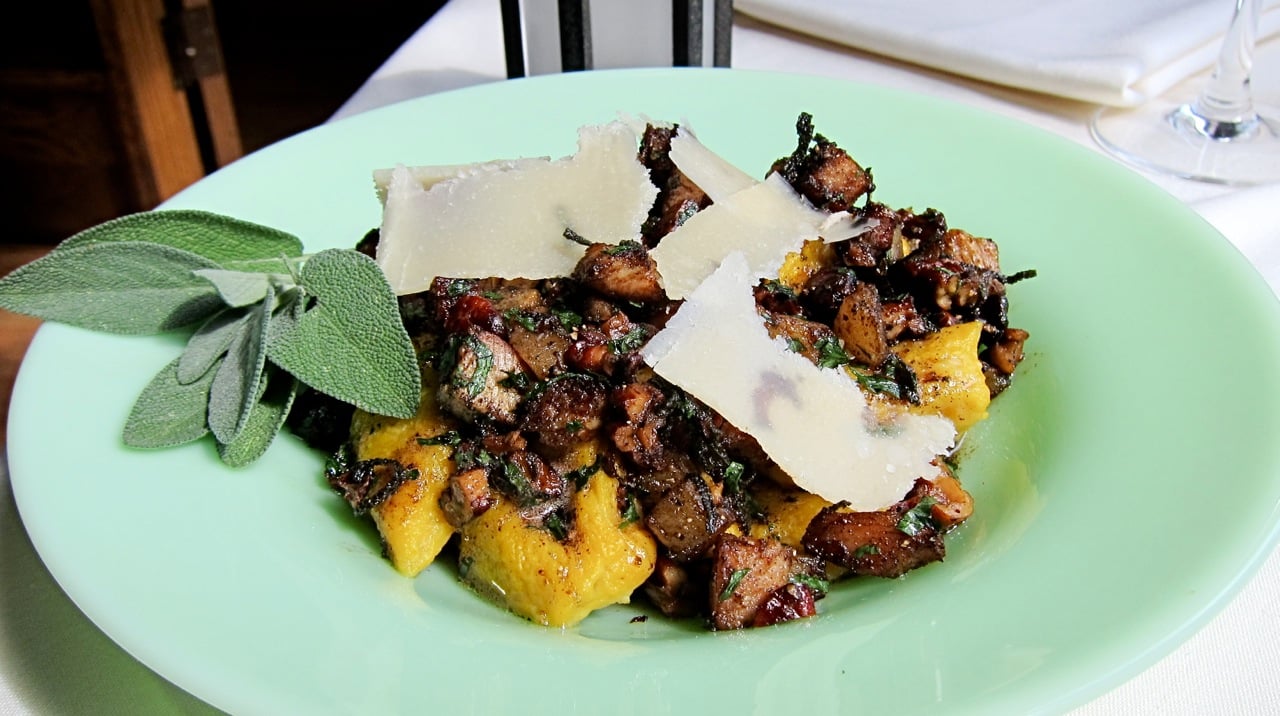 Is your fridge full of Thanksgiving leftovers? Michelin starred chef Bruce Sherman has the solution: pumpkin-parmesan gnocchi with bits of leftover turkey, pecans, and pears. He has paired this gnocchi with Brahms's Symphony No. 4. He says both will leave you feeling full and satisfied. (Listen to the symphony on YouTube by clicking here.)
Ingredients
1 cup roasted Sugar Pumpkin flesh (through potato ricer)
1 cup roasted Russet Potato flesh (through potato ricer)
¾ cup Parmesan, grated
1 farm egg, beaten
1/8 tsp nutmeg, grated
1.5 tsp salt
½ tsp ground white pepper
¾ cup flour, sifted
½ cup fresh pressed unfiltered pear (or apple) cider
½ cup apple cider vinegar
1 tbs unsalted butter, chilled
1 stick unsalted butter, chilled and cubed
18-20 sage leaves, fresh, finely minced
¾ cup diced (cooked) turkey meat –or torn pieces—1/2"
¾ cup toasted, chopped Pecans
¾ cup peeled, diced ripe D'Anjou or Bosc pear, ½" cubes
1 lemon
parsley, chopped
Instructions
1. Place cider and cider vinegar in small non-reactive saucepan on medium heat. Bring to boil, reduce and simmer until 3 tablespoons syrup remain. Whisk in butter, turn off heat, reserve.
2. Place pumpkin puree in non-stick skillet over low heat to "dry-out" mixture, periodically stirring in pan with rubber spatula. Cook for 10 minutes, or until mix starts sticking to bottom.
3. Remove to mixing bowl, add riced potato and bring to room temperature.
4. Add in egg, parmesan, nutmeg, salt and pepper and mix in well.
5. Carefully mix in flour until mixture tacky and workable. Overmixing will make gnocchi gummy.
6. Working on well-floured countertop, take baseball-sized amount of mix and roll forwards and backwards with palms of both hands, gradually applying pressure to center and out in either direction, to force mixture into long sausage shape.
7. Stop when "tube" is approx. ¾" diameter. Next, cut 1" pieces along entire length of tube, and with well-floured thumb, carefully make characteristic gnocchi thumbprint in each piece.
8. Remove pieces to a well-floured tray, and freeze for later use.
9. Bring medium pot of water to boil, then add ¼ c salt.
10. Place 10"-12" skillet over high heat on stovetop.
11. When very hot, quickly drop in cubed butter. It will immediately smoke and sizzle.
12. When all butter has melted and browned and sizzling stops, drop in sage.
13. Wait five seconds then add turkey, pears, and pecans. Shake pan to coat and warm through.
14. Correct seasoning with salt, white pepper and squeeze of lemon. Reserve.
15. Carefully slide gnocchi in boiling water. As they float, fish them out, toss with EVOO to lightly coat and place in serving bowls.
16. Sprinkle chopped parsley in warm brown butter, then spoon turkey mix evenly over gnocchi.
17. Drizzle pear syrup and shaved parmesan atop and serve immediately.
Side suggestion – broccoli or rapini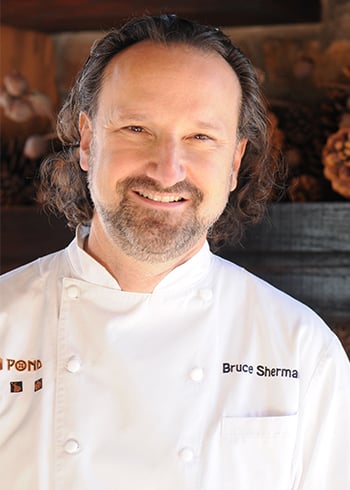 About Chef Bruce Sherman
Michelin-starred chef Bruce Sherman, owner of North Pond restaurant, has joined WFMT to bring you good and good music during Thanksgiving week. He's shared five of his favorite Thanksgiving recipes, including a new dessert he's created just for WFMT listeners. And, he's paired them each with five of his favorite pieces of music.
A native Chicagoan, Bruce Sherman traveled the world developing his culinary knowledge before returning home to the delight of Chicago's dining community. As Chef and Partner at Lincoln Park's acclaimed North Pond, Sherman utilizes influences he picked up in Paris, Southeast Asia and London to produce his contemporary French-American seasonal cuisine.
Growing up a banker's son, Sherman thought he would follow his lead and work in a traditional office environment. After graduating from the University of Pennsylvania with an Economics degree, he then studied at the London School of Economics; while there, Sherman had a life-altering realization, recognizing that he was able to choose any career desired. Over the years, he had always enjoyed watching his Mom cook, as she comfortably experimented with new flavors and cuisines, and he decided to pursue a career in the restaurant field. Returning to the States and settling in Boston, he embarked upon a career in restaurant management but found running the floor did not satisfy his creative urge. He soon transitioned to the back of house, working as a cook and absorbing all facets of kitchen life. His next move was to Washington D.C., where he combined his business acumen with his broadening foodservice knowledge and launched a catering company. In 1993, Sherman's wife had an opportunity to work in India, so he sold the business and they moved abroad.
In New Delhi Sherman immersed himself for nearly four years in the local culture, particularly the cuisine of India. His daily trips to the corner vegetable "wallah" (vendor) forced him to cook only with what was available that day, what was fresh and in season. While there, Sherman acted as consultant for the Palace Hotels, teaching the local Rajasthani cooks how to prepare Western food for visiting tourists. He also completed personal studies to develop a greater understanding and appreciation of the indigenous spices of the Malabar Coast. His experience in India profoundly influenced his cooking style – the notion of seasonality he developed while living in India was as great an influence as the understanding of the flavors and usage of the diverse regional spices. In 1996, they moved to Paris and he enrolled at the Ecole Superieure de Cuisine Francaise where over the year, he furthered his culinary knowledge both throughout his studies and by working in area restaurants. While in France, Sherman refined his already advanced culinary skills, developing his personal style, one that is clearly grounded in French technique and speaks as clearly to the season. The following year, he returned to Chicago, working under some of the top toques in town and in 1999, Sherman accepted the position as Chef/Partner at North Pond.
After renovating the restaurant, elevating the former café both in style and substance, critics and consumers alike took notice. Sherman was honored by Food & Wine as one of America's "Best New Chefs" of 2003 and in 2012 was named "Best Chef" in the Great Lakes region by the esteemed James Beard Foundation, an award for which he was nominated five consecutive years prior to winning. In 2008, Share Our Strength named him "Most Sustainable Chef" at the Chicago Taste of the Nation event and later that year he accepted the position as National Board Chair of Chefs Collaborative; he is also a founding board member of Green City Market, Chicago's only year-round sustainable market. In May 2010, Sherman spoke on a panel discussing sustainability at the EPA to celebrate their 40thanniversary. North Pond was honored with a Michelin star in 2014 and 2015.
Sherman and his wife Joan live in Evanston with their daughters Emma and Kate. Says Sherman, it's the "instant satisfaction and spontaneous feedback" of cooking that he enjoys most.