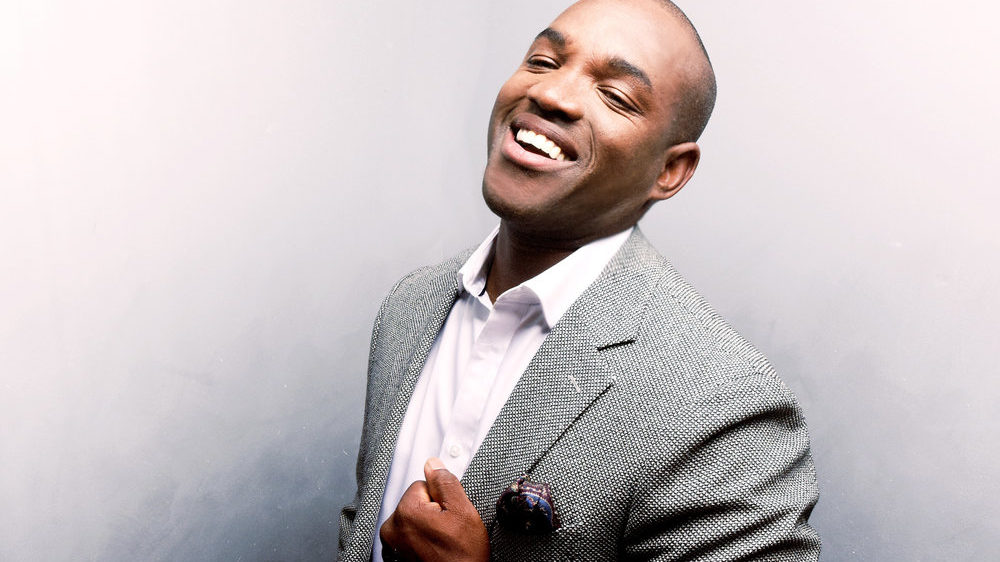 Lawrence Brownlee has been hailed as one of the world's leading tenors, known particularly for his interpretations of bel canto repertoire by Rossini, Donizetti, and Bellini. But Brownlee is expanding the repertoire by developing new works.
His latest project is Cycles of My Being, a new song cycle that developed from conversations he had with colleagues about how they could use art as a platform to respond to issues facing men of color today. "It seemed every day we turned the TV on or the radio... or in the newspaper or on the internet, we would see a story of aggression, or something that was happening towards men of color," he recalled at the WFMT studios.
"We wake up every day, we look in the mirror, and we know what we're facing. We wake up out of bed and there's a certain consciousness that we have. We know we'll face some things. Some things are subtle. Some things are overt. But it's something other people don't deal with. And so the microaggressions, or the fear that is had in society, we live with this, we see it all the time. But even in the face of adversity we have to be resilient. We have to get up every day, and we do it again. We walk down the streets with our heads held high."
To create Cycles of My Being, Brownlee has collaborated with composer Tyshawn Sorey and lyricist Terrance Hayes. The work has its world premiere with Opera Philadelphia on February 20, 2018, followed by a performance at the DuSable Museum of African American History presented by Lyric Opera of Chicago, with which he is currently singing the role of Arturo in Bellini's I Puritani, on Feburary 22, 2018. In April, he performs Cycles at Carnegie Hall. Brownlee discusses this new work and why it is important for Black composers to have their voices heard in the video below.
---
The acclaimed tenor also spoke about singers of color who have most inspired him throughout his career.
George Shirley
---
"Myself as a young singer, 19 years old, beginning in my studies thinking I wanted to be an opera singer, George Shirley was an example for me to say, 'Someone did it.' He was someone who was able to sing in some of the world's most important theaters as a Black man - a very proud and visibly Black person. He wasn't so fair that you had to guess if he was Black or white. But he was someone who had darker skin and who was an elegant singer, a very intelligent man, and a wonderful colleague."
"And he and I, George Shirley, we keep in contact. We talk from time to time. He's someone that has been incredibly supportive of me over the years. And I would say to him, and to others I would say, 'I'm so grateful for the doors that he opened for me,' and his response would be, 'No, every man opens the door for himself.'
"He lived in a different time. He grew up through the Jim Crow era and all these times in history when it wasn't the easiest thing for an African American man to play the love interest in an opera and be successful. Thankfully, the talent won in the end, and he got a chance to do those things."
Vinson Cole
---
"He's very handsome, very fair, but he's short like me. We share, more or less, the same height. His talent was big enough to surpass the things that would've otherwise held him back. He sang with so many wonderful singers and conductors and so it was an inspiration for me to see someone else who was successful who dealt with not only being a Black man, but also one who wasn't very tall. Looking at him, who's a little older than I am, gave me a lot of confidence that if I got the right opportunities and was a hard worker that I could be successful too. Vincent is also a friend and a mentor of mine."
Leontyne Price
---
"Well I think any American singer, any opera singer, has to credit Leontyne Price as being one of the most influential voices in opera in history apart from the fact that she's African American. She was someone who has left a legacy of wonderful evenings in the theater. I'm a big fan of YouTube, and often times I've spent just hours listening to recordings of Leonytine Price. I remember her farewell performance at the Met when she was singing Aida. She sang "O patria mia," and the ovation at the end that people gave to her – it wasn't that performance only, it was the legacy, the years of music, the commitment to the career and the craft that she had given. She was a lady. She was a wonderful ambassador for the arts her whole life.
"She is incredibly important for me and every artist in this field. I don't think you can mention opera and not mention Leontyne Price because she is one of the greatest artists ever in classical music. The fact that she was also African American is secondary to the fact that she was such a phenomenal giant in this realm of music that we enjoy so much."
Barbara Hendricks
---
"I know of course she has a tremendous reputation, probably less in America than internationally because she lives in Switzerland and her family is there. She really has given a lot of contributions in French repertoire. One of the times that I was studying some of the things she was doing, I was looking at Pearl Fishers for the first time years ago, and the Leïla was Barbara Hendricks. I didn't know in the beginning, I think I picked it up because it was John Aler who was Nadir on the recording, and come to find out, I say, 'Who is this Barbara Hendricks?' Then I found out she was from the United States and she is a woman of color and I said, 'Wow!'"
"This was early on in my career, and seeing these examples of people who had been successful, seeing people who had gone on to international fame was important for me. I've always been a 'half full' kind of guy. I believe in opportunity as long as the hard work and sacrifice and commitment are there. But seeing people who were successful, who obviously did commit their lives and their selves to this art form, it was encouraging to see them and know it is possible to do."
Kathleen Battle
---
"We're both from Ohio. Actually Kathleen Battle's niece and my sister were roommates in college at Ohio State University. So there's one degree of separation. I got a chance to meet her years ago and she was extremely kind and very, very nice to me. I'm a fan of singers who can really get around their voice if you wanna put it that way, like instrumentalists who know every note on their instrument."
Jessye Norman
---
Jessye Norman, who is from Augusta, Georgia, sounds to my ears like a native German speaker. She really believed in bringing the text to life. The Four Last Songs, I remember listening to that album and thinking, 'This is a level of artistry that I want to arrive at.' I met Jessye Norman and had a chance to spend time with her and know her story, and I know how positive and how inspirational the belief she has in her talent, how hard working she is, and how committed she is in her craft – you see the result in this. You can't just wake up and have mastery over a language that is not yours."
Shirley Verrett
---
"There are so many women of color that have been successful and Shirley Verrett was one of them. She sang with Pavarotti, Domingo, with the wonderful conductors in the world and the most important theaters. So looking at her and some of these other women who have been successful, there are far more of them.
"I got a chance to meet Shirley Verrett years ago in a master class – she was running the master class – and she was incredibly supportive. She understood the struggles, she understood the hard work that's required, and gave me a lot of good advice. She told me how to conduct myself as a professional, that you have to believe in your talent and who you are, and if you do that and have the talent, doors will be open for you like they were for her. She's someone that lived a life in this career and was successful, and was for me a big role model."
Paul Robeson
---
"As a Black male, the first name that comes to mind as a role model in classical would be Paul Robeson. It's hard to get away from that. He's contributed in so many areas of life. He wanted to do good and he wanted to use his art as a platform to say something: he's the ultimate role model."