Our summertime season of chamber music and solo recitals from Ravinia is hosted by Kerry Frumkin. The performances are recorded by Hudson Fair in the festival's Martin Theatre and in Bennett Gordon Hall providing the ideal summer setting for up-close live performances by your favorite classical artists from around the world.
Upcoming Broadcasts
Monday, July 18, 8:00 pm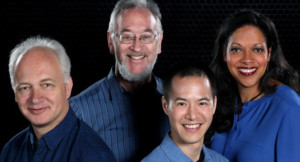 The Juilliard String Quartet with Astrid Schween, cello, recorded in the Martin Theatre June 27.
Program
Mozart: Quartet in C, K 465, "Dissonant"
Richard Wernick: Quartet #9 (Chicago premiere)
Schubert: Quintet in C, D 956, for two violins, viola, and two cellos
---
Monday, July 25, 2016
Recorded in the Martin Theatre on July 6, 2016.
Midor & Miriam Fried, violins
Atar Arad & Paul Biss, violas
Christoph Richter, cello
Menahem Pressler, piano
Mozart: Piano Trio in G, K 564
Dohnanyi: Serenade in C for string trio, Op 10
Brahms: String Quintet #2 in G, Op 111