Now in its 14th year, the Chicago Latino Music Festival is the oldest music festival dedicated to Latino music in the United States. Presented in part by the International Latino Cultural Center, the festival features top-notch performers and promotes awareness of music from Latin America, Portugal, Spain, and the US as well as Latino composers ranging from the Colonial period to the 21st century. The festival's artistic director Elbio Barilari, who also hosts WFMT's Fiesta, remarked, "Just the idea that a Latin American classical music festival exists in the US and has already been going on for 14 years is very exciting! We are also proud of the many partnerships we have built over the years with so many mainstream and community organizations, locally, nationally and internationally."
Here's a rundown of the festival's performances, many of which are free! For more information, visit latinomusicfest.org/
Festival opening with Spain's Leading Concert Pianist, Daniel del Pino
Thursday, October 3, 6:00 pm • Instituto Cervantes, 31 W. Ohio St.
$20 admission; $15 for members of International Latino Cultural Center & Instituto Cervantes — Tickets: latinomusicfest.org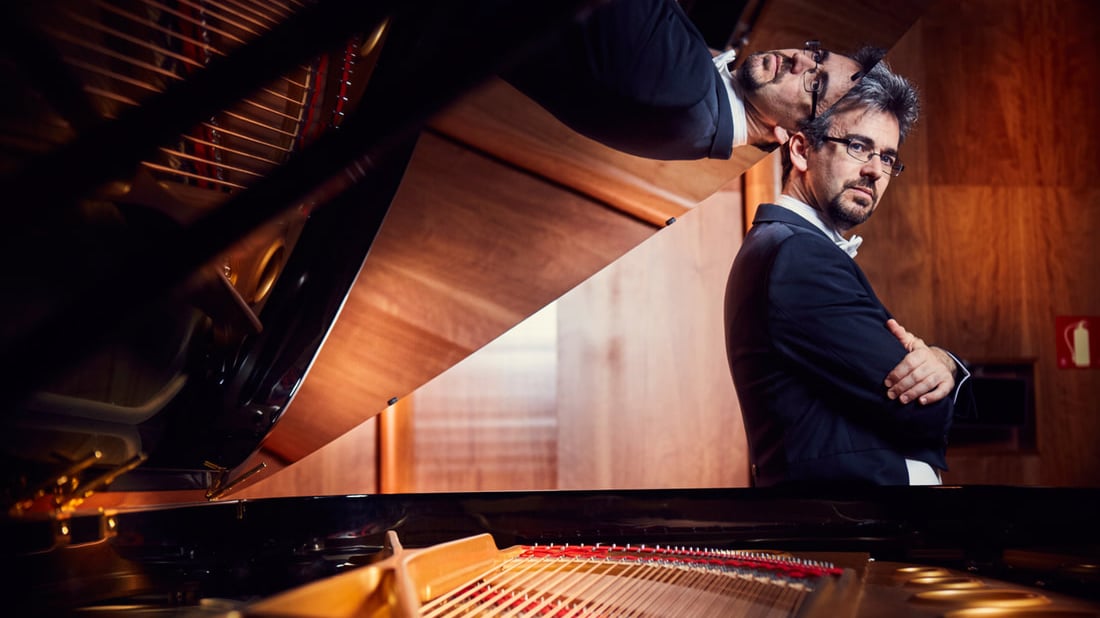 Daniel del Pino, one of Spain's leading concert pianists, will perform some of the most challenging works for piano, including Iberia by Spanish composer Isaac Albéniz, Danzas Españolas by Enrique Granados, and Rhapsodie Espagnole by Franz Liszt.
Zohn Collective Presents: Portals (Featuring the World Premiere of "Nocturnes")
Sunday, October 20, 4:00 pm • The University of Chicago, International House (Coulter Lounge), 1414 E. 59th St.
Free admission
"Portals" brings together two contemporary musical works based on literary texts, dramatized through puppetry: the world premiere of Nocturnes, composed by Daniel Pesca, as well as the scenic cantata Comala by Ricardo Zohn-Muldoon, which is based on the classic Mexican novel Pedro Páramo. The concert, which features the Zohn Collective and celebrated puppet company La Coperacha, illuminates fundamental themes of love, loss, and identity.
Latinx Electroacoustic Music & Poetry Latino Music Festival (In collaboration with Fulcrum Point Project)
Wednesday, October 23, 7:00 pm • DePaul University, Allen Recital Hall, 2330 North Halsted St.
$20 admission/$10 for students, senior citizens, and members of International Latino Cultural Center & Instituto Cervantes
In this collaborative performance between Fulcrum Point New Music Project, The Poetry Foundation, Contratiempo, and Young Chicago Authors, the audience is invited to explore the powerful expressions of music, electronics, and poetry of Latin American artists.
David Schrader performs Spanish & Mexican Music for the Harpsichord and the Clavichord
Tuesday, October 29, 6:30 pm • Chicago Public Library, Cindy Pritzker Auditorium, 400 S. State St.
Free admission

A resident of Chicago, Schrader performs regularly with Music of the Baroque, the Newberry Consort, and Bach Week in Evanston.
Music from Mexico, Argentina, and Uruguay featuring the Chicago Panamerican Ensemble
Wednesday, November 6, 6:30 pm • Chicago Public Library, Cindy Pritzker Auditorium, 400 S. State St.
Free admission
Hear the Chicago Panamerican Ensemble perform chamber music from Mexico, Argentina, and Uruguay —from duets to septet— composed by Gutierrez Heras, Moncayo, Ginastera, Piazzolla, and Miguel del Águila. Special guests Eykamp String Quartet and pianist Joanne Chang will join them.
René Izquierdo presents New Latin American Music for the Guitar
Wednesday, November 13, 8:30 pm •  Old Town School of Folk Music, Maurer Hall, 4544 N. Lincoln Ave.
Free admission; RSVP required at oldtownschool.org
Virtuoso guitarist René Izquierdo takes audiences on a musical journey through scores created by generations of Latin American composers. Active as a solo performer and chamber musician, Izquierdo hails from Cuba and is a professor of classical guitar at the Wisconsin State University in Milwaukee.
KAIA String Quartet: Mexican Modernist Music for String Quartet
Sunday, November 17, 2:00 pm • The Art Institute of Chicago, Fullerton Hall 111 S. Michigan Ave.
Free with Museum admission
The Chicago-based KAIA String Quartet (WFMT's 2017 Performers In-Residence) performs the colorful music of Mexico in conjunction with the Art Institute's current exhibition, 'In a Cloud, in a Wall, in a Chair: Six Modernists in Mexico at Midcentury.' Music by Javier Álvarez, Carlos Chávez, Silvestre Revueltas, and Miguel Bernal Jiménez are presented.
Harmonia del Parnàs: Baroque and Classical Spanish Music
Thursday, November 21, 7:00 pm • Instituto Cervantes, 31 W. Ohio St.
$20 admission; $15 for members of International Latino Cultural Center & Instituto Cervantes
In keeping with their commitment to reviving and restoring unknown or forgotten music scores, Harmonia del Parnàs presents a program of music by Spanish composers from the 17th and 18th centuries. This music — which is seldom heard live — is a sample of the extensive heritage of music of Hispanic origin from Europe and the Americas. Proceeds for this event benefit the International Latino Cultural Center of Chicago.