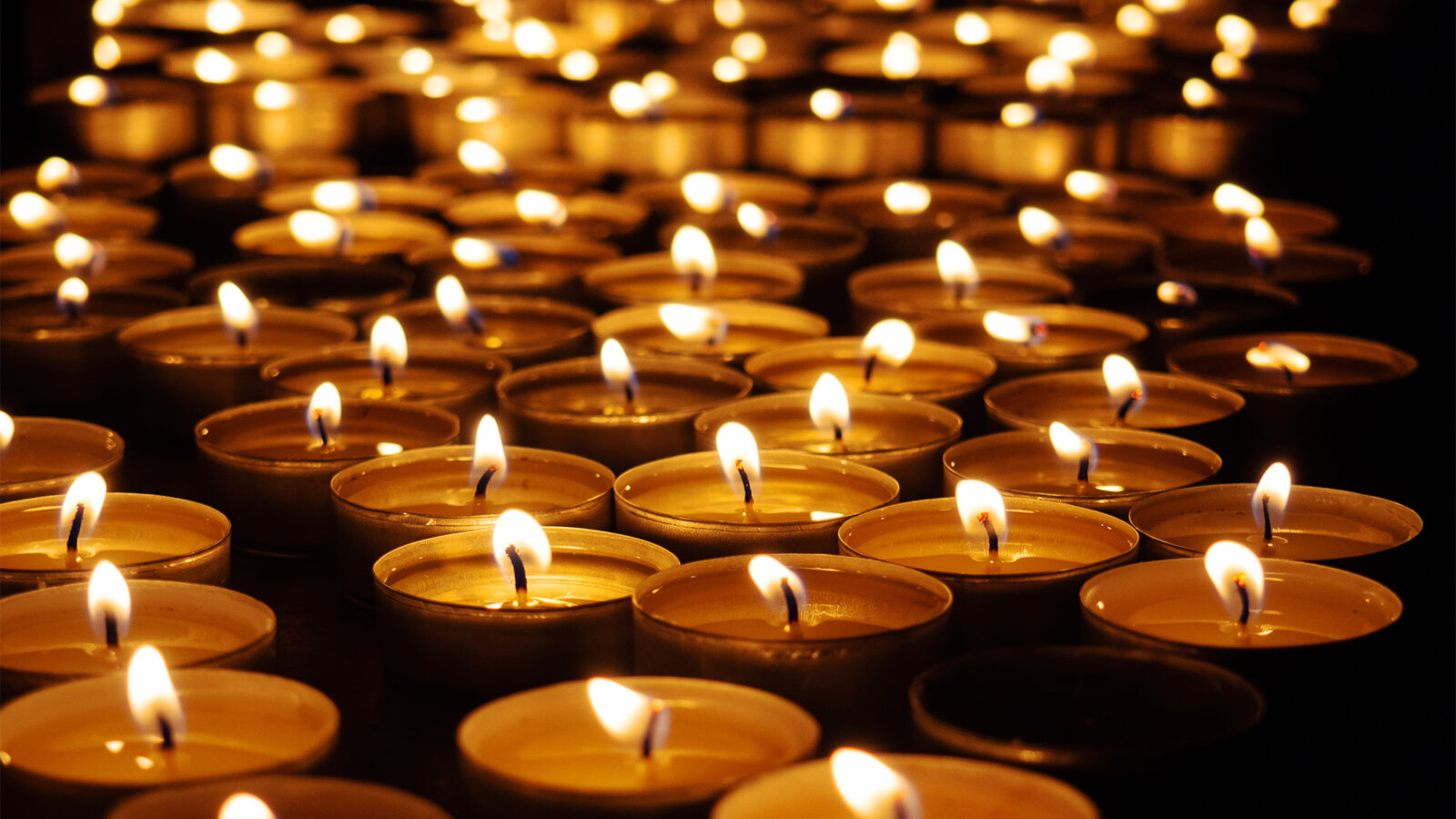 2022 was a year of great loss in the worlds of classical music and the arts. In this respect, 2022 was not different from the years preceding it. As we reflect on the year gone by, WFMT salutes the contributions of members of the arts community who died this past year. We commemorate and celebrate their lives by allowing them to speak directly to us. May their memories be for a blessing.
---
Members of the WFMT and WTTW Family
John Brennan, long-time WTTW-WWFMT Trustee, 60
John Horde, TV engineer at WTTW one of the station's first employees
Don Muss, WTTW and WFMT's longtime Building Manager, 61
Joyce Saxon, longtime WFMT friend and supporter, philanthropist, and trailblazing advertising executive
---
In Their Own Words
John Aler, American lyric tenor, 73
"I decided to stick to Mozart, Rossini, Bach and Handel. Each one of those composers is a life time's work for any singer."
Nicholas Angelich, USA-born pianist based in France, 51
"You will find a detail or several details which will make you understand something in a totally different way about the entire structure of the piece. And this is something I find necessary and fascinating."
Carlos Barbosa-Lima, Brazilian guitarist, 77
"The guitar is so important in so many cultures. It's a real people's instrument."
Teresa Berganza, Spanish mezzo-soprano, 89
"Mozart is my Messiah. Just call me a mystic, I don't mind. My name is Teresa for a reason."
Peter Bogdanovich, writer, director, journalist, film historian, 82
"I don't judge myself on the basis of my contemporaries. I judge myself against the directors I admire — Hawks, Lubitsch, Buster Keaton, Welles, Ford, Renoir, Hitchcock. I certainly don't think I'm anywhere near as good as they are, but I think I'm pretty good."
Peter Brook, British theatre and opera director, 97
"I've never believed in a single truth."
Dale Clevenger, American orchestral French hornist and past principal French hornist of the Chicago Symphony Orchestra, 81
"We have no choice in this most important physical part of playing a brass or wind instrument but to breathe as if our careers depend on it … and they do!"
George Crumb, American composer, 92
"It is easy to write unthinking music."
Vincent De Rosa, Chicago-raised French hornist, renowned studio musician, 101
"I learned the Mozart and Strauss, but the studio business required something different. The music was always new, never seen before; you played it and they recorded it."
Maria Ewing, American soprano and mezzo-soprano, 71
"Sometimes you have to put yourself on the edge. You go to the precipice and lean over it. You have to… You're over it, in fact."
Jorja Fleezanis, American violinist, pedagogue, and concertmaster of the Minnesota Orchestra, 1989-2009, one of only two women in the Chicago Symphony Orchestra in 1973, 70
"Early in my career I was told, 'If you play like that in every concert, you'll burn out' but I knew that wasn't right. Playing with full commitment gives back: it revitalizes me."
Francis Jackson, British organist and composer, 104
"I was born with a natural talent, and working at it and developing it was pretty well unalloyed pleasure."
Elayne Jones, American co-founder of Symphony of the New World, the first racially integrated orchestra in the United States; first Black percussionist in a major symphony orchestra (San Francisco Symphony), civil rights activist, 94
"I had to prove that music could be played by anyone who loves it. It's been a terrible burden because I always felt I had to do better, that I wouldn't be allowed the lapses other musicians have. It's true even now."
Joseph Kalichstein, American pianist, chamber musician, and pedagogue, 76
"I wasn't a wunderkind … Some people have a great talent at a young age and they get burnt out. It's a horrible tragedy and I escaped it."
Everett Lee, American conductor and violinist, 105
"There has been no major change in my field. Orchestra companies feel if they had a Black orchestra leader last year, they don't need one this year. I just had to show them that I was there."
Ramsey Lewis, Chicago-born jazz pianist, composer, artistic director of Jazz Ravinia, radio personality, 87
"In our country, the problem we have in our public school system across the country is that music and arts are on the bottom of the pole, if it's there at all."
Radu Lupu, Romanian pianist, 76
"I didn't take [Bach's Italian Concerto] so fast this evening – I hope you're happy!"
Lucy Rowan Mann, American music administrator, executive director of the Walter W. Naumburg Foundation, 100 (from COVID-19)
"A competition is as musical, humane and culturally meaningful as it wants to be."
Franz Mohr, German-born American Steinway & Sons master piano technician, 94
"It always breaks my heart that people who have basically excellent pianos — let's say, an excellent Steinway — and are not taking care of their instrument! They might even be piano teachers!"
Sidney Poitier, Bahamian-American actor, film director, author, 94
"I learned to hear silence. That's the kind of life I lived."
Jim Post, influential American singer-songwriter, mainstay of the Chicago folk scene, 82
"I didn't know I was a folk musician until I went to Chicago."
Ned Rorem, American composer, best known for his art songs, 99
"If music could be translated into human speech, it would no longer need to exist."
Richard Taruskin, American musicologist, author of the Oxford History of Western Music, 77
"There are those who have argued for classical music from an obviously snobbish perspective. But there are also those who argue for it in terms of its ability to express a much wider range of feeling and ideas than other kinds of music."
Terry Teachout, American critic, playwright and opera librettist, 65
"For the critic, the word 'best' is like a grenade without a pin: Toss it around too freely, and you're likely to get your hand blown off."
Lars Vogt, German pianist and conductor, 51
"I don't know if there is a creator, but if he exists, all I could do is tip my hat to him and say, 'Thank you.'"
---
WFMT Also Remembers
Angelo Badalamenti, American composer, working primarily in film and television, 85
Walter Barylli, violinist and former Vienna Philharmonic concertmaster, 100
Daniele Barioni, Italian tenor, 92
Jörg Faerber, German conductor and founder of the Württemberg Chamber Orchestra Heilbronn, 93
William Bennett, British flutist, 86
Marilyn Bergman, American lyricist of "The Windmills of Your Mind," "Nice 'n' Easy," "You Don't Bring Me Flowers,' "The Way We Were," and more, 93
Sir Harrison Birtwistle, British composer of opera and more, 87
Philippe Boesmans, notable Belgian opera composer, 85
David Bradke, lighting designer and lighting director for Chicago Opera Theater and Northwestern University's Opera Program, 55
René Clemencic, Austrian conductor, founder of Music Antiqua and the Clemencic Consort and early music keyboardist and recorder player, 94
Lamont Dozier, prolific American songwriter, singer, and arranger, associated most prominently with Motown Records, 81
Elizabeth II, Queen of the United Kingdom and other Commenwealth realms, lifelong devotee and champion of classical music, 96
Bruce Coppock, long-time president of St. Paul Chamber Orchestra, Carnegie Hall Deputy director, executive director of St. Louis Symphony Orchestra, others, 71
Kurt Equiluz, Austrian tenor, 93
Richard Freed, Chicago-born American music critic, radio broadcaster and arts administrator, 93
Ezio Frigerio, Italian art director and costume designer primarily for opera, 91
Héctor García, Cuban-born American classical guitarist, creator of the first US university-level classical guitar programs, 91
Daphne Godson, British violinist, member of the Scottish Baroque Ensemble, Pegasus Trio, Scottish Early Music Consort, and others, 90
Terrance Gray, longtime associate conductor of the Chicago Youth Symphony Orchestras, 59
William Jon Gray, American choral conductor and music educator who collaborated with Music of the Baroque, 66
Wolfgang Güttler, German-Romanian orchestral double bass player and teacher (The Juilliard School, Manhattan School of Music,) 77
Alice Harnoncourt, Austrian period-instrument violinist, co-founder wither her late husband conductor Nicolaus Harnoncourt of the Vienna Concentus Musicus, 91
Hanna Havrylets, Ukrainian composer. Suffering from an aneurysm, unable to get medical help due to the Russian Invasion of Ukraine, she died in Kyiv, 63
Toshi Ichiyanagi, Japanese avant-garde composer and pianist, former husband of Yoko Ono, 89
Bernard Jacobson, UK-born US-based program annotator and musicologist Philadelphia Orchestra, classical music biographer, Chicago Daily News music critic, 85
Michail Jurowski, Russian conductor, father of conductor Vladimir Jurowski, 77
Plato Karayanis, American lyric baritone, former General Director of The Dallas Opera, 93
Anita Kerr, American singer, arranger, composer, conductor, pianist, music producer, founder of the Anita Kerr Singers, 94
Oleksandr Kostin, Ukrainian composer and pedagogue, 83
William Kraft, Chicago-born American composer, percussionist (timpanist), and conductor, 98
Sam Lay, American drummer and vocalist, exemplar of Chicago-style blues and R&B, 85
Matti Lehtinen, Finnish operatic baritone, 100
Marie Leonhardt, Swiss-Dutch period-instrument violinist and co-founder with her late husband Gustav Leonhardt of the Leonhardt-Consort, 93
David Lloyd-Jones, British conductor and co-founder of Opera North, 87
Bernabé Martí, Spanish tenor, widower of soprano Montserrat Caballé, father of soprano Montserrat Martí, 93
Bob McGrath, American actor, musician, and author who played Bob Johnson on Sesame Street for nearly 50 years, 90
Sergio Mims, Chicago-based film critic and commentator, co-founder of the Black Harvest Film Festival, WHPK classical radio host, 67
Emma Murphy, early music recorder player, 49 (from COVID-19)
Hans Neuenfels, German theater and opera director, opera librettist, 80 (from COVID-19)
Mariana Nicolescu, Romanian soprano, 73
Minoru Nojima, Japanese pianist, 76
Geoff Nuttall, American-Canadian cellist and founding member of the St. Lawrence String Quartet, 56
Richard Oldberg, longtime member of the Chicago Symphony Orchestra's horn section, 83
Leslie Parnas, American cellist, 90
Anne Parsons, American orchestra administrator, former President and CEO of the Detroit Symphony Orchestra, 64
Donald Peck, former principal flutist with the Chicago Symphony Orchestra, 92
Jonathan Pegis, former cellist with the Chicago Symphony Orchestra, 61
Libor Pešek, renowned Czech conductor, 89
Michael Ponti, German-American pianist who was first to record the complete piano works of Tchaikovsky, Rachmaninoff and Scriabin, 84
Simon Preston, British organist and conductor, former master of the choristers at Westminster Abbey, 83
Larry Rachleff, American conductor who led Rice University's symphony and chamber orchestras, 67
James A. Rago, American timpanist with the Louisville Orchestra for five and a half decades, 79
Ron Reuben, American bass clarinetist with the Philadelphia Orchestra for 48 years, 90
Nigel Rogers, English tenor and early music specialist, 86
Pharoah Sanders, American tenor saxophone player, groundbreaking jazz musician, 81
Oleksandr Shapoval, Honored Artist of Ukraine, ballet soloist of the National Opera of Ukraine, dance instructor a Kyiv State Choreographic School who joined the Armed Forces of Ukraine following the Russian invastion. He died in a battle near Mayorsk under Russian mortar shelling, 47.
Joanna Simon, American mezzo-soprano, journalist, activist. Sister of Carly Simon and Lucy Simon (below), who died one day before Joanna, 85
Lucy Simon, American singer and Broadway composer. Sister of Carly Simon and Joanna Simon (above), who died one day after Lucy, 82
Frederick Swann, American organist, longtime Music Director of New York's Riverside Church, 91
Roger Tapping, British former violist of the Takács and Juilliard Quartets, 61
Alexander Toradze, Russian-born American pianist, 69
Bramwell Tovey, British conductor and composer, 69
Juel Ulven, a founders of Folk Alliance International, founder and producer of the Fox Valley Folk Music & Storytelling Festival, 75
Vangelis (Evangelos Odysseas Papathanassiou), Greek composer and arranger, known for Chariots of Fire, 79
Jeroen van Riel, Dutch recording executive, Managing Director of Brilliant Classics, 52
Klaus Weise, German conductor, 86
Allen Whear, noted Baroque cellist, 64
Frederick Zlotkin, American cellist, brother of Leonard Slatkin, former principal cellist of New York City Ballet Orchestra, 75
---
Thanks to Kathy Kielar, Marilyn Rae Beyer, and Keegan Morris for their invaluable contributions.