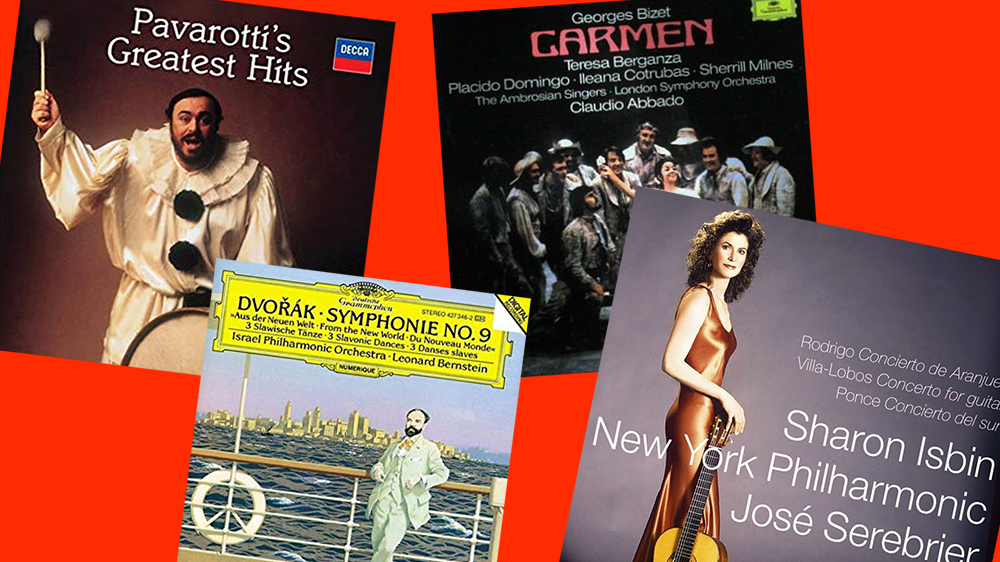 As WFMT's Music Director, I get to share some of my favorite music with audiences around the world. Here are some of my favorite pieces and performers, along with suggested recordings.
Click here to jump to the full playlist!
---
Mozart: Clarinet Quintet

If I have a desert-island piece, it's Mozart's Quintet for Clarinet and Strings in A Major, K. 581. The themes in this piece are absolutely luminous, and the clarinet and string players sound as if they're having a conversation.
Suggested recording: Mozart & Brahms Clarinet Quintets — Anthony McGill and the Pacifica Quartet on Cedille
"Nessun dorma," sung by Luciano Pavarotti
How lucky we opera-lovers were to have had the golden voice of Luciano Pavarotti for so many years. His performances in Puccini operas were especially wonderful. I like best the way he sings "Nessun dorma" ("None Shall Sleep") from Turandot.
Suggested recording: Pavarotti's Greatest Hits on Decca
Plácido Domingo in Carmen
Pavarotti's gone, but Domingo is still with us as a singer, conductor, and director. In the 1970s, he recorded Bizet's Carmen starring Teresa Berganza, with my all-time favorite conductor, Claudio Abbado. Listen especially to Domingo's interpretation of Don José's Flower Song: "La fleur que tu m'avais jetée" ("The Flower You Tossed to Me").
Suggested recording: Teresa Berganza, Plácido Domingo with the London Symphony Orchestra/Claudio Abbado on Deutsche Grammaphon

Dvorák: Symphony No. 9, New World
My favorite portion of this well-loved symphony is the slow second movement, which is also known as a spiritual, "Goin' Home." The plaintive melody, played by an English horn, and Dvorák's elaborations on it, are a marvelous evocation of both the "old" and "new" worlds.
Suggested recording: Israel Philharmonic/Leonard Bernstein on Deutsche Grammaphon; also includes three Slavonic Dances. 

Rodrigo: Concierto de Aranjuez
This is probably the most popular of all guitar concertos, for good reason: lively in the outer movements, serenely lyrical in the central one. The slow movement is my favorite, evoking for me the sights and sounds of the Iberian Peninsula.
Suggested recording: Sharon Isbin with the New York Philharmonic/José Serebrier on Warner Classics

Elgar: "Where Corals Lie" from Sea Pictures
The great British mezzo-soprano Dame Janet Baker recorded this song-cycle by Sir Edward Elgar; it contains five poems by various authors, all (as you might guess) about seascapes. The whole cycle is magical, and Baker sings the songs beautifully, but especially lovely is "Where Corals Lie."
Suggested recording: Dame Janet Baker with Sir John Barbirolli conducting on EMI. (Bonus: it also has Jacqueline Du Pré playing Elgar's Cello Concerto!)

Mozart: Wind Serenade in B-Flat Major, K 361, Gran Partita
The subtitle is not from Mozart. He just called it a serenade, one of a number of pieces he and his contemporaries composed for the woodwind bands that were popular in 18th-century Vienna. This one stands out from the crowd. Again I love the slow central movement with its soaring solos and tender dialogues.
Suggested recording: Scottish National Orchestra Wind Esnemble/Paavo Järvi on Chandos

Jay Ungar : Ashokan Farewell
This comes from the soundtrack of Ken Burns' TV mini-series The Civil War. It's used somewhat like theme music throughout each episode. The plaintive folk-like melody seems to sum up for me all the sadness and tragedy of war
Soundtrack recording on Nonesuch

Tchaikovsky: Nutcracker Suite
When I was a teenage violinist in the Greater Boston Youth Symphony, we played this suite, and all of it was fun, but I used to be impatient to get to the end so we could play the gorgeous Waltz of the Flowers. No matter how many times you see or hear it, this ballet always evokes the magical beauty of the holiday season.
 
Suggested recording: Chicago Symphony Orchestra/Georg Solti on London

"The Impossible Dream" from Man of La Mancha
I love Broadway musicals that contain one hit song after another, , like Oklahoma!, as well as musicals, like Man of La Mancha, that are memorable mainly for one song. That one song from this musical inspired by Cervantes' Don Quixote is "The Impossible Dream," with its simple melody written by Mitch Leigh and idealistic words by Joe Darion.
---
Enjoy the full playlist here!
---