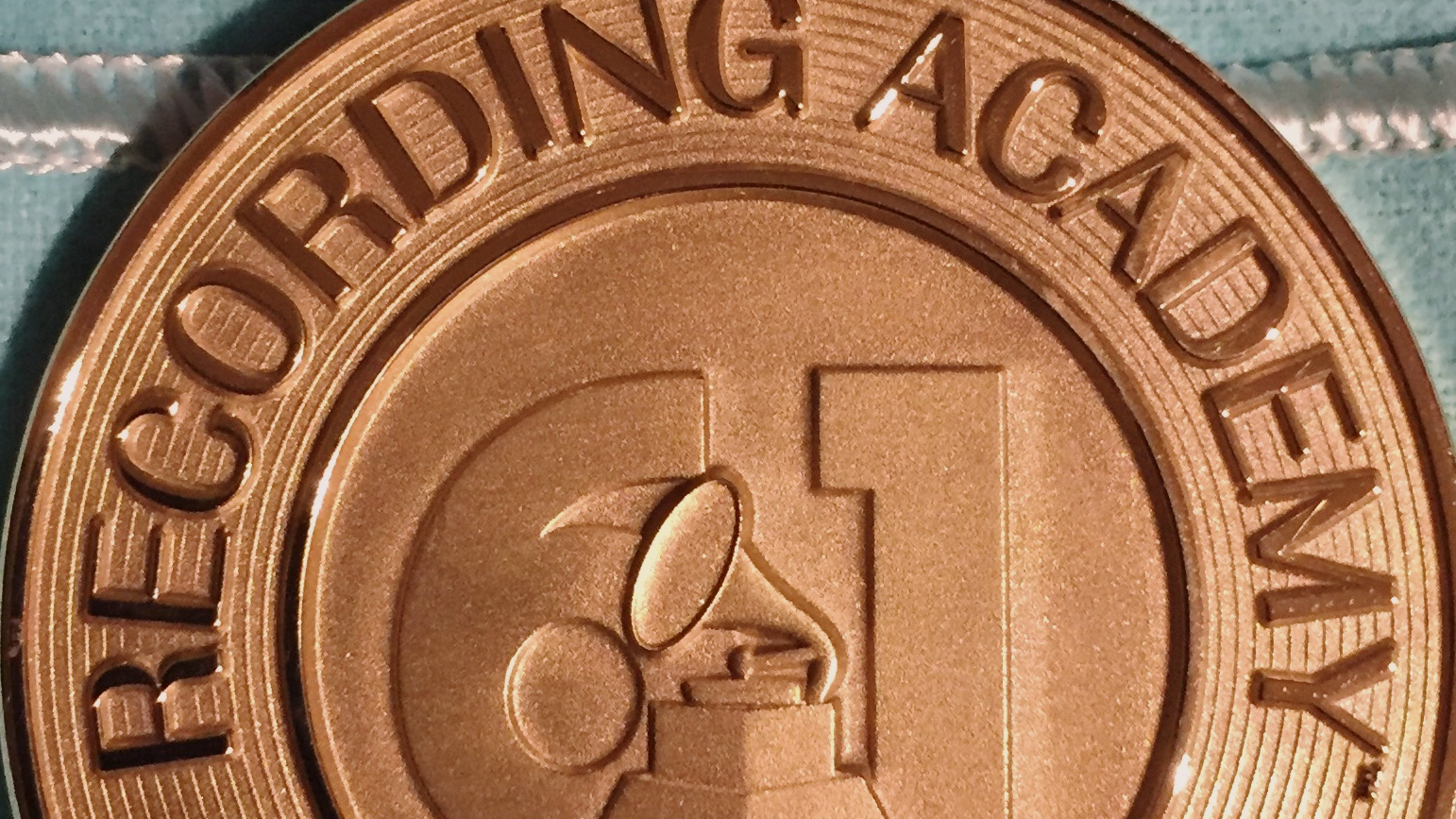 My recap of the 61st Grammy Awards is especially exciting because I attended Music's Biggest Night not only as a member, but also as a nominee! Engineer Bill Maylone and I received a nomination in the category of Best Engineered Album, Classical for Liquid Melancholy: Clarinet Music of James Stephenson released on the Cedille label and featuring clarinetist John Bruce Yeh, the assistant principal clarinetist at the Chicago Symphony Orchestra.
It was an exceptionally strong category filled with gorgeously-captured performances. This nomination was my first, so I was the relative newbie in the category, as contrasted with my fellow nominees, who had 60 previous nominations and 35 wins combined. One of these engineers was someone I particularly admired and was hoping to meet — Tim Martyn, who was nominated for his work on Shostakovich: Symphony Nos. 4 & 11. Regardless of the outcome, I was pleased to be in such good company and enjoyed visiting Los Angeles to attend the festivities as a nominee. Here are some of the highlights of my Grammy Week!
READ MORE: Nominees and Winners of the 61st Grammy Awards, Classical Field
Wednesday, February 6 — Producers & Engineers Wing Party
Grammy Week kicked off with the 12th Annual Producers & Engineers Wing Party. Headed by Maureen Droney, the Producers & Engineers Wing seeks to "work together to shape the future of music recording."
This year, the P&E Wing Party honored the "musical force to be reckoned with," Willie Nelson. In the intimate setting of the legendary Village Studios, where musical icons like the Rolling Stones, Bob Dylan, and B.B. King once recorded, we were treated to tributes and performances. Country superstar Kacey Musgraves, 2019 Album of the Year recipient, praised Nelson's legacy, saying that "everyone loves Willie." Dave Matthews, with Nelson's sons Lucas and Micah, paid tribute to him in song. They were later joined on stage by the man of honor himself.
The evening was particularly special to me because housed in Studio A at the Village is the vintage NEVE 8048 console that I used to set up and strike as an assistant in the early 90s when it resided at Universal Recording here in Chicago. I took a moment out of the festivities to acknowledge my recording roots and pay my respects to a piece of Chicago's recording history.
Thursday, February 7 — Grammy in the Schools Live
The week continued at the historic Montalbán Theatre in Hollywood with my friend and Grammy Award-winning pianist Angelin Chang for Grammy in the Schools Live: a live performance and benefit. Grammy in the Schools is a music education outreach program spearheaded by the Grammy Museum to provide high school musicians with professional opportunities and experiences in music. At this event, we were treated to energetic performances from some of the program's alumni.
Saturday, February 9 — Nominee Reception
The nominees — myself included — enjoyed a lavish spread, a performance from the Grammy Jazz Band, and conversations with our fellow nominees at the Ebell of Los Angeles. At this reception, I was presented with a nominee medal, then I took an official Academy photograph.
I had a lovely time chatting with the nominee for (and later winner of) "Producer of the Year, Classical" Blanton Alspaugh, and my fellow nominee Mark Donahue, as well as other nominees across many different genres.
Sunday, February 10 — Premiere Ceremony, Grammy Telecast, and Grammy Celebration
Only a fraction of the 84 award categories are presented on the Grammy telecast at Staples Center. Most, including "Best Engineered Album, Classical," are presented during the Premiere Ceremony, which takes place before the telecast next door, at the Microsoft Theater.
The Premiere Ceremony has always been one of my favorite parts of Grammy Week because I get to experience an eclectic selection of musical performances. Another perk: it's open seating, so the person sitting next to you might be the next Grammy winner. For example, this year, singer-songwriter Fantastic Negrito rose directly across the aisle from me to receive his award for Best Contemporary Blues Album. Meanwhile, the music supervisors for the Greatest Showman, who won the Grammy for Best Compilation Soundtrack for Visual Media were seated right in front of me.
And even though Bill and I didn't win, I have to say that I was quite proud to be nominated, and to see our names listed on the big screen as nominees. The Boston Symphony Orchestra's Shostakovich recording took the Best Engineered category with Tim Martyn accepting.
Following a star-studded telecast hosted by Alicia Keys at Staples Center, the night concluded with a Victorian-themed after party with live performances by En Vogue and Kurt Elling.
And I was finally able to meet Tim Martyn! Out of the 21,000 seats of the Staples Center, Tim and I ended up seated right next to each other. It was a wonderful conclusion to Music's Biggest Night.
Mary Mazurek began working for WFMT in 1993. She is currently the engineer for Live From WFMT, The Dame Myra Hess Memorial Concert Broadcasts, and Impromptu.
READ MORE: Learn about Mary's experience as a woman audio engineer.