Haymarket Opera Company, Chicago's resident early opera organization, has announced its 2023 season. Spanning from March to October, the performance schedule features three mainstage operas; all three titles are rare and represent Chicago premieres. The season also boasts an Early Opera Cabaret fundraiser, and is immediately preceded — on February 10, 2023 — by the release of Cedille Records' album recording of L'Amant Anonyme.
The season kicks off in earnest in March, with a performance of Alessandro Scarlatti's late 17th-century oratorio La Giuditta. In a one-night-only performance at DePaul's Gannon Concert Hall, Emily Birsan will star in the title role opposite Sophie Michaux (Holofernes), Sarah Brailey (Ozias) plus Chicago-based soloists William Dwyer (Achior) and David Govertsen (High Priest). Lute virtuoso Nigel North will feature in a period chamber ensemble led by Craig Trompeter, the founder and artistic director of Haymarket.
In June, Haymarket returns for a staging of Marc'Antonio e Cleopatra, an early 18th-century work by Johann Adolf Hasse. In a bit of gender-reversed casting, countertenor Kangmin Justin Kim stars as Cleopatra and contralto Lauren Decker stars as Mark Antony.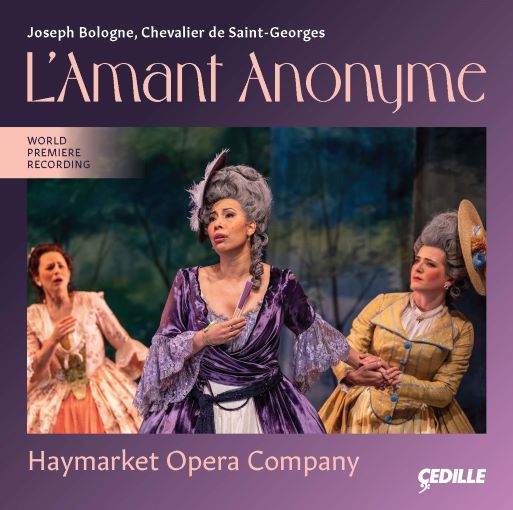 Rounding out the season (late September and early October) is what is often cited as the earliest opera written by a woman: Francesca Caccini's La liberazione di Ruggiero dall'isola d'Alcina. Premiered in 1625, this production of the comic opera stars Sophie Michaux and Scot Bruncheen alongside past Haymarket artists Lindsay Metzger, David Govertsen, and Michael St. Peter. The title is being helmed by the same creative team as Haymarket's recent L'incoronazione di Poppea. A cross-town collaboration sees the artistic director of Newberry Consort, Liza Malamut, appearing with the ensemble on the sackbut, an early trombone.
Other 2023 highlights include the release of Cedille Records' world premiere recording of L'Amant Anonyme by the Black 18th-century composer Joseph Bologne, Chevalier de Saint-Georges. Of Bologne's six operas, it was the most successful during the composer's lifetime, and it is the only one that has survived to today. The opera was a highlight of Haymarket's 2022 season and aired on WFMT in November 2022 as part of its opera series. In April, the company will host a fundraising gala at the Arts Club of Chicago.
---
Tickets for La Giuditta are on sale now. All other tickets go on sale in March 2023. For more information about Haymarket Opera Company, visit haymarketopera.org. For information about the upcoming release of L'Amant Anonyme, visit cedillerecords.org.